Archives
Click on the links below to view information on our past Earth Day celebrations.
Click here to go back to the current year's information on Earth Day.

Wednesday, April 22nd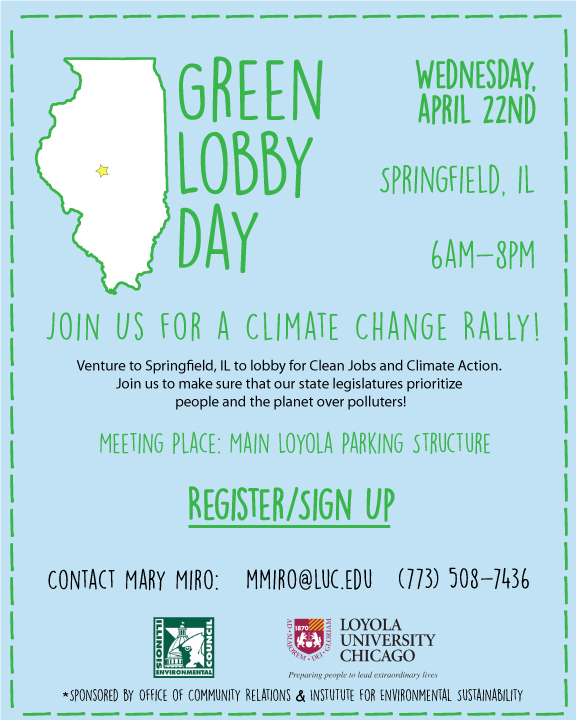 The departments of Community Relations, Government Relations and Institute of Environmental Sustainability in partnership with the Illinois Environmental Council are hosting a day of lobbying at the State Capitol in Springfield, IL.
Loyola Students and community members are invited to join this unique opportunity to engage with legislators to lobby for several bills proposing legislation that will enhance the environmental infrastructure in Illinois.
Participation in the event is FREE for students and all participants and includes transportation and meals. The day will begin at 6:00 AM and return to Loyola's Lake Shore Campus at approximately 9:00 PM on Wednesday, April 22. If you plan to attend, but do not plan to take the bus, contact Mary Miro at mmiro@luc.edu or 773-508-7450 to communicate your plans.

Deadline: April 6
‌Requirements for participation:
1) Each participant will need to register. No exceptions.
2) Each participant will need to complete the Green Lobby Day Waiver


More information: GreenLobbyDay2015
For questions or more information, please contact Mary Miro, mmiro@luc.edu or 773-508-7450.
Put on your gardening gloves, grab a paintbrush, and get ready for North Lake Shore Earth Day 2013!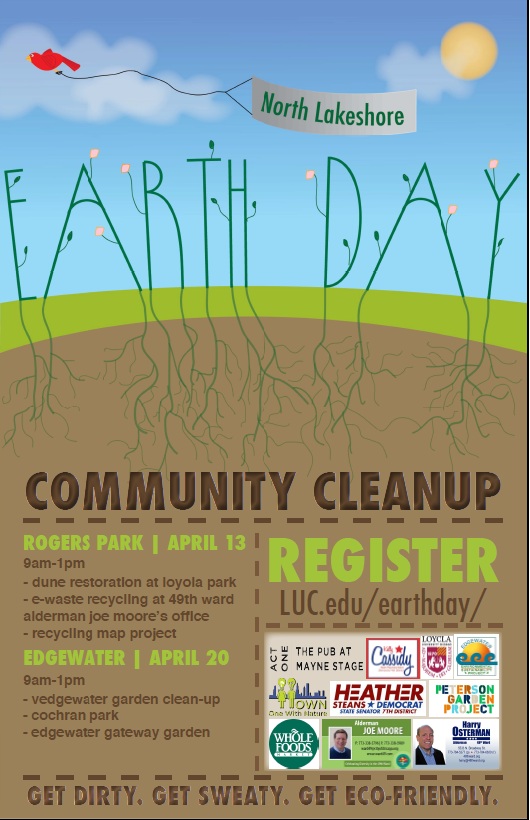 ‌Loyola Community Relations is partnering with 48th Ward Alderman Harry Osterman, 49th Alderman Joe Moore, State Senator Heather Steans, and State Representative Kelly Cassidy, to sponsor a series of hand-on projects to clean, green, and beautify the Rogers Park and Edgewater communities.
In previous years, Loyola University's Earth Day event involved a large scale public symposium, where community residents attended educational workshops pertaining to green technology, caring for the environment, and implementing green practices into everyday living. North Lake Shore Earth Day 2013 will focus on direct student service engagement with the surrounding community, providing a positive impact on the neighborhoods of Rogers Park and Edgewater, and fostering healthy student–neighbor relations.
Loyola's North Lake Shore Earth Day 2013 events will take place first on April 13th where students and local residents will partake in hands-on service projects to support green efforts in the 49th Ward. On April 20th, Loyola students will join the 48th Ward's Clean & Green, and engage in a series of gardening and city beautification projects in the Edgewater community.
These exciting projects will range from light gardening and fence-painting to restoring natural habitats on our lakefront and conducting research on recycling practices! For more information or to register for an event, please click here.
Join Loyola's Insitute for Environmental Sustainability & The Office of Community Relations and partake ina range of local community projects aimed at "greening", neighborhood beautification, and environmental sustainability. Healthy snacks provided by Whole Foods Market in Evanston for all volunteers. Be green and be there!