Celebrating the work of Loyola University School Partners initiative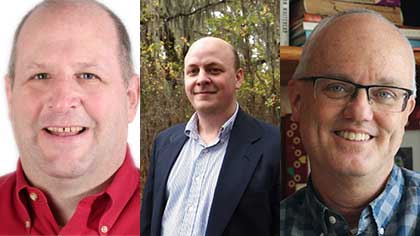 The School of Education is honored to celebrate the university school partnership work of Dr. David Ensminger, Mitch Hendrickson, and Dr. Jon Schmidt. The Loyola University School Partners initiative works with all six neighborhood public schools in Rogers Park (Field, Gale, Jordan, Kilmer, New Field and Sullivan), Senn High School in Edgewater, and McCutcheon Elementary in Uptown to support teacher development, student achievement, post-secondary access and success, and civic engagement.
In 2012, the School of Education launched a partnership with Senn High School facilitated by Dr. Charlie Tocci and subsequently Dr. Schmidt. The successful Senn Loyola Partnership was the model upon which Schools 2020 was developed. Loyola's School of Education didn't come to Senn or subsequent school partners with a program or research agenda; rather it entered into a relationship with each partner school seeking to generate opportunities for student achievement based on school-identified and mutually developed outcomes from which dozens of new programs and initiatives have emerged over the past ten years.
Following the success of the Senn Loyola Partnership and the launch of Schools 2020 (LUC strategic plan initiative led by Mr. Hendrickson) in 2016, funds were secured from Chicago Public Schools (CPS) Community Schools Initiative (CSI) to expand the work in Kilmer, Sullivan, Gale and Field, and to start new partnerships with Clinton Elementary (West Ridge) and McCutcheon Elementary (Uptown). CPS CSI funding—$900,000 per year—allows Loyola to employ a full-time Community Resource Coordinator to work in each CSI school. Resource Coordinators serve as the primary liaison between Loyola and partner school, manage community partnerships, parent and family engagement, and organize and oversee a wide array of before, after and summer school programs for students. Every student in our partner schools benefits from supports provided by Loyola (teacher professional development, parent and family engagement, community partnerships, campus trips, etc.). More than 1400 students regularly attend before and after school and summer programs in partner schools during a typical school year.
During the pandemic year, Loyola Resource Coordinators at each school ran virtual programs for students, altering curricula and program approaches to be more compatible with a distance-learning format since a few weeks after schools closed. While schools have been closed, Resource Coordinators have also been supporting schools in their efforts to provide remote instruction by connecting with students and families and distributing CPS-owned laptops and Chromebooks to students. School-based staff have also been supporting schools during this shutdown with translation services, grant-writing, parent outreach, partnership development, program planning and budgeting for the next school year. As we begin to emerge from the pandemic and return to in-person learning opportunities, Resource Coordinators are working with school staff incorporating more social and emotional learning standards into all subject areas in addition to developing student programs, building family supports, and facilitating collaborative leadership.
For more information about Loyola University School Partners, please contact Dr. Ensminger (Densmin@luc.edu), Mr. Hendrickson (mhendrickson3@luc.edu), or Dr. Jon Schmidt (jschmidt12@luc.edu) directly.