Profiles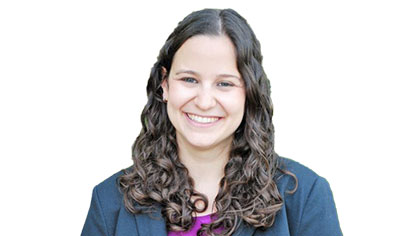 Marks, Leah C.
Title/s: Clinical Assistant Professor & Clinical Coordinator School Psychology
Specialty Area: School Psychology Child Clinical Psychology
Office #: Lewis Towers 1130, WTC
Phone: 312.915.6104
Email: lmarks2@luc.edu
About
Leah Marks, PhD, is a Clinical Assistant Professor and Clinical Coordinator of the School Psychology program at Loyola University Chicago. Dr. Marks is a nationally certified school psychologist as well as a licensed clinical psychologist in the state of Illinois. She completed her PhD in School Psychology at Illinois State University. Prior to joining the faculty at Loyola, Dr. Marks worked in school and clinical settings, including outpatient clinics, primary care, and a hospital-based multidisciplinary developmental center. Dr. Marks' research has focused on young children's self-regulation and how it relates to school readiness.
Dr. Marks is passionate about early intervention, and appropriate preventive and responsive services for the youngest learners. She has experience and training in mental health consultation with the preschool population, as well as assessment and intervention for those with developmental concerns and autism spectrum disorders. Dr. Marks is also interested in helping graduate students to utilize supervision effectively and train to be supervisors themselves. Dr. Marks seeks to help school psychologists collaborate effectively with providers in medical settings. Dr. Marks also currently serves as chair of the Early Career Committee of NASP. In her spare time Dr. Marks enjoys playing violin in a community orchestra and exploring local coffee shops.
Degrees
PhD, in School Psychology, Illinois State University, Normal, IL
BS in Psychology & History, University of Illinois Urbana-Champaign, Urbana, IL
Program Areas
School Readiness
Self-regulation in preschool-aged children
Professional Supervision of Graduate Students
Pediatric School Psychology
Professional & Community Affiliations
Member, National Association of School Psychologists (NASP) Leadership Development Committee
Chair, National Association of School Psychologists (NASP) Early Career Committee (2020-2023)
Courses Taught
CIEP 482 Prevention, Assessment, and Intervention: Behavior
CIEP 461/63 School Psychology Practicum
CIEP 547 Advanced Practicum
CIEP 533 Proseminar in School Psychology
Awards
National Association of School Psychologists (NASP) Early Career Spotlight (2018)
Illinois State University Department of Psychology Nominee for the Clarence W. Sorensen Distinguished Dissertation Award (2018)
Illinois State University Marzolf/French Award for Excellence in Doctoral Studies in School Psychology (2016)
Selected Publications
Marks, L. C., Hund, A. M., Finan, L. J., Kannass, K. N., & Hesson-McInnis, M. S. (2023). Understanding academic readiness for kindergarten: The interactive role of emotion knowledge and teacher–child closeness. Journal of Experimental Child Psychology, 227.
Stein, R., Marks, L.C. (February 2021) Where are the School Psychologists: Mental Health in Early Childhood. Recorded presentation selected for the annual meeting of the National Association of School Psychologists, virtual conference.
Haupt, R.L. Smith, N.D., Jones, P.C., Marks, L.C., Bradley-Klug, K.L., & Hermetet-Lindsay, K.D. (2020). Forming Effective Partnerships Between School and Community Service Providers. Communique´, 49, 17-19.
Marks, L.C., Yosai, E., Goforth,C. (February 2020). Creating Early Career Connections: Cultivating Consultation Across Systems. Practitioner Conversation presented at the annual meeting of the National Association of School Psychologists, Baltimore, MD.
Marks, L.C. Kasky-Hernández, L. (2016). Student-to-Student Supervision in School Psychology Graduate Training Programs. Communique, 45.