Medieval and Renaissance Resources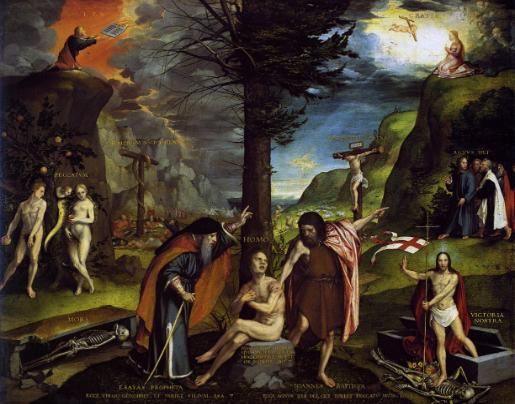 (Image: An Allegory of the Old and New Testaments, Hans Holbein the Younger, circa early 1530s)
---
Archival Research
Online Databases: Available to LUC students for free through the LUC Libraries website are several online databases, listed below, that contain medieval and renaissance archival materials and books. Secondary sources on medieval and renaissance literature and history are available on databases such as JSTOR and Project Muse.
European Language & Literature
European History

Aristoteles Latinus Database

Database of Latin Dictionaries

Library of Latin Texts

Corpus Thomisticum

Brill's Companions in Classical Studies Online

Loeb Classical Library

Oxford Classical Dictionary, 4th Ed

Archive of Celtic-Latin Literature

Thesaurus Linguae Graecae

Patrologia Graecae

Dictionary of Old English

Old English Corpus

Dictionary of Old English: A to H

Benson's Glossarial DataBase of Middle English

Corpus of Middle English Prose and Verse

Middle English Compendium

Goldsmiths'- Kress Library of Economic Literature, 1450-1850

Grove Encyclopedia of Northern Renaissance Art

Index of Medieval Art

Making of Modern Law: Trials 1600-1926

Bibliographie de Civilisation Medievale

Iter: Gateway to the Middle Ages and the Renaissance

Bibliography of British and Irish History

Encyclopedia of Witchcraft: The Western Tradition

Monumenta Germaniae Historica

European Views of America: 1493-1750

Sabin Americana, 1500-1926

Encyclopedia of African American History, 1619-1895

Literature & Drama
Religious History & General Study

Early English Books Online (EEBO)

Garnier Classics

BREPOLiS

Cambridge Companions Online

Gale Primary Sources

Drama Online

Editions and Adaptations of Shakespeare

First Folio of Shakespeare

Oxford Encyclopedia of Theatre and Performance

Oxford Scholarly Editions Online: New Oxford Shakespeare

Shakespeare Collection

ATLA Religion Database with ATLA Serials

Dictionnaire d'Histoire et de Géographie Ecclésiastiques

Digital Library of Classic Protestant Texts

King James Bible

Digital Library of the Catholic Reformation

ATLA Catholic Periodical and Literature Index

Encyclopedia of Islam

Index Islamicus

International Medieval Bibliography (IMB)

Oxford Bibliographies Online: Medieval Studies

Oxford Bibliographies Online: Renaissance and Reformation

Open Access:

Besides searching for medieval and renaissance texts in Google Books, consult:

Manuscripts Online: Written Culture 1000 to 1500

The British Library's Digital Catalogue of Illuminated Manuscripts

Digitized Medieval Manuscripts App
Research Institutions
Local Research Institutions:
The Jesuitica Collection and other early modern books are held at the LUC Archives and Special Collections on the 2nd floor of Cudahy Library, LSC. Items in these collections are available for consultation by appointment only.
Chicago's Newberry Library contains hundreds of medieval and renaissance primary sources, as outlined in Paul Saenger's Catalogue of the Pre-1500 Western Manuscript Books at the Newberry Library (University of Chicago Press, 1989). Guides to Pre-1500 European Manuscripts and Post-1500 European Manuscripts are also available online, as is a bibliography of publications about the Newberry's Medieval and Renaissance Manuscripts.
The Newberry's Center for Renaissance Studies works with an international consortium of universities in North America and Europe. It offers a wide range of scholarly programs and digital and print publications based in the Newberry collections, and provides a locus for a community of scholars who come from all over the world to use the library's early manuscripts, printed books, and other materials. Additionally, the institution holds an annual book fair every summer which contains books on medieval and renaissance literature and history for sale at average or reduced prices.
Northwestern University's library in Evanston contains the Herskovits Library of African Studies and the British Library's Royal African Company documents (T70) in microfilm, detailing the early modern origins of the transatlantic slave trade.
International Research Institutions:
The British Library
The Bodleian Library
Trinity College Library
The Huntington Library
UC Berkeley Library
Folger Shakespeare Library
---
Conferences
International Congress on Medieval Studies (ICMS - Kalamazoo)
International Medieval Congress (IMC -Leeds)
Medieval Academy of America (MAA)
International Arthurian Society (IAS)
Medieval Chronicle Society (MCS)
International Medieval Society (IMS)
The Texas Medieval Association (TMA)
Vagantes Conference on Medieval Studies (VCMS)
Canadian Society for Renaissance Studies (CSRS)
Annual Meeting of Renaissance Society of America (AMRSA)
Shakespeare Association of America (SAA)
Society for the Study of Early Modern Women (SSEMW)
Renaissance Conference of Southern California (RCSC)
Sixteenth Century Studies Conference (SCSC)
Reading Early Modern Studies Conference (REMSC)
The Comparative Drama Conference (CDC)
Shakespeare Theatre Association (STA)
Networking
The Early Modern Commons often posts CFPs for conferences, seminars, workshops, and book collections.
The McElroy Shakespeare Festival: Every spring semester, faculty, graduate, and undergraduate students attend the McElroy Shakespeare Festival in Mundelein's Newhart Family Theatre to watch actors from LUC's Department of Performing and Fine Arts enact several Shakespeare scenes during a keynote lecture by a visiting scholar. During the fall semester, graduate students will have the chance to apply for the position of the McElroy publicity assistant for the next celebration.
The Medieval Studies program at LUC often holds talks by visiting scholars focusing on various topics in medieval literature and history and other events in collaboration with various university departments.
---
Teaching and Research Tools
Shakespeare Online: Students and instructors can find information about Shakespeare on this website.
Teaching Association for Medieval Studies (TEAMS): Besides providing ideas on teaching medieval studies, the website also supports a peer-reviewed online journal, The Once and Future Classroom, dedicated to encouraging and facilitating medieval studies at all levels of instruction, including at the college level. This journal is for anyone interested in the teaching of any area related to the study of the Middle Ages.
TES: Several avenues for teachers to pursue when teaching Shakespeare are available on this website.
The Complete Works of William Shakespeare: All of Shakespeare's plays and poetry are available on this website.
The Folger Shakespeare Library website contains several pages of Classroom Resources for teachers of English Renaissance drama.