Nineteenth-Century Studies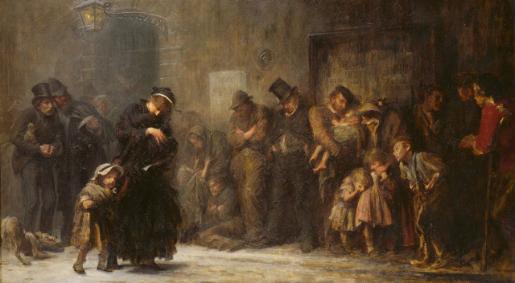 (Image: Applications for Admission to a Casual Ward, Sir Samuel Luke Fildes, 1874)
---
The PhD in Nineteenth-Century Studies at Loyola University is designed for graduate who desire to explore British and American literature. Our faculty work in diverse fields including Antebellum Literature and Culture, the Victorian Novel, English Poetry, Digital Textuality, and Poetics.
---
English 400: Introduction to Graduate Study
English 402: Teaching College Composition
Five courses in nineteenth-century literature
Two courses in critical theory
One course in Medieval or Renaissance literature
One course in modern literature and culture
English 502: Independent Study for Doctoral Qualification
Electives to fulfill the 60-hour requirement
---
Nineteenth-Century Faculty
---
Featured Faculty Books:
‌‌
Lake Methodism: Polite Literature and
Popular Religion in England, 1780-1830
by Jasper Cragwall

‌

This book reveals the traffic between Romanticism's rhetorics of privilege and the most socially toxic religious forms of the eighteenth and nineteenth centuries. The "Lake Poets," of whom William Wordsworth and Samuel Taylor Coleridge are the most famous, are often seen as crafters of a poetics of spontaneous inspiration, transcendent imagination, and visionary prophecy, couched within lexicons of experimental simplicity and lyrical concision. But, as Jasper Cragwall argues, such postures and principles were in fact received as the vulgarities of popular Methodism, an insurgent religious movement whose autobiographies, songs, and sermons reached sales figures of which the Lakers could only dream.

Mulattas and Mestizas: Representing Mixed Identies
in the Americas, 1850-2000
‌
by Suzanne Bost
This book offers a transnational analysis of three forms of mixed identity in the Americas: mulattas, mestizas, and creoles. Important contemporary literature by Latina, Caribbean, and African American writers -- from Cherríe Moraga and Cristina García to Michelle Cliff and Ntozake Shange -- recalls a largely unknown tradition of writing by women dating from the nineteenth century. This genealogy of attitudes toward racial and sexual mixture establishes an alternative lineage for experimental modes of identity usually associated with postmodernism.

Thackeray and Women

‌‌
by Micael M. Clarke
In this first study to address women in Thackeray's fiction, Clarke draws on the writer's biography as well as his novels, tales, and nonfictional writings to place him in the context of the women's movement. Approaching her analysis from a feminist-sociological perspective, Clarke connects Thackeray's novels to historical developments in nineteenth-century feminism and identifies an evolution in Thackeray's fictional treatment of women. Contrary to traditional representations of the writer as conventional and even hostile to "the Cause," the portrait of Thackeray that emerges is of a man both of his age and far ahead of it.

The Poetics of National and Racial Identity
in Nineteenth-Century American Literature
by John D. Kerkering
‌
Examining the literary history of racial and national identity in nineteenth-century America, John Kerkering argues that writers such as DuBois, Hawthorne and Whitman used poetic effect to emphasize the distinctiveness of certain groups against a diffuse social landscape. Kerkering tells the story of how poetry helped define America as a nation before helping to define America into distinct racial categories. He concludes that through a shared reliance on formal literary effects, national and racial identities become related elements of a single literary history.