home_news
Join us for an event: "Modernism's Legacies: (Post)Postmodernism"
Modernism's Legacies: (Post)Postmodernism
When: April 11th, 2015, beginning at 10:00a.m.
Where: Loyola's Lakeshore campus, Information Commons building, 4th floor
Registration: Free, but required. Please contact Linda Winnard (lwinnard@luc.edu) by April 1st.

Please see these flyers for additional information:
Invited Speakers
Schedule
The English Department Welcomes Paul Eggert, the New Martin J. Svaglic Endowed Chair in Textual Studies
Paul Eggert is an editorial theorist, scholarly editor and book historian. In 2015 he moved from the University of New South Wales in Australia to Loyola to take up the Martin J. Svaglic Endowed Chair in Textual Studies.
A fellow of the Australian Academy of the Humanities since 1998, Dr Eggert served as the general editor of its Academy Editions of Australian Literature (10 vols, 1996–2007) and as chair of its English section (2009–11). He received the Centenary Medal of the Commonwealth of Australia for services to the study of literature in 2003.
During his thirty years with UNSW in Canberra Eggert served as founding director of the Australian Scholarly Editions Centre (1993–2005: http://hass.unsw.adfa.edu.au/ASEC), as head of the English department (2001–03) and, for his last five years, was an Australian Research Council professorial fellow.
His book Securing the Past: Conservation in Art, Architecture and Literature was published by Cambridge UP in 2009; it won the Society for Textual Scholarship's Finneran Award as the best book of editorial theory for 2009–10. He was President of this US-based society during 2013–14 and, in Australia, served on the board of the well-known bibliographic database of Australian literature AustLit over many years.
Paul Eggert had three books appear in 2013: a scholarly edition of the original newspaper versions of Henry Lawson's short stories While the Billy Boils (Sydney UP); a scholarly edition of Under Western Eyes by Joseph Conrad, co-edited with Roger Osborne (Cambridge UP, in its Works of Joseph Conrad series), and Biography of a Book, a study of the life of Henry Lawson's While the Billy Boils (Pennsylvania State UP and Sydney UP).
Several other full-scale scholarly editions of works by D. H. Lawrence, Henry Kingsley and Rolf Boldrewood have also appeared under Paul's hand since 1990. He won various Australian Research Council grants over the years and was co-chief investigator on the Australian Electronic Scholarly Editing tool-development project (http://austese.edu.au).
His major editorial project at the moment is the Charles Harpur Critical Archive, which he brings to Loyola. Still in development as of 2015, a provisional prototype of the works of this significant Romantic-era poet of colonial New South Wales may be found at http://charles-harpur.org.
A recent article of Paul's in Textual Cultures, his presidential address to the Society for Textual Scholarship entitled 'The Hand of the Present', may be found at http://www.jstor.org/stable/10.2979/textcult.7.2.3
Poetry reading with David Roderick
David Roderick's first book of poems, Blue Colonial, won the APR/Honickman Prize, and his second, The Americans, was recently published as part of the Pitt Poetry Series. Stanford, Bread Loaf, the University of North Carolina, and the Trust of Amy Lowell have all granted fellowships in support of his work. Roderick currently serves as an Associate Professor of English in the MFA Writing Program at the University of North Carolina at Greensboro.
This event takes place on Thursday, February 19th in the Klarchek Information Commons (IC) 4th Floor at 7pm. It is free and open to the public.
The Humanities "Crisis" and the Future of Literary Studies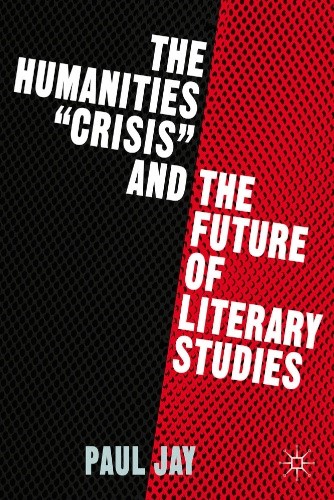 The Humanities "Crisis" and the Future of Literary Studies
"Anyone seeking arguments in support of the humanities will find a rich resource in the materials that Paul Jay has put together in this book. He combines a thorough synthesis of debates across the field with well-reasoned and persuasive arguments that go beyond the tired bromides and platitudes too often hauled out in support of the study of literature, philosophy, and other humanistic disciplines. In the process, he lays to rest some of the myths and misunderstandings that have created a rhetoric of "crisis," and offers his readers solid evidence that the humanities are as vital today as in any other moment." - Johanna Drucker, Breslauer Professor of Bibliographical Studies, University of California, Los Angeles, USA
The English Department's 2014 Holiday Party
Students and professors in the holiday spirit (Dr. Clarke)
Professors Glover and Cragwall
Glottal Attack performs Madrigals
Come see critically acclaimed author Brock Clarke give a reading from his new novel, "The Happiest People in the World."
New Book by Professor Jeffrey Glover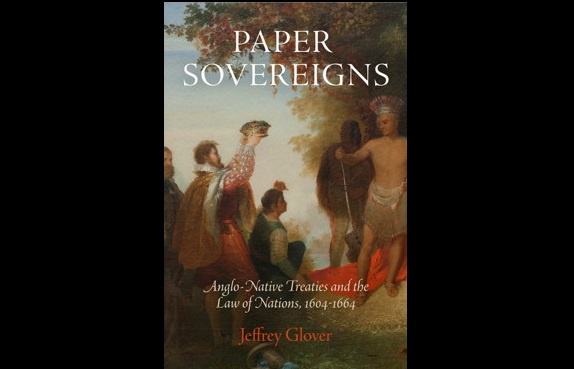 Paper Sovereigns
Anglo-Native Treaties and the Law of Nations, 1604-1664
"A nuanced narrative of Anglo-Native interactions in the early years of British colonialism. Jeffrey Glover crafts a persuasive story that draws on much of the best historical work, and rigorously avoids romanticizing (or demonizing) any of the involved parties, showing how indigenous leaders used the tools and strategies available to them to advance their individual and communal interests."—Sandra M. Gustafson, University of Notre Dame
In many accounts of Native American history, treaties are synonymous with tragedy. From the beginnings of settlement, Europeans made and broke treaties, often exploiting Native American lack of alphabetic literacy to manipulate political negotiation. But while colonial dealings had devastating results for Native people, treaty making and breaking involved struggles more complex than any simple contest between invaders and victims. The early colonists were often compelled to negotiate on Indian terms, and treaties took a bewildering array of shapes ranging from rituals to gestures to pictographs. At the same time, Jeffrey Glover demonstrates, treaties were international events, scrutinized by faraway European audiences and framed against a background of English, Spanish, French, and Dutch imperial rivalries.
To establish the meaning of their agreements, colonists and Natives adapted and invented many new kinds of political representation, combining rituals from tribal, national, and religious traditions. Drawing on an archive that includes written documents, printed books, orations, landscape markings, wampum beads, tally sticks, and other technologies of political accounting, Glover examines the powerful influence of treaty making along the vibrant and multicultural Atlantic coast of the seventeenth century.
2014 Annual Edward L. Surtz Lecture presents: Katherine Hayles
Wednesday, October 15th, 2014
Coffey Hall - McCormick Lounge
3:00 - 4:30 PM
Reception to Follow
For more information, contact: Prof. James Knapp at jknapp@luc.edu / 773-508-2241
N. Katherine Hayles is Professor in the Literature Program at Duke University. She has a background in Chemistry (MS) and English (PhD); she worked as chemical research consultant before shifting fields to English Literature. Her interests include digital humanities; electronic literature; literature, science and technology; science fiction; and critical theory. Hayles is the author of numerous books, including How We Became Posthuman: Virtual Bodies in Cybernetics, Literature and Informatics (1999), for which she won the Rene Wellek Prize. Hayles has won numerous prestigious awards including a Guggenheim Fellowship, a Rockefeller Residential Fellowship, and two Presidential Research Fellowships from the University of California.
Steven Pinker is coming to Loyola University to discuss his new book on writing, The Sense of Style.
Steven Pinker is the Johnstone Family Professor of Psychology at Harvard University. A two-time Pulitzer Prize finalist and the winner of many awards for his research, teaching, and books, he has been named one of "Time's" 100 Most Influential People in the World Today and "Foreign Policy's" 100 Global Thinkers. He has written numerous books including How the Mind Works and The Better Angels of Our Nature: Why Violence has Declined.
" 'Good writing can flip the way the world is perceived,' Pinker writes, and The Sense of Style will flip the way you think about good writing. Pinker's curiosity and delight illuminate every page, and when he says style can make the world a better place, we believe him."
— Patricia T. O'Conner, author of Woe is I
IHC supports International Conference on Virginia Woolf with grant
The $4,500 grant will support the production of Sarah Ruhl's play "Orlando," adapted from the novel by Virginia Woolf. It will additionally support "talk-backs" with the audience after the performances led by the play's director, Ann Shanahan of Loyola's Department of Fine and Performing Arts, Chicago artist Anna Henson, and Woolf scholar Jaime Hovey, of Loyola's English Department.

Ann Shanahan

The performances take place at 7:30 p.m. Thursday, June 5, and Friday, June 6, at the Newhart Family Theatre in the Mundelein Center for the Performing Arts on the north shore campus of Loyola University. For more information, contact woolfconference2014@gmail.com.
For the full story, click here.
6th Annual EGSA Symposium
6th Annual English Graduate Student Association Symposium
3PM Wednesday, April 9th
Bremner Lounge, CFSU
---
Please come out and support the research of English graduate students. All faculty, staff, and students are encouraged to partake in the fun, discussion, and refreshments.
The Symposium Will Feature Two Panels:

Twentieth Century Methods

•Norah Alsuhaibani, Reading Kafka through Foucault and Butler
•Brandiann Molby, Stanley Fish, Wolfgang Iser, and Mimetic Theory
•Naomi Gades, Skyrim, A Two-Edged Model: How Data is Changing Objects Early Modern Wonder and Mystery
Early Modern Wonder and Mystery
•Stephanie Kuscera, "A Most High Miracle!": The Staging of Wonder in The Tempest
•David Macey, The Bear Without a Head: A Textual Mystery
Aleksandar Hemon Fiction Reading
On Thursday, April 10th at 7 p.m. in the Information Commons 4th Floor, acclaimed Chicago writer and essayist Aleksandar Hemon (The Question of Bruno, Love and Obstacles, The Book of My Lives, and The Lazarus Project, which was a finalist for the National Book Award) will read from his work.
Textual Conditions day conference on March 29th
New book by Professor Jack Cragwall
Jasper Cragwall's new book, Lake Methodism: Polite Literature and Popular Religion in England, 1780–1830, reveals the traffic between Romanticism's rhetorics of privilege and the most socially toxic religious forms of the eighteenth and nineteenth centuries. The "Lake Poets," of whom William Wordsworth and Samuel Taylor Coleridge are the most famous, are often seen as crafters of a poetics of spontaneous inspiration, transcendent imagination, and visionary prophecy, couched within lexicons of experimental simplicity and lyrical concision. But, as Cragwall argues, such postures and principles were in fact received as the vulgarities of popular Methodism, an insurgent religious movement whose autobiographies, songs, and sermons reached sales figures of which the Lakers could only dream.


With these religious histories, Lake Methodism unsettles canonical Romanticism, reading, for example, the grand declaration opening Wordsworth's spiritual autobiography—"to the open fields I told a prophecy"—not as poetic self-sanctification, but as awkward Methodism, responsible for the suppression of The Prelude for half a century. The book measures this fearful symmetry between Romantic and religious enthusiasms in figures iconic and unfamiliar: John Wesley, Robert Southey, Wordsworth, Coleridge, as well as the eponymous scientist of Mary Shelley's Frankenstein, and even Joanna Southcott, an illiterate servant turned latter-day Virgin Mary, who, at the age of sixty-five, mistook a fatal dropsy for the Second Coming of Christ (and so captivated a nation).
Center for Core Literature and Writing has a new home
The English department has acquired additional space. Loyola Hall, 1110 W. Loyola Ave., is now home to the Center for Core Literature and Writing, the Center for Textual Studies and Digital Humanities, and the Loyola Community Literacy Center. The offices of faculty members who are involved in these centers are also in Loyola Hall.

You can find us just east of the new Seminary building.
Distinguished Scholar Award presented to Professor Steve Jones
During the January 2014 MLA meeting in Chicago, Steve Jones was presented with the Keats-Shelley Association's Distinguished Scholar Award. His former student, Orianne Smith, now Associate Professor of English at University of Maryland Baltimore, introduced Jones.
A lifetime achievement award for Dr. Frank Fennell
Dr. Frank Fennell, long-time faculty member in the Department of English and Dean of CAS from 2008-2012, was the recipient of the Newbridge Silver Literary Award this past summer for lifetime contributions to scholarship on the poet Gerard Manley Hopkins. This award is given by the Gerard Manley Hopkins Society at its annual summer Festival‌, held in Newbridge, County Kildare, Ireland, an event which welcomes scholars from across the globe and also focuses on music, poetry, and the visual arts.
Like much of the Irish tradition, the Festival brings together scholars, artists, and everyday people to create an engaged and lively experience for all. Whether in classroom or pub, everyone finds themselves a student at this long-time Irish Festival, now in its 27th year. Fennell has presented several times at the event and looks forward to continuing his relationship with the Gerard Manley Hopkins Society.
Dr. Fennell started at Loyola as an Assistant Professor in 1968 and became full professor in 1983. Since that time he has held many administrative positions at the University, including Chairperson of the English Department and at various times Assistant Dean, Associate Dean, and Dean of the College of Arts & Sciences. His research interests focus on Victorian Literature, Rhetoric and Composition, and Pedagogy. Review his faculty page for additional information.
24th Annual Conference on Virginia Woolf: Call for Papers
The 24th Annual International Conference on Virginia Woolf, co-sponsored by Loyola University Chicago and Northern Illinois University, will take place in Chicago, 5 – 8 June 2014. "Virginia Woolf: Writing the World" aims to address such themes as the creation of worlds through literary writing, Woolf's reception as a world writer, world wars and the centenary of the First World War, and a myriad of other topics.
The call for papers and other information is available on the conference website: www.niu.edu/woolfwritingtheworld/home/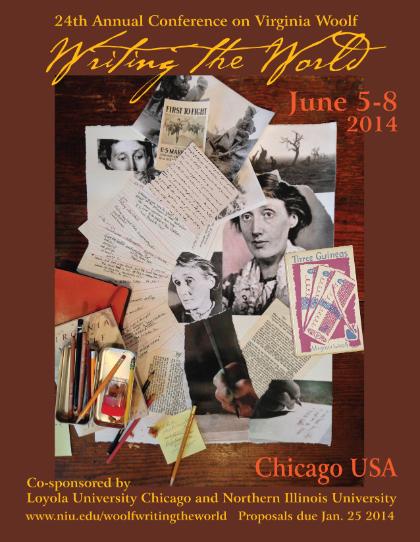 New Book by Professor Steve Jones
The past decade has seen a profound shift in our collective understanding of the digital network. What was once understood to be a transcendent virtual reality is now experienced as a ubiquitous grid of data that we move through and interact with every day, raising new questions about the social, locative, embodied, and object-oriented nature of our experience in the networked world.
In The Emergence of the Digital Humanities, Steve Jones, Professor of English and Co-Director of the Center for Textual Studies and Digital Humanities, examines this shift in our relationship to digital technology and the ways that it has affected humanities scholarship and the academy more broadly. Based on the premise that the network is now everywhere rather than merely "out there," Jones links together seemingly disparate cultural events—the essential features of popular social media, the rise of motion-control gaming and mobile platforms, the controversy over the "gamification" of everyday life, the spatial turn, fabrication and 3D printing, and electronic publishing—and argues that cultural responses to changes in technology provide an essential context for understanding the emergence of the digital humanities as a new field of study in this millennium.
‌
Possibilities and Provocations: Best Practices for Teaching Literature
Professor Michael Bérubé was the keynote speaker at our day-conference on "Possibilities and Provocations: Best Practices for Teaching Literature." This clip is from his talk titled "Slow Teaching."
Modernist Networks receives NEH Start-up Grant in digital humanities
Modernist Networks (ModNets), the federation of digital projects in modernist literary and cultural studies directed by Pamela Caughie and David Chinitz of Loyola's English Department, held a workshop at the CTSDH on August 17, 2013, supported by an NEH Startup Grant, to discuss the metadata issues essential to aggregating digital modernist projects. Project managers, metadata analysts, and representatives of both ModNets and its umbrella organization, ARC, came from as far as Belgium, Nova Scotia, Texas, Massachusetts, Oklahoma, and even Australia to attend. By generating sample metadata documents derived from existing projects, the group identified relevant issues in the current ARC metadata standard and mapped its next steps in developing a functional ModNets infrastructure.
Congratulations to Dr. Jeff Glover on being named a Master Teacher by the Sujack Awards Committee