home_news
New Book by Professor Jeffrey Glover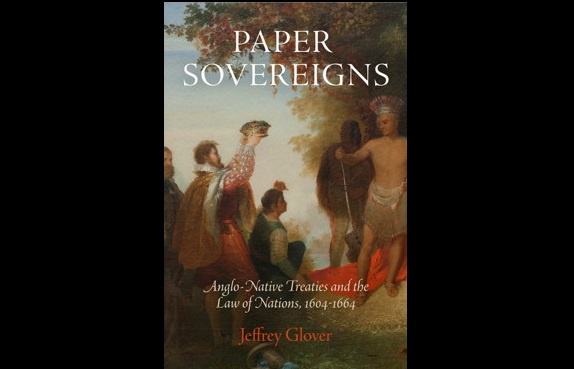 Paper Sovereigns
Anglo-Native Treaties and the Law of Nations, 1604-1664
"A nuanced narrative of Anglo-Native interactions in the early years of British colonialism. Jeffrey Glover crafts a persuasive story that draws on much of the best historical work, and rigorously avoids romanticizing (or demonizing) any of the involved parties, showing how indigenous leaders used the tools and strategies available to them to advance their individual and communal interests."—Sandra M. Gustafson, University of Notre Dame
In many accounts of Native American history, treaties are synonymous with tragedy. From the beginnings of settlement, Europeans made and broke treaties, often exploiting Native American lack of alphabetic literacy to manipulate political negotiation. But while colonial dealings had devastating results for Native people, treaty making and breaking involved struggles more complex than any simple contest between invaders and victims. The early colonists were often compelled to negotiate on Indian terms, and treaties took a bewildering array of shapes ranging from rituals to gestures to pictographs. At the same time, Jeffrey Glover demonstrates, treaties were international events, scrutinized by faraway European audiences and framed against a background of English, Spanish, French, and Dutch imperial rivalries.
To establish the meaning of their agreements, colonists and Natives adapted and invented many new kinds of political representation, combining rituals from tribal, national, and religious traditions. Drawing on an archive that includes written documents, printed books, orations, landscape markings, wampum beads, tally sticks, and other technologies of political accounting, Glover examines the powerful influence of treaty making along the vibrant and multicultural Atlantic coast of the seventeenth century.
More Featured Stories
Extraordinary Alumni

Get involved with social justice in health care. That is Karen Aguirre's (BS '15) motto—and her advice to current nursing students. "Sometimes an issue is overlooked because of the complex problem-solving that it comes with," she says.


Women in STEM

Loyola's Girls Who Code chapter aims to provide a space for young women to learn, teach, and explore coding in an inclusive and supportive environment.


Ignatian Heritage Month

Musick is the residential services coordinator at the Open Door Youth Shelter in the West Town neighborhood of Chicago, part of the Night Ministry.