Edward L. Surtz
At a time when Loyola's English department focused primarily on teaching, while scholarship was neither expected nor particularly rewarded, Father Edward L. Surtz, S.J., devoted himself to research and writing for its own rewards. As a researcher and as a teacher, he impressed everyone with his strictness, both with himself and with his students. His love of learning and his commitment to the pastoral duties of a priest characterized almost everything he did.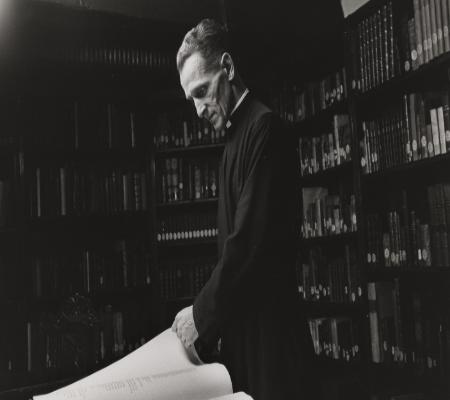 FR. EDWARD L. SURTZ, S.J. (1909–1973)
Father Surtz completed his BA in 1931 at John Carroll University and his MA at Xavier University in 1934. In addition to his work in literature, he completed studies for the priesthood and was ordained in the Society of Jesus in 1942. His remarkable scholarly abilities were recognized by his religious superiors and he was sent to Harvard University where he studied with Douglas Bush and completed his doctorate in 1948.
His dissertation topic focused on philosophy and education in Thomas More's Utopia. Throughout his career, indeed, his particular area of specialization remained the early Renaissance, though he taught courses in a variety of other fields. Fr. Surtz published widely. His books include The Praise of Pleasure: Philosophy, Education and Communism in More's Utopia (Harvard Press, 1957), Thomas More's Utopia: A Scholarly Edition (Yale Press, 1965) and The Works and Days of John Fisher (Harvard Press, 1967). His scholarly reputation was recognized by several awards, particularly a Guggenheim Fellowship, which he received in 1954.
Fr. Surtz exercised frequently and especially enjoyed bicycle riding for relaxation. Unfortunately, he died from a bicycle accident while on vacation in Fort Lauderdale. The The Edward L. Surtz, S.J. Lecture in the Humanities, the Fr. Edward L. Surtz, S.J. Prize, and the Kathleen Toomey/Fr. Edward L. Surtz, S.J. Graduate Fellowship honor his legacy of scholarship and humanistic inquiry.