archive
Women's Leadership Forum 2023 (virtual)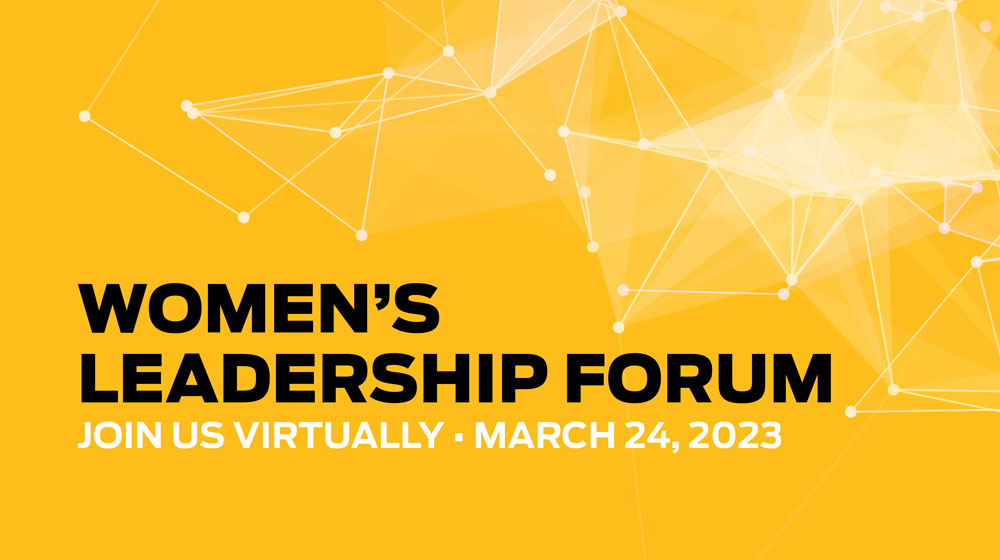 The Women's Leadership Forum exists to amplify the stories and expertise of women in our community. During the one-day event, you will hear diverse perspectives on how women can and do make meaningful change within themselves and their organizations. Whether you are a student about to enter the workforce or have decades of experience leading people and organizations, we hope you will be inspired and encouraged after attending the event.
Event details
Date: Friday, March 24, 8:30 a.m. - 1:45 p.m.
Format: Online
Agenda
Keynote Address – 8:30 a.m.
Purpose Driven Leadership: How Corporations are Helping Women Build Purpose, Beth Spurgeon & Elizabeth Okey
Breakout Session 1 – 9:25 a.m.
From Niche to Networth, Aleah Moore
Team Leadership is Vertical, Christine Sandman Stone
Office Culture and Well-Being: Why Hiring Diverse Candidates is not the First Step, Amelia Garza
Breakout Session 2 – 10:15 a.m.
Its All About Them: Servant as Leader, Patricia Ahern
Purposed to Succeed, LaToya Moore
Self-Care for Leaders, Stephanie Singleton
Breakout Session 3 – 11:05 a.m.
Why Unlearn When You Can Learn More!, LaShawn Holloway
Develop and Maintain Women Leaders in Supply Chain through Mentorship Pods, Michelle Kosovec and Eric Tritch
Why so Serious? Leadership Through Play, Rujanee Mahakanjana
Lunch – 11:45 a.m.


Breakout Session 4 – 12:15 p.m.
How to be a Collaborative Partner to the Organization through Effective Risk Management, Valerie Nielson
Empowering Leaders to Serve on Start-Up Boards, Dimitra Georganopoulou
How to be Bingeworthy: Facilitating Presentations Post-Pandemic, Carla Curtsinger
Breakout Session 5 – 1:00 p.m.
From Competitors to Collaborators: How Three Unique CEO's Joined Forces for Good, Marie Trzupek Lynch, Karen Freeman-Wislon, Karina-Ayala Bermejo
You're More than Your Title: Building a Powerful Personal Brand, Dr. Carol Parker Walsh
Our 2023 Speakers
Patricia Ahern
FACHE Consulting and Coaching, Organizational Change

Karina Ayala Bermejo
President and CEO
Instituto del Progreso Latino
Holly Copeland
Senior Director CSR, Sustainability and Impact
Horizon Therapeutics
Carla Curtsinger
Communications Consultant
Point Taken Consulting
Karen Freeman Wilson
President and CEO
Chicago Urban League
Amelia Garza
Manager, Diversity and Inclusion
Alzheimers Association
Dimitra Georganopoulou
General Partner
Qral Ventures
LaShawn Holloway
Director, Chicago Partnerships
Braven
Jennifer T. Holmes
Associate Director, Major Gifts
Rush University Medical Center
Michelle Kosovec
Manager Supply Chain Process Transformation and Quality
UChicago Medicine
Rujanee Mahakanjana
Director, Producer, Social Entrepreneur
Nebula Creatives L3C and Pixquid LLC
Aleah Moore
Founder, Business Development Lead, Financial Educator
Boss Women Matter
Latoya Moore
Cost Engineer
ComEd
Valerie Nielsen
Managing Director
Longview Leader Corporation
Elizabeth Okey
Vice President, Community Impact
Wintrust

Dr. Carol Parker Walsh
Executive Coach and Professional Brand Strategist
Carol Parker Walsh Consulting, LLC
Christine Sandman Stone
Global Product and Engineering Operations Lead
Groupon
Stephane Singleton
Motivator in Chief
Prana Wellness
Beth Spurgeon
Director of ESG
PwC
Eric Tritch
VP Supply Chain and Support Services
UChicago Medicine
Marie Lynch Trzupek
CHRO, Morningstar
Former Founding Chair, CBOC
Past Forums
Revisit our 2022 and 2021 forums for a look at past agendas and speakers.