archive
Women's Leadership Forum 2021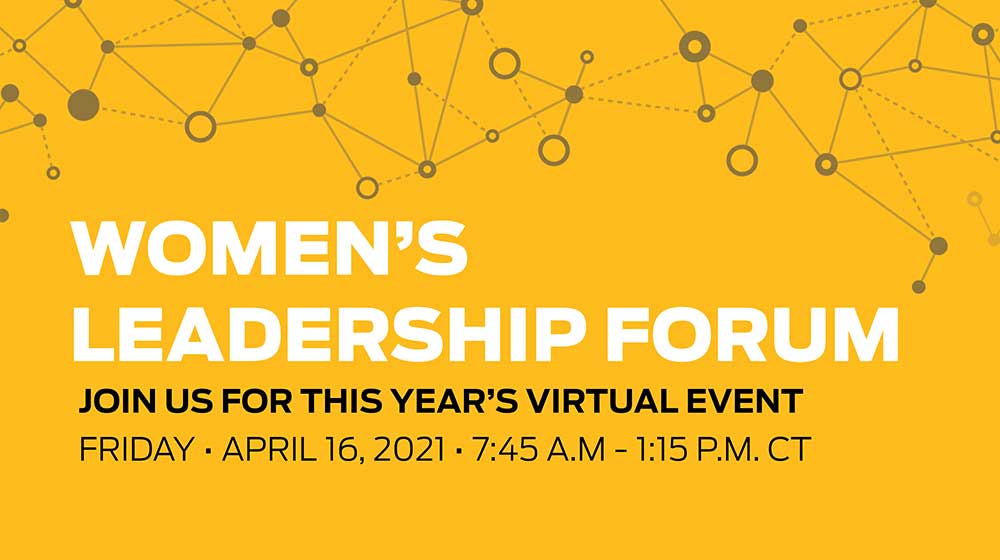 On Friday, April 16, 2021 we hosted a half-day of learning, networking, and togetherness at our Women's Leadership Forum. While this year's event was virtual, we still brought together experts from across disciplines to discuss the challenges women face in today's workforce, regardless of industry or background.
No matter what stage you're at in your career, this annal event is designed to help all women become better leaders in their workplace.
Guest Speakers
Agenda
As a reminder, this is a virtual event. All times listed are CST.
7:45 a.m.
Welcome
Colleen Reany, Loyola's Quinlan School of Business
Pam McCoy, Loyola's Quinlan School of Business
Dr. Jo Ann Rooney, Loyola University Chicago
8:15 a.m.
Women Thriving in 2021
Dr. Pam Schilling, Archer Career
8:30 a.m.
Legacy and Lifelong Learning
Dr. Sharonda Hagans-Jones, Hagans-Jones Consulting
9:15 a.m.
Break
9:20 a.m.
Breakout Session 1A:
Driving Change in a Male Dominated Industry
Betsey Nohe, Morton Salt
Colleen Reaney, Loyola's Quinlan School of Business (moderator)
Brittani Shaw, Litera
Lauren Wilson Lee, Allied Technology Solutions
Daniela Hendricks, Gebrüder Weiss USA

Breakout Session 2A:
Leadership as Influence
Vicki Klopsch, Laspa Center for Leadership, Scripps College
10:00 a.m.
Break
10:05 a.m.
Breakout Session 1B:
Work Life Balance: Fact or Fiction?
Heather Terry, GoodSam PBC

Breakout Session 2B:
The Power of Networking
Melissa Lagowski, Big Buzz Idea Group
10:55 a.m.
Break
11:00 a.m.
Breakout Session 1C:
Preparing for Promotion: How to Position Yourself for Growth and Advancement
Aminatu Rubango, Quinlan School of Business
Ashley Ritter, Quinlan School of Business

Breakout Session 2C:
Leading Authentically During Times of Change and Chaos
Eileen Timmins, 1WorldSync
11:45 a.m.
Break
11:50 a.m.
Inclusive Leadership
Dwetri Addy, Stitch Fix
12:35 p.m.
Zoom Small Group Networking
1:15 p.m.
Event Concludes
---
Leading for Good would not be possible without the generous support of our sponsors.