CEL Lunch and Learn
Undergraduate Research - Placing Experience at the Center for Experiential Learning

For a lot more Lunch and Learns from the Center for Ignatian Pedagogy click here!

Thursday, January 29, 2015 - Cuneo Hall 410
11:30am - 1:00pm
What strategies do you utilize to generate rich undergraduate research experiences for students? Join this workshop led by Dr. Stefan Kanzok discussing promising practices in mentoring undergraduate research students. The focus of this workshop will be on fostering a robust experience to enhance the learning process. Lunch will be served.
Reflection in Engaged Learning: Fostering Curiosity
Friday, February 27, 2015 - Cuneo Hall 410
11:30 am – 1:00 pm
Students enrolled in engaged learning courses have opportunities for reflection within their coursework. Such reflection is essential for students and faculty to together maintain Ignatian Pedagogy Paradigm in engaged learning courses. What is unknown, however, is how reflection may also foster curiosity, a trait that may lead to lifelong learning. Join Stacy Neier, Senior Lecturer in the Department of Marketing from Quinlan School of Business, as she discusses engaged learning practices aimed to stimulate both reflection and curiosity.
Engaged Learning: Let the Students Speak!
Friday, December 5, 2014 - School of Communication
We're accustomed to faculty discussing their Engaged Learning experiences. Now it's time to hear the students speak! Join journalism students from the School of Communication's Advanced Reporting course as they discuss their semester-long project examining public education in Chicago. Students have spent time interviewing teachers, students and administrators in some of the city's toughest neighborhoods to write profile and trends stories for Mosaic magazine. The students will describe and reflect on their experiences in a one-hour presentation from 10:30-11:30 a.m. Friday December 5 in the School of Communication. Admission is free and snacks will be served.
Engaged Learning through Rigor, Reflection, and Responsibility
Friday, November 14, 2014 - Cuneo Hall 410
11:30am - 1:00pm
Engaging Students Through The New R's: Rigor, Reflection and Responsibility.
This seminar will discuss how to engage students through the three R's: Rigor, Reflection and Responsibility. Faculty will have an opportunity to learn from one another and from current students about how to create a better classroom experience through the following techniques:
Rigor - Challenging faculty to push the student not just academically but creating confidence.
Reflection - Assessing each assignment through the prism, "What am I learning about my learning."
Responsibility - Showing students the importance of the smallest choice and how it impacts larger decisions.
Join Richelle Rogers, faculty member in the School of Communication, for this workshop to enhance your teaching and learning strategies
Making Connections: Fostering Engaged Learning with Museum and Archive Collections
Thursday, O‌ctober 9th, 2014 - Loyola University Museum of Art (LUMA)
11:30am - 1:00pm
Dr. Kyle Roberts, Assistant Professor of Public History and New Media & Center for Experiential Learning Faculty Fellow
Danielle M. Forchette, M.Ed., Center for Experiential Learning
Join us for an exploration of how museum and archive collections can provide resources for engaged learning across the disciplines. We will look at ways works of art and primary sources can provide inspiration and fresh points of entry into the reflection activities that are critical for the student's engaged learning experience.
Dr. Kyle Roberts will also share the engaged learning that went into history students' participation in the development of the Crossing and Dwellings exhibit at Loyola University Museum of Art. We will walk through the galleries to learn more about the range of engaged learning experiences that went into the exhibition and the digital enhancements the students created from museum and archive collections.
Show and Tell: Creating Student Projects in Engaged Learning Course

Friday, October 17th, 2014 - Cuneo Hall 410
11:30am - 1:00pm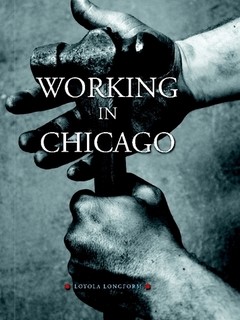 Students in Engaged Learning courses in the School of Communication often develop projects as part of their coursework. From Videos and websites, to magazines and hard-cover books, these projects tell the stories of the engaged learning taking place in the courses. Join John Slania, Journalism Instructor and Associate Dean in the School of Communication, as he explains how he facilitates projects in his Engaged Learning courses.‌