Models, Sample Syllabi, and Other Resources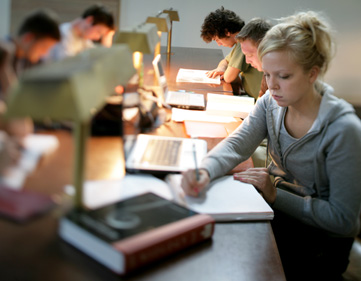 Note: Much of the following material was originally developed for Service-Learning courses and programs. However, many of the principles articulated are helpful for faculty implementing any kind of experiential or community-based component in their course(s).
Fundamentals of Experiential Learning Course Construction
To be truly effective and to minimize the potential for harm, service-learning, internship, and other community-based experiences must be well planned and integrated into the course syllabus with a clear sense of how to structure the experiential component and why this activity is being utilized in this course.
There are four basic principles (with related guiding questions) that should guide faculty in organizing and constructing a course with an experiential learning component:
Engagement: In a service-learning course, does the community component meet a public good? How do you know this? Has the community been consulted? How? In an internship, will the professional experience gained significantly enhance the students' professional development and readiness? How do you know this? Have the students been consulted? In general, how have campus/community boundaries been negotiated and how will they be crossed?

Reflection: Is there a mechanism that encourages students to link their community-based experiences to course content and to reflect upon why the work they have done is important?

Reciprocity: Is reciprocity evident in the community-based component? How? Reciprocity suggests that every individual, organization, and entity involved in the learning process functions as both a teacher and a learner. Participants are perceived as colleagues, not as servers and clients. (Jacoby, 1996 p.36)

Public Dissemination: Are the results of student work (as service learners or interns) presented to the public or made an opportunity for the community to enter into a public dialogue? For example: Do oral histories students collect return to the community in some public form? Is the data students collect on the saturation of toxins in the local river made public? How?
Once faculty have addressed these four principles, they should begin to plan the manner in which the community-based component will be presented in the syllabus. The presentation of the community-based experience in the syllabus can be critical in shaping the educational outcomes for the course. It cannot be presented as a mere sidebar to the course; rather, the syllabus should explain why this kind of assignment is a part of the course and/or departmental requirements.
This requires instructors to think about the explicit connections between their course and departmental objectives; between the university's mission and the community's expectations; and, perhaps most importantly, between their goals and their students expectations (Woolcock,1997 p. 10). These connections are further clarified for students in how faculty structure the community-based component in the syllabus.
(Adapted from "The Basics of Course Construction", National Campus Compact website, 2007)



Models of Experiential Learning Courses and Activities
There is no single way to "do" service-learning or structure a community-based experience. The following three models of activities offer some examples of how various agency missions, opportunities, and needs might interface with classroom learning objectives. It is by no means an exhaustive list, and should be used as a spur to community partners', faculty members' and students' creativity. Faculty wishing to implement ANY of the following course designs (or hybrids of them!) should consult with the Program Manager for Service-Learning for help with course planning and parternship development.

Placement model: Individual students or groups of students choose from among several placements that have been chosen for their courses or suggested by Center for Experiential Learning staff and work at these sites for a few hours per week throughout the semester, depending on the course requirements and the needs of the service site. The service they provide is the conduit to their learning. They gain access to populations or issues related to their courses and, in return, provide needed assistance to organizations and/or their clientele. For example, students in an Intro to Sociology class might volunteer at a range of area social services agencies and reflect on their experiences in light of in-class discussions of historic and contemporary social problems. Many internships fit within this model: student interns shoulder part of the burden of an organization's regular activities, thus learning "what it's really like" to work in that industry, serve that population, etc.

Presentation model: Students in a course take material they are learning in class and create presentations for audiences in the community, often young people or the clients of a particular community-based organization. The service learners work in small groups and choose from among several sites, which have usually been set up by the course instructor in cooperation with the Center for Experiential Learning staff. Sometimes instructors require students to do their presentations more than once (to give them the chance to evaluate and make adjustments), or have them present in class before going out into the community. For example, students in a medieval studies class might teach a lesson on medieval verse forms to a high school creative writing class; nursing students might present a community health fair at a local school or community center.

Project model: In some courses, learners—working alone or in groups—produce a tangible result for their agencies, thus serving as "consultants" in response to agency-defined goals. Often the project is research related, but in other cases students may produce materials or execute an event on behalf of the organization. For example, students in an enviromental studies class might do an environmental audit of an agency's operations or facilities; interns from a curriculum development certification program might prepare a curriculum for a summer enrichment program sponsored by the local school district; students in a computer science class might develop or modify a database for their agency clients. In many cases, the Center for Experiential Learning staff works with multiple "project" model classes to advance longer term community goals in partnership with one or more community-based organizations.

Sample Syllabi From Campus Compact
National Campus Compact maintains a large online collection of sample experiential and service-learning syllabi organized by disciplines. Browsing these is a great way to see various models of community-based learning "in action," and as such can be helpful for stirring the creativity of students, faculty, and community partners. Note that the categorization of sample syllabi is a matter of art, not an exact science; helpful examples may be found listed under multiple more-or-less-related headings.