Adapting at the Speed of Change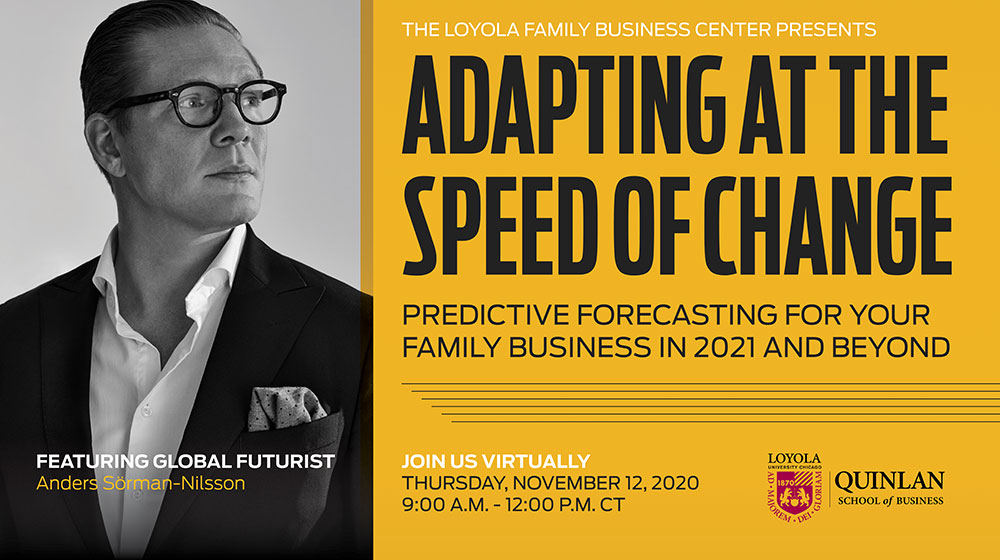 Guest speaker and global futurist, Anders Sörman-Nilsson shares his energizing view of business adaptation, innovation and transformation. Swiss born Sorman-Nilsson grew up in a family business and works with businesses around the world connecting their innovative pasts to a predictive future.
Key takeaways
The paradigm shifts in customer behaviour and values unleashed by the pandemic
The STEEP (socio-cultural, technological, economic, environmental, and political) Megatrends influencing the world beyond the virus
How to scenario plan for future disruptions and use trend analysis as a key input for family business continuity
Why family businesses are now all media companies with a license in our old industries and how to ensure the sustainability of our brands and legacy
How to take advantage of the emerging 2nd Renaissance of human creativity and use it for successful succession planning
About Anders Sörman-Nilsson
Anders Sörman-Nilsson (EMBA / LLB) is a futurist and the founder of the Sydney-based think tank and trend analysis firm - Thinque, which provides data-based research, foresight and thought leadership assets for global brands and family businesses across 4 continents. His vision is to disseminate 'avant-garde ideas which expand minds and inspire a change of heart', and clients like Microsoft, Mercedes Benz, Apple, Facebook, McKinsey, Jaguar Land Rover, MINI, Rugby New Zealand, and Lego trust his future guidance. He is an awarded keynote speaker who helps leaders decode trends, decipher what's next and turn provocative questions into proactive answers. He has published 3 books including 'Aftershock' (2020), 'Seamless' (2017) and 'Digilogue' (2013), is a member of TEDGlobal, and was nominated to the World Economic Forum's Young Global Leaders in 2019. His futurist thinking has been shared by the Wall Street Journal, Financial Review, Monocle, BBC, Esquire and ABC TV. He has been actively involved with Family Business Network and grew up in a family-owned and operated menswear haberdashery in Stockholm, Sweden.