Leading with Values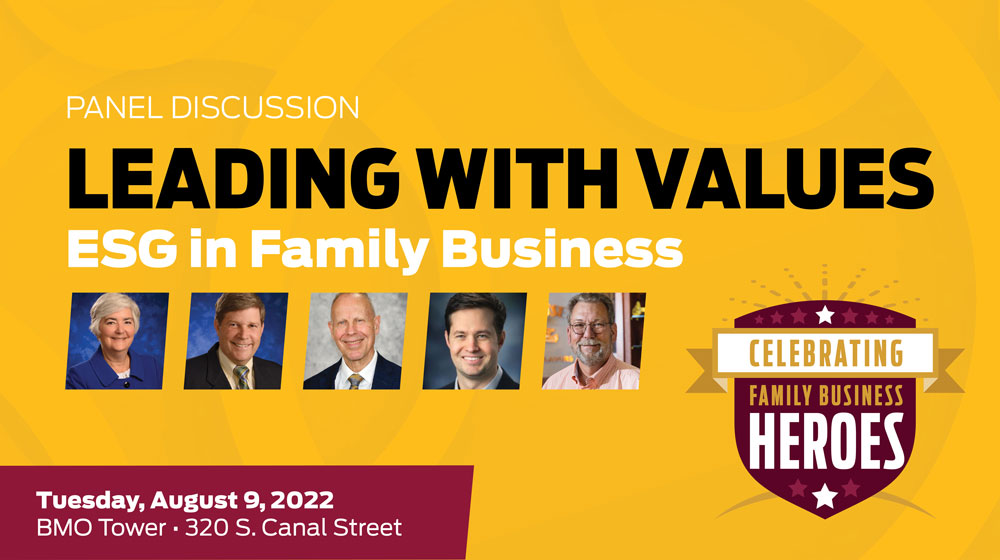 This special in-person gathering featured a select group of family business members from our 2022 Family Business Heroes Campaign. During this exciting discussion, we learned how each of them incorporates ESG strategies to make a positive impact for the environment, their employees, their business partners, and communities.
Topics covered:
ESG strategies, including those you already have in progress
The importance of measuring and reporting
Tips to get you started
Examples of how ESG programs can unite families
Panelists

Glenn Bullock, CEO and Jane Bullock, Chief Purpose Officer at Antunes
Glenn and Jane Bullock's commitment to making clean water accessible to water-deprived areas and communities was an extension of their desire to have an impact in the world. They met as schoolteachers, fell in love and today, as owners and leaders of Jane's family business, use their business products, to raise awareness and develop solutions to the global water crisis.

Brad Clemens, President, Clemens Food Group
Clemens' commitment to responsible agriculture, water preservation, and conservation runs through their history. For as long as the Clemens family has farmed and produced agricultural based products, they have been committed to the land and their communities. Brad Clemens continues the legacy of care and conservation as a steward of a vast and still growing enterprise.


Bill Etnyre, Chair of the Board of Directors, E.D. Etnyre & Co.
Most family business board chairs aren't licensed and practicing social workers. Etnyre Manufacturing's board is led by family member, Bill Etnyre, who happens to be one. Etnyre's CEO has joined with Bill to make ESG a priority, both in the business and in all community based initiatives led by the family.

Craig Nielsen, Vice President of Sustainability, Nielsen-Massey Vanillas
Craig grew up understanding that one of the most vital parts of their business – vanilla as a raw material– was dependent upon the health and wellbeing of the growers and their families. The saying all boats rise applies here, both to the mutually beneficial and committed relationship Nielsen-Massey has for its suppliers and the suppliers have for Nielsen-Massey.
Moderators
Anne Smart
Director
Family Business Center
Michael Torrance
Chief Sustainability Officer
BMO Financial Group
Event info:
Date: Tuesday, August 9
Time: 10:00 a.m. - 2:00 p.m. (registration opens at 9:30 a.m.)
Location: BMO Tower, 320 S. Canal Street, 17th floor, Chicago
---
Our sponsors
Special thanks to our sponsors—BMO, BDO, and Katten—for their generous support of the 2022 Family Business Heroes Campaign.