2020-2021 Winners
Rodney Dale is associate professor in the Department of Biology at Loyola University Chicago. Dr. Dale grew up outside Cleveland Ohio, in Lorain Ohio. He is a diehard Cleveland sports fan. His father was a truck driver and his mother was an office manager. They both believed the best thing that they could give to their son was a good education. Dr. Dale earned his Bachelor's degree from Columbia University in New York City where he was active in his scholarship group that focused on first generation college students, underrepresented groups, and low-income students. He was a biology major and was awarded the Dr. Cyrus Levinthal Prize for Achievement in Biology for his work and research in the department. Dr. Dale earned his PhD in 2007 from the University of Chicago's Biological Science Division Committee on Developmental Biology, where he worked with Dr. Eric Svensson on the transcriptional regulation of cardiac development. His postdoctoral work was with Dr. Jacek Topczewski at Northwestern University's Feinberg School of Medicine and Children's Memorial Hospital (now Lurie's Children's Hospital). There, Dr. Dale's research focused on Cartilage development in the vertebrate Danio rerio, commonly known as the zebrafish. Dr. Dale started teaching at Loyola in July of 2012 and was awarded tenure and promotion to Associate professor in July 2018. His laboratory works on the Genetic regulation of Type 2 collagen and its role in normal development of vertebrate skeletons. In the past 8 years, Dr. Dale has taught 1,774 students in a myriad of courses. He has conducted research with 36 undergraduates and 3 Senn high school students in his research lab and now mentors masters students. Dr. Dale has two sons; both attend Whitney Young Magnet high school and are his pride and joys. Dr. Dale has also been recognized for his excellence in teaching by winning both the 2021 Langerbeck and Sujack awards.
"Dr. Dale has helped me with so many things aside from research, including: medical school applications, MCAT advising, Loyola course advising, test-taking tips, anxiety help, personal advice, and support throughout COVID-19. Dr. Dale has shown that he cares about students as people -- outside of the classroom and lab, just as much as in them."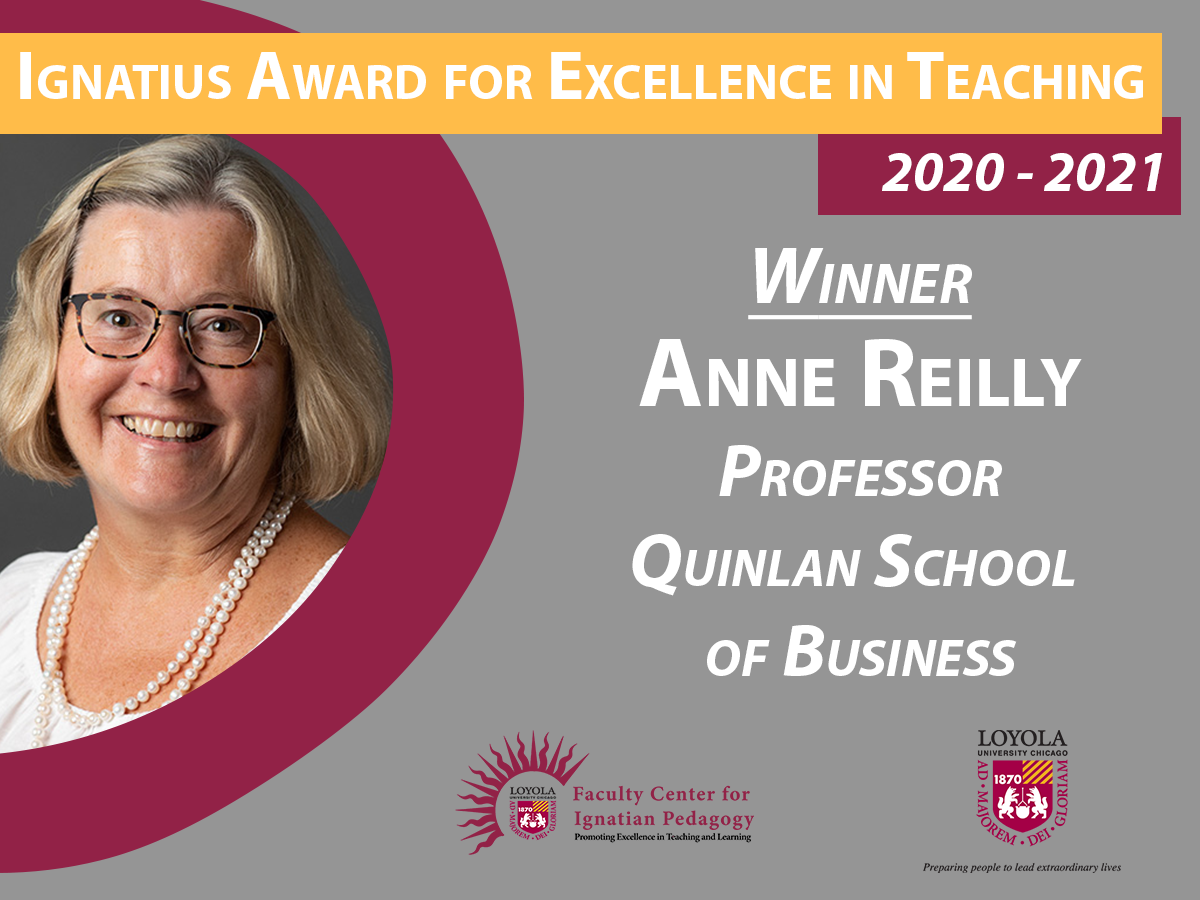 Anne Reilly is Professor of Management in the Quinlan School of Business. She joined Loyola after spending five years in the banking industry, much happier engaging with students rather than financial statements. Professor Reilly has taught undergraduate, honors, graduate, executive MBA, professional education, and study abroad courses. She has mentored students with independent studies, LUROP, McNair, and dissertation projects, and faculty colleagues in the University Mentoring Program, Focus on Teaching and Learning (FOTL), and the Quinlan Writing Group. Dr. Reilly especially enjoys collaborative research with Loyola's creative and caring students; these joint projects have yielded over thirty co-authored refereed presentations and publications. Professor Reilly's own research interests address organizational change (including sustainability), gender and careers, and teaching methods, and her work has been widely published in both scholarly and practitioner journals. In addition to her teaching and research responsibilities, Professor Reilly served for over six years in administrative positions, including Associate Dean at Quinlan (twice) and Assistant Provost for Faculty Administration. Her academic background includes a PhD in organizational behavior from Northwestern University (Kellogg), an MBA in finance from the University of Iowa (Tippie), and a BA in economics, summa cum laude, from Knox College. She and her husband are the proud parents of three young adult daughters, all graduates of Jesuit universities.
"

Dr. Reilly's pedagogy embodies Jesuit education. She presents information in a way that is easy to understand yet also informative. She allows us to think critically, think outside of the box, and she ends every single lesson with ethically focusing on the subject ... She holds her students accountable while also emphasizing she is understanding when things come up in our lives... [Because of Dr. Reilly,] when I look at situations the first thing I consider is "how will different cultures, communities, backgrounds, etc. look at this. … Dr. Reilly is always checking in on and looking out for her students. ...When I'm struggling in [other] class[es] I remind myself of Dr. Reilly's constant encouragement and it makes me feel a lot better about myself

"
Rebecca Silton is an associate professor in the Department of Psychology at Loyola University Chicago. She is the founding director of the WELLbeing and Emotion Lab @ Loyola (also called the "WELL LAB"). She received her BA in psychology from Macalester College and her PhD in clinical/community psychology from University of Illinois at Urbana-Champaign. She completed her clinical internship at University of Washington and postdoctoral fellowship at Seattle Childrens Hospital. Dr. Silton is a clinical scientist with expertise in studying affect and cognition using high-density electroencephalography (EEG) methods. She applies innovative EEG methods to understand the function of neural structures that support affective experiences and wellbeing. Her research presently aims to identify neural mechanisms implemented in positive affect and emotions in order to advance innovative neuroscience-informed interventions that target modifiable brain structures in order to promote wellbeing and vitality. Dr. Silton is grateful on a daily basis for the opportunity to work with her amazing research team of graduate and undergraduate students, and she also appreciates all of the collaborative learning that occurs in her classrooms. She has previously received the Langerbeck Award for Undergraduate Research Mentoring, Edwin T. and Vivijeanne F. Sujack Award for Teaching Excellence (and also Sujack Master Teacher award), and she was previously a faculty fellow with the Center for Engaged Teaching, Learning, and Scholarship (CELTS).

"

Dr. Silton embodies engaged learning and through her lab provides students with the opportunity to gain a first-hand appreciation of her field of study: neuroscience. … Personally, Dr. Silton encouraged me to pursue undergraduate research ...in the topic that interests me the most to develop my skills in research. [In her lab], collaboration is key, as we teach and learn from each other. She has fostered an open welcoming environment for students that I have not seen before through another professor. She takes the time to meet with all of us giving us appropriate advice to the best of her ability and prioritizes our needs."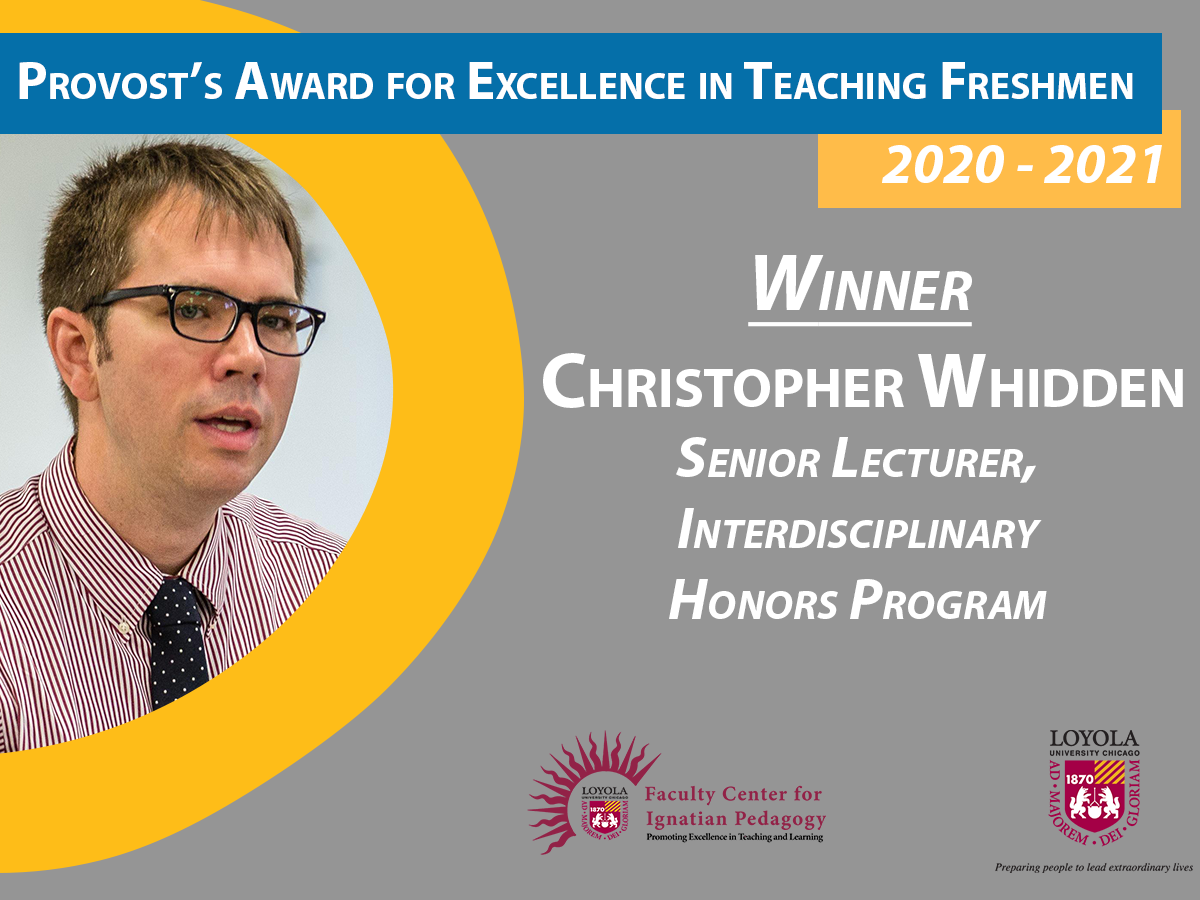 Christopher Whidden is a senior lecturer in the Interdisciplinary Honors Program. Since coming to Loyola in 2010, he has taught a variety of courses, including Western Intellectual Traditions, the U.S. Experience, and Encountering Europe. His teaching and research interests include the history of political philosophy, politics and literature, and American political thought. He has been awarded fellowships from the Earhart Foundation, and was named a Jack Miller Center Fellow. His articles on Plato, Xenophon, and Aristotle have appeared in The Review of Politics, Interpretation, and Polis.
"

Professor Whidden actively works to engage his students. He tries to call on many people in class and get us all discussing the texts we have been reading. He encourages discussion and out-of-the-box thinking. He is always willing to listen to and consider a student's new perspective... He challenges his students to question the material [and] encourages us to form bonds outside of the classroom so we are more comfortable engaging our peers in class."
Mary Therese Langerbeck Faculty Research Mentor Award Winners
Rodney Dale, Associate Professor, Department of Biology
Robert Bucholz, Professor, Department of History