Teaching Spotlight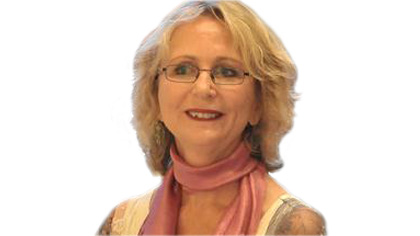 Title:
Professor, Department of English
Years ago, Pamela Caughie found herself in a board meeting tasked with coming up with a new slogan for Loyola's letterhead. In a room full of priests and academics, Caughie pitched, "What about this: Loyola University Chicago, 'Chicago's Feminist Jesuit University.' Why not? They go so well together. It's what makes us different from all the other Jesuit schools!"
Caughie laughed to herself as she recalled this memory, "I was joking of course, but I really did mean it." Loyola's mission is what first encouraged Caughie to work here when offered professorship thirty years ago. "As a feminist, I felt a very strong connection with the Jesuit mission and standing up for the oppressed. That's what really resonated with me when I first came to Loyola."
In addition to breathing fresh air into board meetings, Caughie has brought new ideas and teaching styles into the classroom for the past thirty years. She's found that what sets her English and gender studies courses apart from the others is up to date, relevant content and a focus on teaching the student rather than teaching the subject. In order to get to know her students better, rather than going around the room and sharing where you're from, what you're studying and a fun fact about yourself, Caughie has something more personal in mind.
"The first assignment I give students on day one is to write me a short paper in response to the question 'What would you like me to know about you?' in the sense of 'What would make me a better teacher?' It can be as open or as guarded as they want, I don't share it with anybody, and I think that allows them to understand that I'm teaching them and not just my subject. And it also gives them a chance to tell me their anxieties, their difficulties, their passions, their avocations, what kind of clubs they're involved in. I want to get to know each of them as a person."
After sharing a little bit about themselves, Caughie hopes her students can share her passion for learning and generosity for openness inside and outside the classroom. Whether it's having coffeehouse hours in addition to office hours or going to the Women's March with her students, Caughie makes an effort to get to know her students as individuals. In doing so, Caughie finds a way to not only learn more about different experiences and cultures, but is able to teach the whole person. With her attention to cura personalis and emphasis on critical thinking, it's no question why Caughie's former students stay in touch and are willing to help with any research projects.
Interview and write up by Kerry Snider
Student Worker, Faculty Center for Ignatian Pedagogy
Twice each semester the Faculty Center for Ignatian Pedagogy features a Faculty Spotlight. The Faculty Spotight showcases a Loyola faculty member who has a project or methodology that exemplifies outstanding teaching practice. Nominate a faculty colleague or yourself to be recognized.
PARTICIPATE

Pamela Morris

Dr. Pamela Morris describes herself as someone who has always enjoyed diversity in her work and her life. There are several universities that she has lent her talents to, including Syracuse, DePaul, Northern Illinois University—and now, of course, Loyola University Chicago. Morris has held her position at Loyola for nearly ten years now, and she shares that what keeps her here is the students. "There's something very thoughtful about our students," she notes. "I've gotten to see a lot of students, and there is a difference."


Mark G Kuczewski

It is fairly rare to find someone with an intense interest in their own work as well as helping those in need, but Dr. Mark G Kuczewski, PhD carries both passions equally. Having been a part of the Stritch School of Medicine since 2000, Dr. Kuczewski shares that he has "found a home" in Loyola, which is perhaps what motivates him to be so heavily involved in carrying out the Jesuit mission.


Sara Gramata

For Sara Gramata, teaching has always come naturally—in fact, she found her first pupil when she was just four or five years old. "I adopted a pet lamb and named her Bright Eyes. I not only fed her a bottle of milk before and after school, but read to her daily. I tried to get Bright Eyes to do tricks, but I don't think any of them stuck!" Professor Gramata shares.


Suzanne Bost

For the eighth FCIP Teaching and Assessment Spotlight, we recognize Dr. Suzanne Bost, Professor in the Department of English and an affiliate faculty in the Department of Women's Studies and Gender Studies. As she approaches her ninth year at Loyola, Dr. Bost reflects on her experiences in the classroom and her appreciation of Loyola University Chicago students.


Dr. Patrick Duffie is a Senior Lecturer in the Department of Biology. As he approaches his twenty-sixth anniversary of teaching at Loyola, Dr. Duffie shares with us how his experiences traveling the world have shaped his teaching philosophies and the positive impact these methods have had on the educational experience of his students. Watch Video

Catherine Nichols earned her Ph.D. in Socio-Cultural Anthropology from Arizona State University in 2014. While she misses the weekend hiking excursions that the geography of Arizona provided, she credits Loyola University Chicago with expanding her thoughts on effective teaching practices. Watch Video

Michael Welch, senior instructor at the Quinlan School of Business, describes his journey as "interesting." Watch Video

Stacy Neier

Stacy Neier is the second recipient of the Faculty Center for Ignatian Pedagogy's Teaching Assessment Spotlight Award and a marketing professor in the Quinlan School of Business. She is an avid Vogue reader dating back fifteen years, has a twin sister who is a professor at The University of Missouri, and was married in Madonna Della Strada last month.


Alyson Paige Warren obtained her MFAW from the School of the Art Institute of Chicago, and applies her expertise in creative writing both in her capacity as an Adjunct Instructor in Loyola's Department of English and as a writer and illustrator of children's books. Watch Video

Dr. Monique Ridosh calls herself a "transplant." After growing up in Miami, Florida, she moved to Chicago with her husband and son ten years ago. Here, as in Miami, she finds herself surrounded by very diverse people in a city that she loves. Watch Video