archive
Patrick Duffie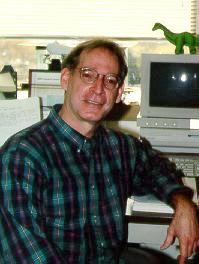 Patrick Duffie
Title: Senior Lecturer, Biology and Director of the Undergraduate Program, LUC Department of Biology
Dr. Patrick Duffie has been a member of Loyola University Chicago's Department of Biology for twenty-six years. Over the course of this period, he has always recognized the immense value of student diversity to the teaching process and experience.
"My elementary school, junior high, high school, and college were all very homogenous, I think, in terms of the student population. So it wasn't until I came to Chicago, and Loyola in particular, that I really got exposed to a lot of different people. That, I've found, is the most interesting aspect of Loyola. Just hearing where kids are from, what they do, what their backgrounds are, what they're bringing to Loyola...it makes every semester interesting."
Because many of his students are freshmen, Dr. Duffie strives to create an academic environment that is "relaxed and comfortable" but also pervaded by enthusiasm for the discipline. Hence, Duffie models his pedagogical practices upon those of the teachers whose courses he most enjoyed and found beneficial:
"In terms of teaching practices, I try to teach the way it has worked for me. I try to show the students that this can be fun, lecture class can be fun. I want participation, which is sometimes hard in biology when our classes get a little bit larger, but I want students to feel like they can approach me. Because I predominantly teach freshmen, I try to instill in them an enjoyment for the course so they can build a good foundation and like what they're doing. I've always tried to make it relaxed, interesting, and not the end of the world because Biology One and Biology Two are just the beginning."
Hence, Dr. Duffie has effectively combined a vehement enthusiasm for his discipline and students with a fervent commitment to Loyola University Chicago's Ignatian principles and mission of global progress. Such a combination is to be celebrated particularly as Dr. Duffie reaches his twenty-sixth anniversary of service to Loyola in 2016.
Interview by Andrew Kelly
Student Worker, Faculty Center for Ignatian Pedagogy