archive
Sara Gramata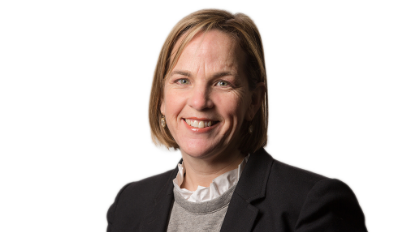 Sara Gramata
Title:
Lecturer/Clinical Instructor, Quinlan School of Business - Marketing
It is difficult to be upbeat and chipper for a 9:20am class every day, but regardless, this professor manages to keep a constant smile on her face and thread jokes into every lesson. For Sara Gramata, teaching has always come naturally—in fact, she found her first pupil when she was just four or five years old. "I adopted a pet lamb and named her Bright Eyes. I not only fed her a bottle of milk before and after school, but read to her daily. I tried to get Bright Eyes to do tricks, but I don't think any of them stuck!" Professor Gramata shares. While her efforts may have been futile when it came to her baby lamb, Sara has carried her nurturing soul and desire to teach throughout the rest of her life.
Sara has been teaching since 2005, but feels that the atmosphere at Loyola surpasses that of any other teaching environment she has experienced. She sees "the Jesuit spirit instilled in many ways around the campus, truly making Loyola unique and genuine." Loyola has enabled her to work along with students and charities on top of her rigorous teaching schedule.
Having worked in New York City and Chicago as a marketing professional for fifteen years, Sara finds it helpful to include stories of her own personal experiences in her lessons. Additionally, she enjoys using "weekly learning activities" that encourage her students to work together and practice real world problem solving. Regarding her favorite lesson, Sara says it "involves segmenting a target market. The exercise is based on a hypothetical gun range and demonstrates the various audiences who might use [the] service. Students are always surprised to find out there may be many more consumers (who are varied in purpose) accessing a gun range than they originally expected." Recently, she ran into a student that graduated eight years ago; he still remembered a specific lesson of hers, mentioning that he had used it to help him in his current marketing job.
Most of the best lessons she learned about herself, Sara states, were learned in college. So, she understands her students' experiences and is able to help them learn both inside and outside of her classroom. Her willingness to care for her students goes above and beyond the responsibility of a professor—she even extends invitations to her students to join her and her family at her home for Thanksgiving and Easter if they do not have anywhere else to go. "Without a doubt it's the students who keep me at Loyola. It's true I learn from them as much as they, hopefully, learn from me. I truly respect the students at Loyola and tease them that once they take my class, they are my students for life. I would do anything to help a student whether it's help find a job or internship, listen to their problems, or help advice on a difficult situation." With her inherent generosity, extensive knowledge, and an immense love for teaching, Sara Gramata has done—and will continue to do—amazing things for Loyola and its students.
Interview and write up by Mia Sciarrone
Student Worker, Faculty Center for Ignatian Pedagogy