archive
Stacy Neier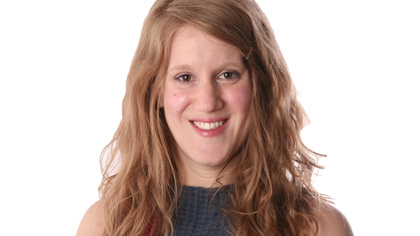 Title:
Senior Lecturer, Quinlan School of Business
Length of time at Loyola:
Since 2008
Introduction
Editor-in-chief of Vogue Magazine Anna Wintour once said, "I'm always looking for a cover subject that reflects the magazine, an interest in fashion, in culture, in society. We're trying to bring the world into the pages of Vogue."
One Loyola University Chicago professor is doing just that, bringing the world into perspective, not through a magazine, but through her students. The second recipient of the Faculty Center for Ignatian Pedagogy's Teaching Assessment Spotlight Award is Dr. Stacy Neier, a Marketing Professor in the Quinlan School of Business. She is an avidVogue reader dating back fifteen years, has a twin sister who is a professor at The University of Missouri, and was married in Madonna Della Strada last month.
Teaching Practice
Stacy has taught full time at Loyola since 2008 and recently received her PhD. In discussing her teaching practices, she shares, "For me, my overall philosophy with students is getting them comfortable with asking questions, knowing the answers might not readily come—and how do we navigate that process even when the answer is not within arm's reach?" she said, referring to her favorite part of teaching.
How Stacy's teaching practice relates to the mission and values of Loyola, such as the Ignatian Pedagogical Paradigm and Transformative Education
Neier's classroom practices make her an ideal candidate for the award, specifically her use of the Ignatian Pedagogy Paradigm, or the "IPP". Neier says she tries to show the IPP model once every other week to remind her students why their Jesuit education is so different than any other. "To put it in front of the students consistently keeps them benchmarked and tethered to that context," she said.
In addition, Neier says she focuses on curiosity, because she "would rather have a student walk out with one thousand new questions than with a single right answer." Neier strives to "help students feel more comfortable with the IPP model, [because] they may not understand it fully because of its complexity and ambiguity…yet [with] curiosity, we can better engage in classes, better engage in professional development, better engage in internships and external activities."
How Stacy handles challenges in the classroom
Through her emphasis on questioning, Neier has seen a sharp increase in students interested in marketing research over the last few semesters. She has, however, faced challenges. "Students want to try on different things and are cautious. They don't want to jump head first into something that might not have a right answer," she said. Because of this, Neier, in addition to promoting curiosity, has been constantly reminding her students that it is okay for them to ask a question that might not have an answer right away, something she says is parallel to the values within the IPP and inherent in curiosity. "It is hard because as faculty we want to show leadership and expertise and organization of the classroom, but in a service learning context, that experience is not going to be in the back of a text book," she said.
A true lifelong learner
Just as Anna Wintour strives to bring the world into her magazine, Neier strives to bring the world into her classrooms. She also strives to remind her students that she is in the same position they are—constantly learning things about marketing, whether through her previous experiences in the marketing world, or through the pages of one of her many white-spine Vogue issues.
Interview and article by Amanda McDonald,
Undergraduate Work-Study Student in the Faculty Center for Ignatian Pedagogy