archive
Suzanne Bost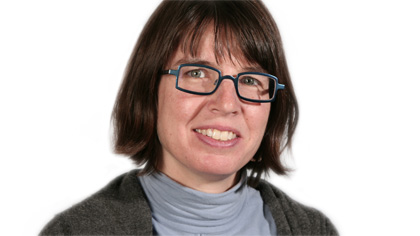 Title: Professor, Loyola University Department of English
Affiliated Faculty Member and Director of Graduate Program, Loyola University Chicago Department of Women's Studies and Gender Studies (WSGS).
Since 2008, Suzanne Bost has been an active member of both the Women's Studies and Gender Studies (WSGS) and English Departments at Loyola University Chicago. From 2012 onward, she has also served as the director of the university's graduate program in Gender Studies, a position that further extends her diverse and wide-ranging purview
"I teach a wide range of courses, from UCLR to a core course in Women in Literature. I teach advanced English courses in Latina/o literature and feminist theory as well as graduate courses in Latina/o literature, feminist theory, and feminist methodologies."
Positively integral to Dr. Bost's decision to join the Loyola faculty was the university's "social justice mission", which she also cites as the reason for the apparent proclivity of Loyola students towards engagement within and outside the classroom.
"Loyola is the first place I've worked where I feel like the majority of students are committed to learning, here to learn, intellectually curious, and brave about speaking up in class. The majority of them came here knowing that this was a university with a social justice mission and came here for that reason. That has been very helpful, to have students who are already engaged before I meet them."
Professor Bost's teaching and assessment practices are employed with a recognition of the integrity of the student as an active intellectual agent. Indeed, Dr. Bost argues that "learning is a decentered process" and hence "requires students to be thinking for themselves, listening, experiencing, and just being exposed."
"Sometimes I use the metaphor of 'opening lots of doors' without telling people which 'door' is the 'right door' and just having them see a lot of different things and learn to make decisions for themselves. In terms of evaluating student performance, it's not a matter of getting things right or wrong, rather of the comfort with which they are articulating, orally or in written form, different kinds of opinions. It would probably be easier if I was just teaching content and having them spit it back to me, but it would be a lot less interesting."
These practices have been positively received by Professor Bost's students, who appreciate the opportunity to engage with class texts (and with one another) in an environment designed to be conducive to both analysis and debate.
"I've had a lot of people say 'I've never been so excited and uncomfortable at the same time', about knowing that something was going to happen each time they showed up to class, and not knowing exactly what it was going to be but eventually having to trust that whatever it was, it was going to be ok, and nobody was going to yell at anybody, or hurt anybody, or judge anybody negatively."
Dr. Bost's academic background grants her unique insight into the Ignatian pedagogical mission. Having been trained in feminist pedagogical methodologies, she remains cognizant of the importance of "valuing student input, hearing everyone's distinct ideas, and respecting different opinions but also of tying these to the world we live in and thinking about how we can implement these ideas in our daily lives."
"I just taught an honors seminar on Latino literature and social justice, and I would say that just teaching Latino literature itself is a social justice issue for Latino students who haven't seen their culture represented in the curriculum. So there's a justice issue in just presenting the material, there's a justice issue in thinking about the ways in which we can relate to the material. I myself am not Latino and I talk about how it's important to acknowledge the limits of what we know and the limits of our experience as well as being aware of the wealth of our knowledge, seeing both and valuing both equally, and witnessing, and listening, and trying to achieve cross- cultural empathy without imposing your views on another. The final projects my students produced reveal how these are truly translatable skills into the real world. These projects illustrated how Latino literature can be employed as a tool for social justice. People have designed websites and blogs, discussed the practical actions they can take, and talked about disseminating this education at the elementary and secondary levels so that people from the start in our country are exposed to the wealth and richness of what emanates from different perspectives and different kinds of stories."
Interview and write up by Andrew Kelly
Student Worker, Faculty Center for Ignatian Pedagogy