IP Works Podcast
Listen or Watch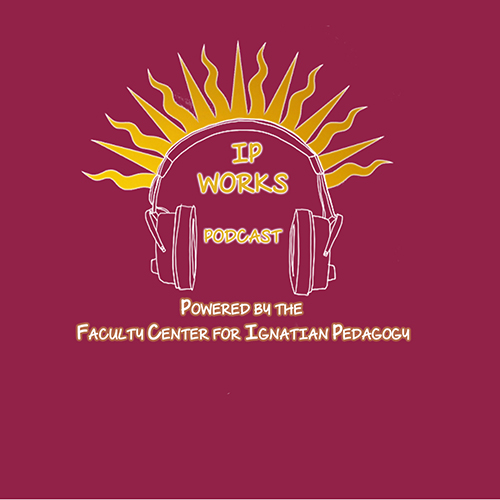 Introducing IP Works, the Ignatian Pedagogy podcast powered by the Faculty Center for Ignatian Pedagogy at Loyola University Chicago. Built on our Jesuit foundations of Magis (maximizing our individual gifts for the common good) and Cura Personalis (Care for the whole person...body, mind and spirit), this podcast series seeks to inform and animate our community in the multiple arenas where Ignatian Pedagogy forms men and women for others.
Hosted by: Matthew Thibeau, Interim Director of The Faculty Center for Ignatian Pedagogy.
You can find our most recent episodes below and also on:
2018-2019 Podcasts


Episode 7: Our special guest David Van Zytveld, Director & Teresa Neumann, University-Community Research Coordinator from The Center for Urban Research and Learning (CURL) discuss Ignatian Pedagogy as it relates to community organizing and social science research.
Episode 6: Our special guest Michael Kaufman, Dean & Professor, School of Law.
Michael Kaufman shares how Ignatian Pedagogy and Jesuit values are incorporated throughout the Loyola University School of Law.
Episode 5: Our special guest Ann Marie Ryan, Associate Professor, School of Education
Ann Marie Ryan provides insight in how she first discovered Ignatian Pedagogy and how she incorporates IP throughout her career.
Episode 4: Our special guest Gezinus Hidding, Associate Professor, Quinlan School of Business - ISOM.
Hidding shares the "how" and "why" we use Ignatian Pedagogy in the School of Business.

Episode 3: Join our host Matthew Thibeau and special guest Janet Sisler, Acting Vice President of Mission Integration on Jesuit Education at Loyola.

Episode 2: Join our host Matthew Thibeau and special guest Gabrielle Buckley, Director of the Gannon Center for Women and Leadership.
Gabrielle Buckley shares with us her long history with Loyola & her perspective on the importance of women in leadership. Learn about the Gannon Center and the lifelong connections of its alumnae.
https://www.youtube.com/watch?v=fd596JQ_YOw&feature=youtu.be
Episode 1: Join our host Matthew Thibeau and special guest Christopher Murphy, Director of Staff Mission Formation.
Christopher Murphy provides a look into his career at Loyola University Chicago and reflects on his personal experience of becoming a person for others. Listen to hear more on Cura Personalis and the history of Ignatian Heritage Month.

https://www.youtube.com/watch?v=vijGUoIZew0&feature=youtu.be