Fall 2018
Award Recipients
| Faculty Awardee | Department | Award Name |
| --- | --- | --- |
| Jennifer Zitzner | Department of Biology | St. Ignatius Loyola Award for Excellence in Teaching |
| Elise Martel Cohen | Department of Sociology | The Provost's Award for Excellence in Teaching Freshmen |
| Noah Butler | Department of Anthropology | The Provost's Award for Excellence in Teaching Freshmen |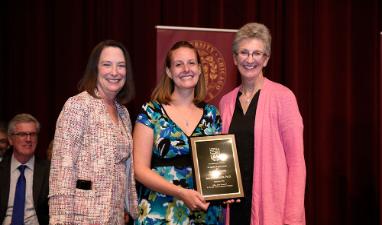 Photo:Dr. Margaret Calahan, Dr. Jennifer Zitzner, & Dr. Jo Ann Rooney
Jennifer Zitzner
Advanced Lecturer, Department of Biology
St. Ignatius Loyola Award for Excellence in Teaching
Professor Zitzner didn't always think she would be a professor, but her decision to move from working in Northwestern University's transplant lab to teaching at Loyola has proven to be a tremendous asset to her students. Professor Zitzner uses a lot of her own life experience in the classroom and fully embraces the Jesuit philosophy of care for the whole person. In class, students discuss how what they're learning is affecting their everyday lives.
Professor Zitzner's use of video case studies really helps to bring real world components into her classes. Zitzner says, "I video record my family members who have health issues and after I play the video, we do a worksheet reviewing the biology components. I always have reflection questions to go along with the videos. We just did one with my mom who went through a cancer struggle. The video is centered around the integumentary system and it incorporates why cancer treatments result in losing your hair and how it changes your skin. For the reflection questions, I ask 'what would you immediately think if you saw a woman walking down the street completely bald or how would you feel if you lost all of your hair and had no control over it?' It starts to bring a social justice component into our class, which I think students are surprised for a science class to have."
One of the most important parts of teaching to Professor Zitzner is making sure that her students gain valuable life experience and learn to better communicate with others and the world around them. Zitzner explains, "I want this to be an experience where they can see how they can make a positive difference, how can they make a positive change - still do well in the course and get the grades they want - but really see this change inside of themselves.
I want students to take a minute to stop and think 'why does this matter? Why do I have to learn this?' Then you go from just trying to memorize everything to applying it. I think you remember it better if you can put it to something that matters. I try to change their mindset from, 'oh, I missed two points on this quiz' to 'how can I learn from that, what can I do to study better, what can I do to remember this?' We'll put the information to real life and that excites them and makes things come alive."
She has found the faculty at Loyola to be very welcoming and helpful. Before she arrived at Loyola she had never taught anatomy and physiology. Two of her colleagues, Pat Duffie and Bob Morgan, took her under their wing. Zitzner said, "They taught me the ropes not only just technically about how to survive as a teacher, but ways to explain the information or examples that they used. They allowed me to ask, 'do you think this would work in my class or do you think students would understand it better if I did this'? That comradery is really uplifting. So, having my colleagues here and being open and receptive to what I want to do is helpful."
Professor Zitzner has gone from putting her biology knowledge into practice to now bringing up the next generation of people to be excited about science and the human body. She loves hearing from her students about how the things they are learning affect their lives. Her students have shown her that biology goes way beyond what she had imagined. The diversity of their experiences has shown her a much wider impact of biology than she had been exposed to before becoming a professor.
by Audrey Palumbo
Undergraduate Assistant


Photo: Dr. Jo Beth D'Agostino, Dr. Elise Martel Cohen, & Dr. Noah Butler
Elise Martel Cohen

Lecturer, Department of Sociology
The Provost's Award for Excellence in Teaching Freshmen
Dr. Cohen didn't set out to be a teacher. She discovered, though, that when she had to explain or teach something she enjoyed doing so and that people would respond and get it. Before she was full time at Loyola she spent years working in industry, particularly in data analytics and strategic research, and had to explain complex things to clients. Dr. Cohen had to think carefully about how to explain complex concepts in a way that was understandable, but at the same time show how to back up the complexity with the minutia and the data.
In addition to these experiences, she has always been naturally curious and likes to learn. Dr. Cohen has been impacted heavily by teachers she has had and now has the opportunity to impact students of her own. She respects all of her students, their ideas, and their viewpoints and learns from them all the time. She feels like they are teaching her as much as she is teaching them, if not more.
Growing up on Devon Avenue and working a variety of jobs including waitressing at a biker bar, working alongside Junqueros and others collecting scrap metal, interviewing Latina and Muslim college students about ethnic, religious, and cultural identity, and working with Fortune 500 clients in advertising as well as labor federations has made Dr. Cohen comfortable in all different environments and able to connect with her students. Dr. Cohen explained, "When I was young I remember seeing kids getting on the 155 bus to go to Loyola and I remember thinking, oh my gosh, that's so cool. Look at what they're doing. And so for me, Loyola kind of was something to aspire to. Kids …were learning, they looked happy. I love being able to see myself in my students. Or I see who I wish I had been in my students, or students who remind me of how I had been. They're familiar to me in a way."
Dr. Cohen shared that there is a sense of warmth and permission to take a risk with a class at Loyola. She has been exposed to all different departments within the university which helps her better understand how to approach a problem from different viewpoints. Dr. Cohen said, "The day to day living and working here is really special. I've had jobs outside of academia and other jobs within academia and I can tell you it's the day to day that matters in life. At the end of the day, how do you feel? How do you feel about getting up and going to work? How do you feel when you're tired and you have to motivate? Do you feel like, oh my gosh, I can't do it, or I can do this and I always liked coming here. I always like coming here. That mix of small town, big city familiar but anonymous enough where you can remake yourself and…it feels really warm."
The biggest takeaway Dr. Cohen wants her students to get from her class is usually not topic related. She is focused on universal questions that can apply to any profession and help her students understand people and the world more deeply. Another thing she wants her students to take away is that people can be wrong and it's important to be an advocate for themselves and the people around them when people are wrong. Learning how to ask the right questions, trust themselves, and make mistakes are the most important concepts that Dr. Cohen tries to instill in her students. She believes that any life experience, positive or negative, can be a story.
by Audrey Palumbo
Undergraduate Assistant
Instructor, Department Anthropology
The Provost's Award for Excellence in Teaching Freshmen
When Dr. Butler was ten years old, his great aunt told him she always thought he would be a teacher. Before that he hadn't thought about being a teacher but his career as an anthropologist led naturally into teaching. Dr. Butler explained, "Anthropology is fun, it's a discipline that demands that you do research but also teach. So, as I became an anthropologist, I also took it very seriously to become a teacher. It's one of those fields where you can't quite get away with just being a researcher. You have to also focus your skill set, being a teacher and trying to become a good one."
Focusing on the total person is an important part of education for Dr. Butler. He believes that the more he focuses on students as learners, as opposed to looking at them simply as pupils, he can begin to better relate to their experiences. Dr. Butler shared that putting different experiences together in a classroom leads to diverse voices that are strengths in the classroom: "The way we learn more about ourselves is by understanding more deeply the lives of others. The central goal of anthropology is to understand the lives of others. The more I can use that practically in a classroom setting, the more we can focus on the total person and learning--and ultimately being passionate about learning and having a fun time--as opposed to just thinking about sitting in a classroom and fulfilling the obligations that are measured."
Butler has always tried to focus his interests on what people in the places he traveled to were interested in, as opposed to bringing readymade perspectives with him. Travel has helped not just to broaden his perspective about the world, but to realize that his job as an anthropologist sometimes is to tell other people's stories. He tries to find meaning in other people's stories. With that comes a sense of curiosity and empathy.
The Loyola community is very special to Dr. Butler. He said, "Everyone puts such a nice focus on teaching. We discuss it a lot actually. My department puts stress on pedagogical methods, texts, what's worked well. Plus, Loyola does nice things to support teaching in terms of recognizing faculty, but also in terms of focusing on teaching and learning and giving us good equipment, giving us cool workshops, and just making sure we stay on our toes year in and year out. I really appreciate the support from the institution."
To Dr. Butler a course is the beginning of a discussion not the end of it. The topics are meant to be about things students can apply to their lives and to get students thinking about their impact and how they can be socially responsible as opposed to just taking a course, getting a letter after their names, and then moving onto something else. His goal is "to make students curious and to make them smart."
by Audrey Palumbo
Undergraduate Assistant