archive
Meet Thomas Regan, S.J., the new CAS dean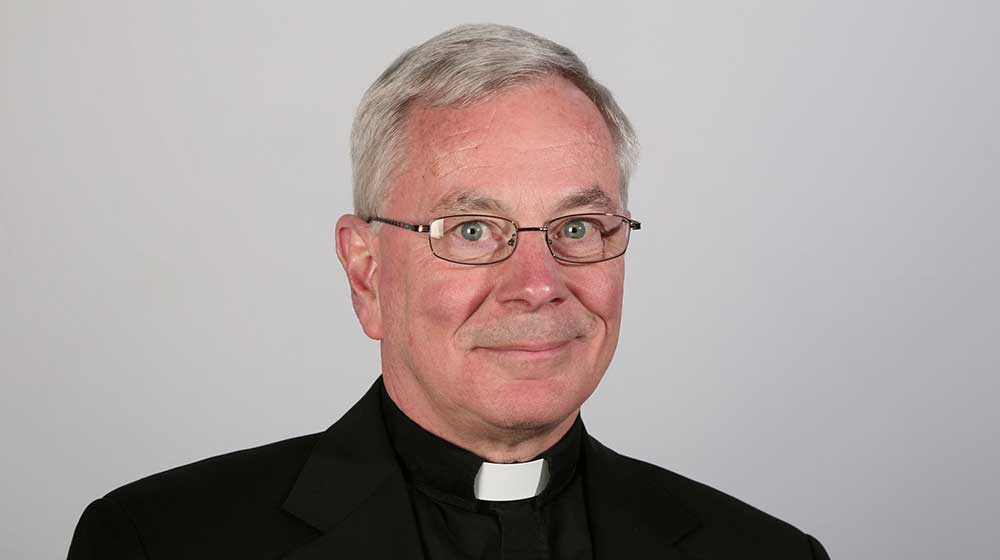 When Thomas Regan, S.J., was growing up in Massachusetts, his father's cousin was a Jesuit math professor at Boston College—and to young Thomas, it looked like the best job in the world.
"I thought he had a fabulous life," said Father Regan, who was recently named the dean of Loyola's College of Arts and Sciences. "He was into computers in the 1960s before anyone really knew what computers were. It was such a fascinating life, and I knew I wanted to follow in his footsteps."
That young boy would go on to graduate from Boston College in 1976 with a degree in history and philosophy. Within months of getting his undergraduate diploma, he entered the Society of Jesus. Over the next several years, he earned his master's and doctoral degrees from Fordham University—and he's been involved with Jesuit institutions ever since.
Here, Father Regan talks about his new appointment as dean, the value of a liberal arts education, and why Woody Allen's "Crimes and Misdemeanors" is a must-see-movie for anyone who wants to learn more about philosophy.
You were interim dean for almost a year. How did that prepare you for your new full-time appointment?
Every place that you go has its own way of doing things. And in many ways, I've done a lot of these duties before, but in other places. So to have that interim experience under my belt has been very valuable to help me learn the protocols and procedures at Loyola.
You're now in charge of the largest college at Loyola—and one of only two Jesuit deans on campus. Does that come with any added pressure or significance?
I don't think there's any added pressure. I know Father (Stephen) Katsouros is incredibly qualified to be the dean of Arrupe College, and I think my background allows me to hit the ground running as well. I originally came here to direct the Jesuit First Studies MA program and also to be the academic dean at St. Joseph's—which allowed me to sit in on meetings of the council of deans and get to know the issues. But more importantly, it let me know the other deans, and that helps reduce the pressure somewhat.
Critics sometimes say that liberal arts degrees are a waste of time and money. What do you say to them and how do you convince them otherwise?
I gave a presentation for undeclared majors at Loyola Weekend with David Slavsky, a Loyola professor who used to work in the dean's office. And David's slides are a powerful message on the value of a liberal arts degree. Today's learners, for instance, will have 10 to 14 jobs before they turn 40; one in two workers has been with their employer for less than 5 years; and the Top 10 in-demand jobs in 2013 didn't even exist in 2004. I like to tell people: A liberal arts education prepares you for jobs that do not yet exist, which will enable you to use technology that has not been invented to solve problems we don't know we have.
One of your published articles is about using the Woody Allen move "Crimes and Misdemeanors" as a teaching tool. How did that all come about?
I'd been teaching a class on existential philosophy and authenticity for years, and when the movie came out in the 1980s and I saw it, it was like Woody Allen had been in my class. It had all the nuances of the course—it basically went right down the syllabus and covered everything we cover in class. And so I'll typically have the students come over to the Jesuit house and we'll watch it as a class and then discuss the themes afterwards. Anytime you can get students out of the classroom and have them learn, it's just electric.
You've been teaching for a while and have had thousands of students come through your classes. Talk a little about that and the relationships you've made over the years.
That's why you get into education in the first place: to have a positive effect on people. Over the years, I've married more than 200 former students and baptized many of their children. I just had lunch with two members of the Class of 1992 who I taught at Fairfield University. They came to Loyola—independently of one another—because their children are now looking at colleges. That's a great feeling to know that they still think about you more than 20 years later.
And finally, do you have any interests or hobbies outside the classroom that keep you busy?
I still play competitive racquetball. I try to play a few times a week at Halas, but I've had to cut back with my new duties. I recently played a student who was on the national championship racquetball team in high school, and he tried to psych me out by wearing his championship T-shirt. I told him: "Listen, I've been doing this since before you were born. I'm not easily intimidated." He still won, but I held my own.
MEET THE DEAN
Name: Thomas Regan, S.J.
Hometown: Waltham, Massachusetts
At Loyola since: 2011
Courses previously taught at Loyola: Philosophy and Persons (PHIL 130); Philosophy of the Human Person (PHIL 181); Ethics in Society (PHIL 321); Philosophy of Law (PHIL 350); Topics in Ethics (PHIL 468); Integrative Seminar (for Jesuit First Studies students), taught with Professor Michael Schuck (PHIL 550).
---