Faculty & Staff Giving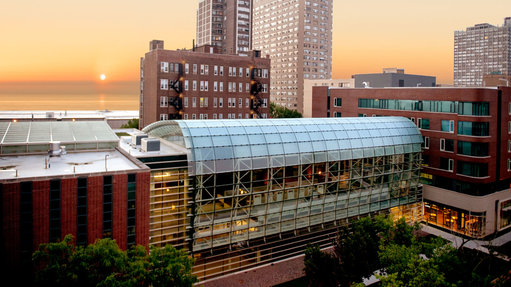 ‌At Loyola University Chicago, the importance of the University's mission is evident through our incredible students and the work of the Loyola community. Daily, the faculty and staff commits to the mission by serving the Loyola community through learning and faith, emphasizing the importance of social justice in our world.
Preparing men and women to serve others requires a dedication to providing students with the necessary resources to reach their fullest potential. Faculty and staff support at any level helps Loyola to continue to provide a premier and transformational education and encourages students to live out the Loyola mission.
Make a Gift!
You can direct your support to an area of the Loyola that is most meaningful to you through any of the following methods:
Payroll Deduction
When you opt to make your gift through payroll deductions, you will enjoy the convenience and benefit of your gifts being deducted automatically with the option to continue your automatic deductions year after year without manual renewal.
To have your gift to Loyola automatically deducted from your paycheck please visit this link.
To change or cancel a current payroll deduction, please contact us at annualgiving@luc.edu.
Outright Gifts
A one-time or recurring gift can be made with cash, check or credit card, appreciated securities and bonds, or donation of real property.
To make your gift online, please visit luc.edu/give.
To make a gift by phone, please call 800.424.1513.
To send a check via mail, please make checks payable to Loyola University Chicago and indicate in the memo field where you would like your gift to be directed.
U.S. Postal System Address:
Loyola University of Chicago
Gift Processing
P.O. Box 4336
Carol Stream, IL 60122-4336
Courier Delivery (e.g. UPS, FedEx)
JP Morgan Chase Bank
Attn: Loyola University Chicago Lockbox 4336
131 S. Dearborn Street, 6th FL
Chicago IL 60603
Matching Gifts
If your spouse's non-Loyola employer has a gift matching program, you can double or triple the impact of your gift. Please visit this link for more information.
If eligible, please request a matching gift form from your spouse's employer and send the completed form along with your gift.
Planned or Deferred Gifts
You can support Loyola in many additional ways, including:
Naming Loyola in your will
Making a gift that provides life income to you
Gifting a portion of your retirement assets or life insurance to Loyola
For more information on these powerful gift tools, please contact the Office of Gift Planning at 312-915-7641, email Joseph Like at jlike@LUC.edu or by visiting LUC.edu/giftplanning.
Benefits of Giving
All gifts are tax deductible to the extent permissible by law.
Become a leadership annual donor and join the Damen Society
Loyola's Damen Society members are dedicated stakeholders in Loyola's mission, enabling the University to provide a uniquely powerful Jesuit education for all students. In the 2016-2017 academic year, our Damen Society welcomed 476 new members and grew to encompass nearly 2,400 alumni and friends. These 2,400 members contributed more than $14,400,000 to Loyola which translated into significant financial support for our students.
We hope you will consider joining us today with a gift of $1,000 or more annually. For more information visit LUC.edu/damensociety.
Your gift means the world to our students. Annual support from our generous donors allows us to provide scholarships, new academic initiatives, improvements to campus, excellent faculty, and meaningful programs to enhance the student experience.