archive
Celebrating the joy of giving back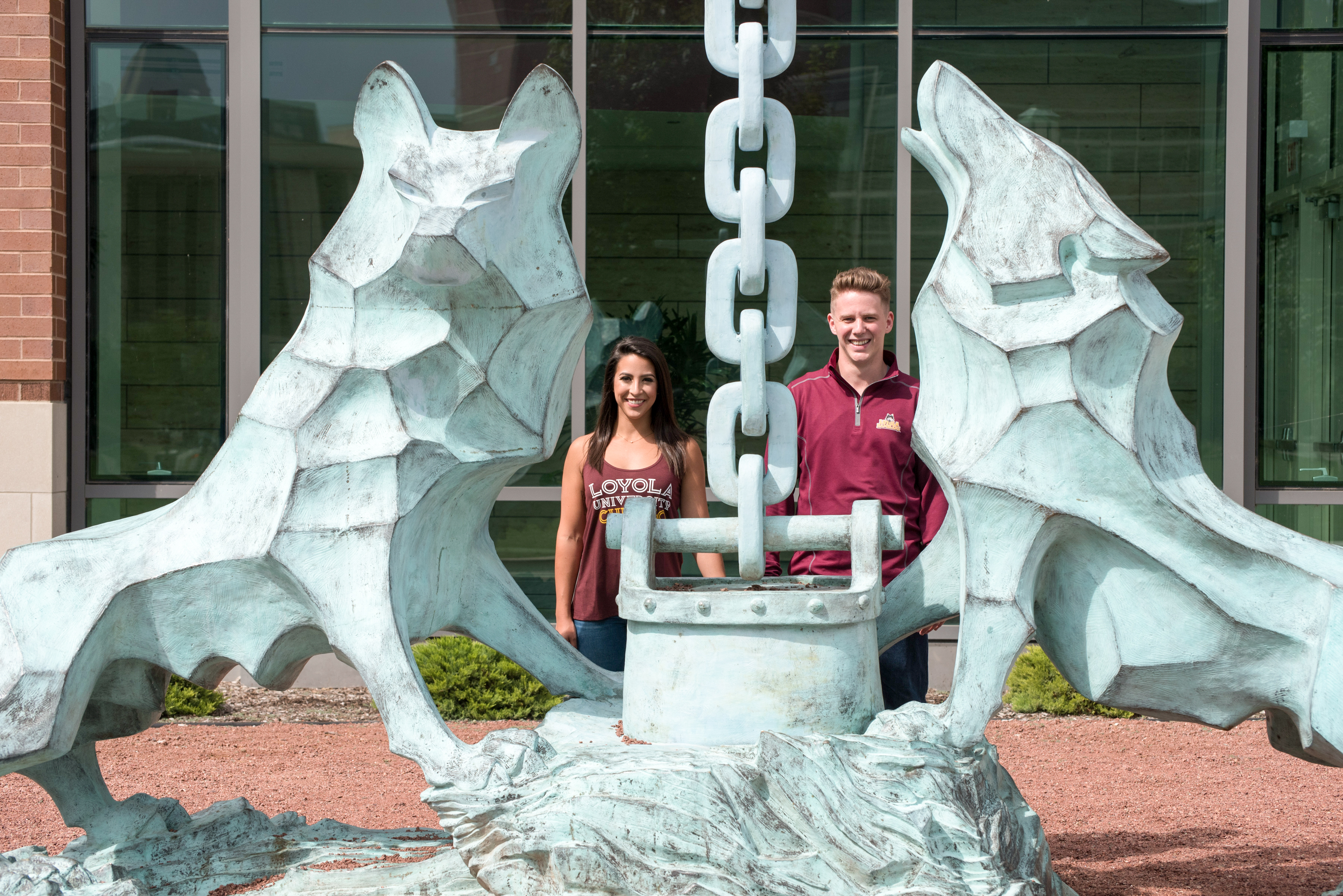 By Carla Beecher
Lisa (Kapusta) Lanigan (BS '11) feels she owes a lot to Loyola. It's where she got her degrees in secondary education and math education, it's the place that taught her the joy of philanthropy, and it's where she met her husband, Parker (Simensen) Lanigan (BS '12), when they both worked for the phonathon.
"I was a student phonathon caller all four years," said Lisa, noting that one of those years she was a student supervisor. From that experience, she became aware of the funding gap between what tuition dollars cover and how much philanthropy was needed to pay for the rest of a college education.
"I seem to remember that gap was 63 percent. Knowing that statistic and loving Loyola as I do, I can't imagine not giving back," she said during a break from her job as site director at SAGA Innovations, a nonprofit organization that provides math tutoring through professional tutoring fellows to ninth and tenth grade students in Chicago Public Schools.
"I loved my time on campus and thought the quality of my education was incredibly high," she said. "I had all the tools and support I needed throughout, and I was especially attracted to the curriculum's social justice platform. When I graduated, I was well prepared to move directly into teaching."
Today, Lisa is a GOLD associate of the Damen Society, a graduate in the last 10 years who gives $250 or more. "It's both a meaningful gift level and still very manageable, because it's spread out over a year. For me, it's easier to think about a monthly gift and total rather than one lump sum."
Lisa sees the tangible results of philanthropy on campus each time she visits. When she was a student, the Information Commons had recently opened, and the Norville Center for Intercollegiate Athletics was being completed.
"I've seen so many changes on Loyola's campus that wouldn't have been possible without outside support. The way the campus has advanced shows that those guiding the school put students first and want to make it a beautiful place to learn."
Lisa has one very special memory of her time at Loyola. "It's where I got engaged. My husband proposed to me underneath the arches between Madonna della Strada and the Info Commons," she said.
"I'm such a big advocate for giving back to what you believe in, and since I believe in education and I think Loyola gave me the best education, I'm happy to do what I can to help."
Giving is as good as GOLD
By Carla Beecher
Declan Murray (BA '13, BS '13) was all in as a Loyola student. As a member of the track team all four years and named an Academic All American, he was a member of the executive committee of the Student Athlete Advisory Council. While he was earning degrees in economics and psychology, he became co-chair of the Maroon and Gold Society, which recognizes rising seniors who demonstrate a commitment to leadership, academic excellence, and service to others. So it's no surprise that Declan believes in continuing his leadership by regularly supporting the institution that gave him an educational start in life.
"I attended a Jesuit high school in Ohio and received both an athletic scholarship to Loyola and a Jesuit Heritage Scholarship, so I know firsthand how important others' generosity can be—it made Loyola a reality for me," he said on a break from his job as membership and engagement manager for the nonprofit Chicago Area Runners Association.
Declan is a GOLD alum—a graduate of the last decade—who chooses to stay involved at Loyola by attending events and giving monetarily. He started giving back during his senior year when the Intercollegiate Athletics Advisory Committee started a campaign to promote a 100-percent giving campaign to get every athlete, administrator, and coach to make a donation to the athletics department.
"The idea behind it was that if we all committed ourselves financially to athletics' mission—even if only a few dollars—then everyone's buy-in would give much more meaning when potential donors were asked to join us," he said. "That was 250 students and over 50 administrators and coaches who were very invested in Loyola's mission. It was exciting and made me realize that if we were willing to give as students in hopes that others would, too, then something special was going on and I certainly can continue that today.
"A lot of small gifts by GOLD can add up to some meaningful donations for students."
Declan came to Loyola because of older brother Sean (BBA '11), who attended the Quinlan School of Business. "And that was the sell for me," he said. "Sean told me about how the community was different than at any other school. My professors cared about me beyond the classroom. When I spoke, they really listened and wanted to know what I thought."
In addition to being married to Loyola graduate Kelly (Scott) Murray (BSN '14), his two younger sisters, Brigid (JFRC Summer '13, BBA '15, MS '16) and Ciara (JFRC Summer '15, BBA '17), also earned Loyola degrees. "My parents are big believers in the mission and are happy we all attended," he said.
Besides being an engaged GOLD alumnus and donor, Declan stays connected by attending social gatherings and as many track and field and cross-country events as he's able. He also holds season tickets to men's basketball and was thrilled to go all the way to the Final Four with the team last year.
"It's easy to keep in touch and continue to make Loyola a part of my life."
Loyola Loyalist prioritizes giving back
By Carla Beecher
Maddie Shearer (BA '14) couldn't see any reason why she shouldn't regularly support today's students, so she set up an automatic gift each month that fits her budget and her desire to provide a reliable and sustainable contribution to Loyola's annual giving program.
"I received scholarship support, so I think it's only right that I do the same for today's students who otherwise might not be able to afford a college education," said the Dayton, Ohio, native.
Even though Shearer graduated just five years ago, she already is a Loyola Loyalist—someone who makes a priority out of giving back to Loyola and does so each year.
"The monthly amount that is charged to my credit card is about the same as what a dinner out or a couple of movies costs," she said. "While it's not a great deal of money each month, it really does add up. And by the end of a year, it creates a substantial amount of student aid, especially when combined with gifts from others."
A graduate of the School of Communications, Shearer understands the power of philanthropy. She worked as a phonathon caller during all four years as an undergraduate. She also participated in the Wolf and Kettle Club, a student group focused on activities to promote generosity.
Given Shearer's emphases on public relations and philanthropy while earning her Loyola degree, it's no surprise that she landed a job at the Art Institute of Chicago, where she currently is assistant director of institutional relations.
She credits two professors in particular for instilling in her the importance of making professional connections. "I remember Professors Herb Ritchell and David Kamerer in the School of Communications, who told me to network as much as I could when I was graduating," said Shearer. "I took their advice, and that's how I got where I am today. They told me to use Chicago as a resource, and between that advice and venturing out on my own to meet a lot of great people—including Loyola alumni—I was able to make a connection at the Art Institute, and I love working here."
In addition to her monthly recurring gift to Loyola, Shearer makes a point of remaining involved with her alma mater. She regularly helps at School of Communication events, including helping current students build their resumes.
She also promotes the internship position in her office to Loyola students. "It's a great way to get experience at a world-renowned organization."
And it's another way for this young alumna to give back.
Alumni couple supports Loyola for decades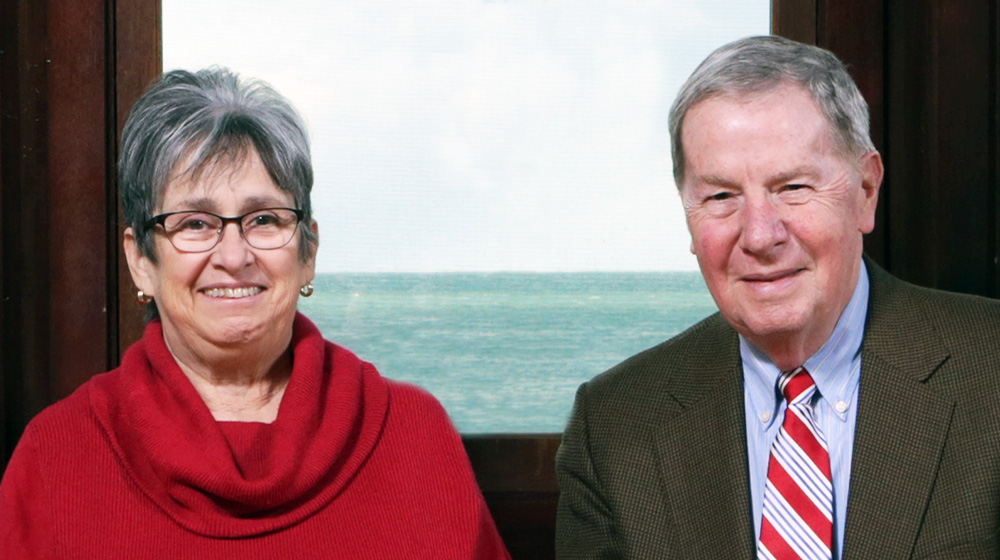 By Amanda Friedlander
Maria Moore (BS '67, MBA '70) was working backstage on a Loyola campus production of Brigadoon when she first met Carl Moore (BS '66, JD '69). Carl, another member of the Curtain Guild, arrived during a moment of pre-show chaos to offer much-needed moral support. Months went by, until a chance encounter during University Weekend festivities found the two reunited. During their time at the University, the Moores fell in love—not just with each other but with Loyola as well. The rest, as they say, is history.
The Moores are annual members of the Damen Society and lifetime members of the Founders' Circle, having contributed to Loyola in the form of a fellowship for intellectual property law, the nuclear magnetic resonance equipment chemistry fund, and yearly gifts during Phonathon campaigns. Their longstanding philanthropic support stems from decades of involvement with the University, both as students and as active alumni.
Jesuit education runs deep in Carl's family. His father had been a professor of chemistry in the College of Arts and Sciences for 60 years, and Carl attended Loyola Academy before enrolling at the University. Maria, the first pregnant woman to graduate from Loyola's MBA program, sat on the alumni board of the graduate business school. As students, the Moores were deeply involved in extracurricular activities, participated in fraternity and sorority life, and cheered on the Ramblers at basketball games.
"We were at Loyola during the glory days," Carl said. "Going to those games was unforgettable."
Their dedication to Loyola continued long after they graduated. When a meeting with the College of Arts and Sciences advisory board revealed that the chemistry department was in need of an expensive magnetic spectroscopy machine, the Moores didn't hesitate to offer their support. A former graduate student of Carl's father had suggested setting up a fellowship to honor the late professor, and true to his generous nature, Carl jumped at the opportunity.
"Carl always takes a good thing and makes it better," Maria said. "I might've donated a certain amount, but he sees things on a scale and gives even more."
With three children of their own, as well as grandchildren who are college age, the Moores acknowledge that the cost of higher education is ever-growing. They recognize the value of a university that continues to expand and improve, and they hope their gifts contribute to that growth.
Carl knows first-hand how difficult it is for students to pay for education, having worked with graduates deep in debt during his patent law practice days. He and Maria have never regretted giving back to the school that gave so much to them.
"Those are the kinds of values we learned as part of our Jesuit education at Loyola," Carl said. "Sharing the gifts God has given us just seems like what we're supposed to do."
The legacy of a beloved daughter lives on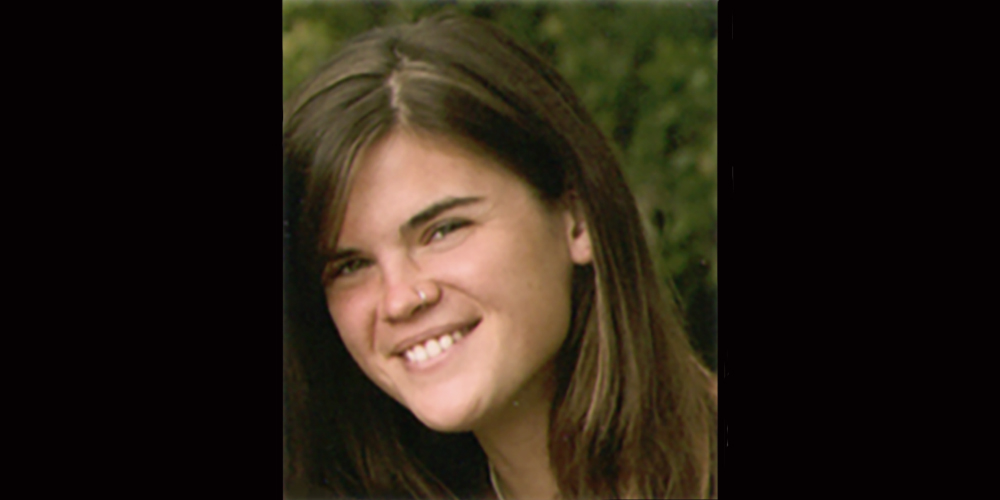 By Amanda Friedlander and Aaron Cooper

Victoria McManus, a Massachusetts native, who had made Chicago her home, was accepted to Loyola's Master of Arts in Public History program in early 2014. She supported herself after receiving an undergraduate degree in history, and she was proud of her independence but voiced concern about being able to afford both tuition and housing when she started school again that fall. Her parents offered to help, but for most of that early spring, she continued to try to find a way to make ends meet on her own.
Most of the family, including Victoria, spent Easter Sunday in South Bend, IN, where her youngest sister attended college. As her father, Peter, was driving Victoria back to Chicago for the work week, Victoria gratefully, but reluctantly, accepted her parents' assistance. Less than a month after that conversation and a few months before she would begin work toward her master's degree, Victoria was killed by an ex-boyfriend.
In the wee hours of May 14, word reached her mother, Ann Beach, that Victoria had been killed just hours before. Ann was in South Bend with her youngest daughter, and instead of driving home to the Boston area, they headed to Chicago to wrap up her beloved daughter's life. Late on May 15, Ann flew home to join the rest of the family, mourning and in shock.
"Education is very important to Peter, me, and our families," said Beach. "Our parents instilled that in us. We've done the same with our children. During that flight home, I began to think about how best to honor our daughter's life. An idea percolated. What if in lieu of flowers we suggested people consider contributing to a scholarship in Victoria's memory? By the time the plane landed, my thoughts had been refined: the scholarship would go to a master's student in public history, so that they would not have conversations with their families similar to the ones Victoria had with us." En route to the funeral parlor early the morning of May 16, Ann and Peter discussed her idea, and it was settled: The Victoria Ann McManus Memorial Scholarship Fund was established.
"I thought if $50,000 was raised, that would be a significant testament to our daughter's life," said Beach. But the magnitude of Victoria's legacy was greater than that. In less than a year, Victoria's family and friends contributed more than $100,000. "I am awestruck at how deeply she touched people, and their generosity is mind-boggling," said Beach.
The scholarship supports students in Loyola's public history master's degree program with interests similar to Victoria's, including a passion for social justice, economic equality, and racial equality. In the 2016–17 academic year, the first scholarship was awarded to Matthew Norgard (MA '17). Beach and Norgard met in April 2017 at Loyola's Scholarship Mass and Celebration (see photo below).
"I received the scholarship in the final term of my graduate program," said Norgard. "It helped cover my last semester and allowed me to focus on my studies and on graduating."
The Victoria Ann McManus Memorial Scholarship is just one way Victoria is remembered. Four months after Victoria's death, on what would have been her 27th birthday, Beach filed paperwork to establish a nonprofit organization, Finding One's Voice, Inc. "The concept behind it was based on Victoria having been an artist and a writer," said Beach. "She loved history, but what really made her soul sing was creating art and writing. FOV's pilot program, Snapshots of Joy, is a five-week course designed to encourage students to find calmness within themselves regardless of what has happened to them, to reflect and find beauty and joy in the world."
The program is simple but effective: students are given disposable cameras and asked to take pictures of things that make them happy. Getting the film developed requires that they wait to see their photographs. In the meantime, they discuss expectations and learn to prepare for the possibility their expectations may not be met. When they get their images back, they choose a favorite, write about it, and then exhibit their pieces for friends and family. Many may be seen on Finding One's Voice website.
"If one child learns through this program, through the creative process, to step back when they're hurt or angry or upset and not harm themselves or others," said Beach, "then Victoria's spirit will have prevailed."
[Below: Matthew Norgard (MA '17) and Ann Beach at Loyola's Scholarship Mass and Celebration, April 2017]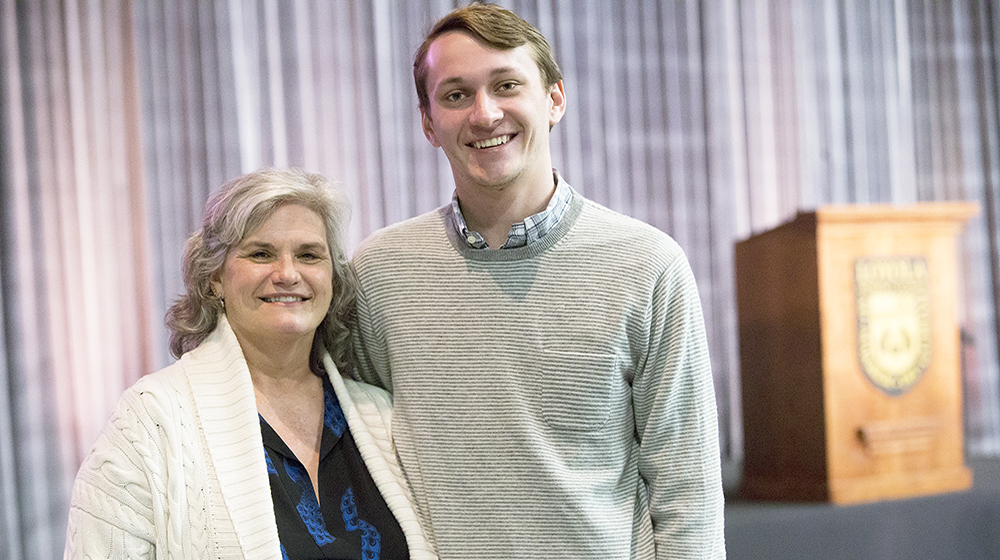 ‌
"My name will be alive"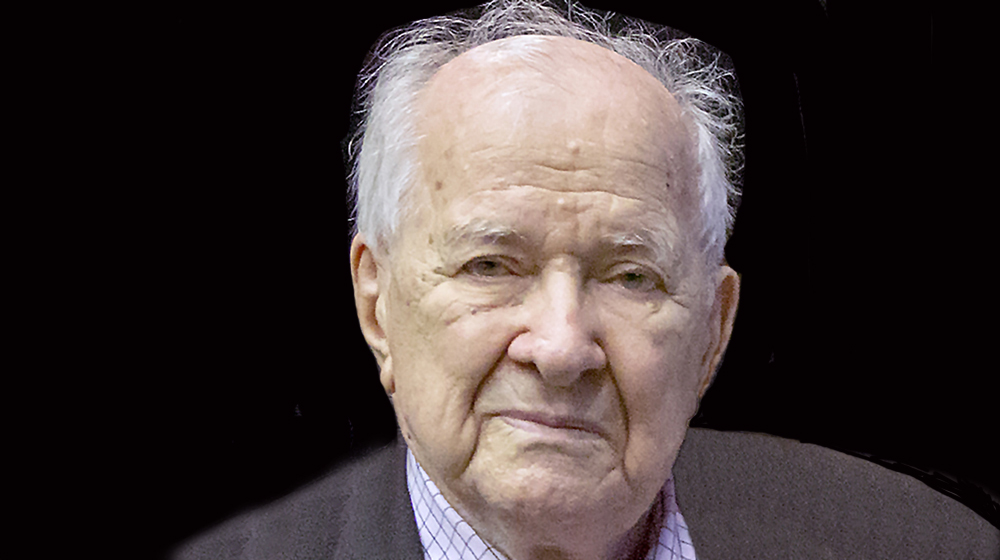 By Aaron Cooper and Amanda Friedlander
Growing up in war-torn Poland in the late 1930s, Eugene Chmielowski learned from an early age how important it is to understand one's roots. When he was a child, his father was killed by soviets in the Katyn Forest Massacre in 1940, and his family was then deported to Siberia.
Over the next decade, his family moved from a Persian refugee camp to India, where Chmielowski finished high school in 1947. While in India, his mother died when he was 17. The Polish government was funding colleges in England, so he finished junior college there in the early 1950s. Though times were still bleak, he met his wife in England, whose father was in General Anders' army, and Chmielowski and his wife had a daughter. With his wife's family as sponsors, the three of them were able to move to the United States in 1954.
With another child on the way, he worked for $110 a week while pursuing an accounting degree from DePaul University. After attending school on and off for six years, he graduated and found a job at Kemper Insurance Company. He went on to work there for 32 years before retiring.
"I am more fluent in Polish than I am in English, but I have a very good vocabulary in Polish and in English," he said. "As a matter of fact, while on a business trip to New York, I was speaking with some executive of the company. We were talking, and I said, 'Well, I've got this accent,' and he said, 'Well, if you trade your vocabulary, I'll trade my accent!.'"
While living in Chicago, Chmielowski sought out a community of other Polish-speaking students. He credits Bozena Nowicka McLees, whom he met at a Polish function in the city, for introducing him to the Interdisciplinary Polish Studies Program at Loyola, which she directs. Inspired by the tightly knit Polish community in the city, Chmielowski knew that he wanted others to understand the sacrifices his people made to get to America and the sacrifices he made to obtain an education.
Through working closely with McLees and with Loyola's Advancement Division, Chmielowski funded two endowed scholarships: the Eugene Chmielowski Scholarship and the Siberian Society Scholarship, named for the national Polish organization that Chmielowski currently leads as its president.
Chmielowski's generosity and willingness to pay his legacy forward has already made a difference in the lives of students. Over the past six years since the scholarships were created, he has received thank-you letters from several of the student recipients, including Jennifer Putnam, who received the 2016-17 Siberian Society Scholarship. One young woman had no Polish background, but she had visited Poland and was passionate about studying its culture and literature, despite having little understanding of the language.
"There were some days that I didn't know if I would be able to complete my studies," said Putnam. "The support of this scholarship helped me and brought me closer to faculty members like Bozena McLees who helped me overcome these challenges. I had an amazing support system that is really thanks to Mr. Chmielowski."
The scholarships benefit students who are interested in Polish language, literature, or culture. Through these scholarships, Chmielowski believes his legacy will live on.
"It's only a matter of time before we disappear from the earth," Chmielowski says. "But if a student receives the Siberian Society Scholarship, he or she may reach for a book and try to learn something about us, and we will be alive again. My name will be alive."
[Below left to right: Eugene Chmielowski, Bozena Nowicka McLees, Diane Plussa, Jennifer Putnam/2016-17 Recipient of the Siberian Society Scholarship]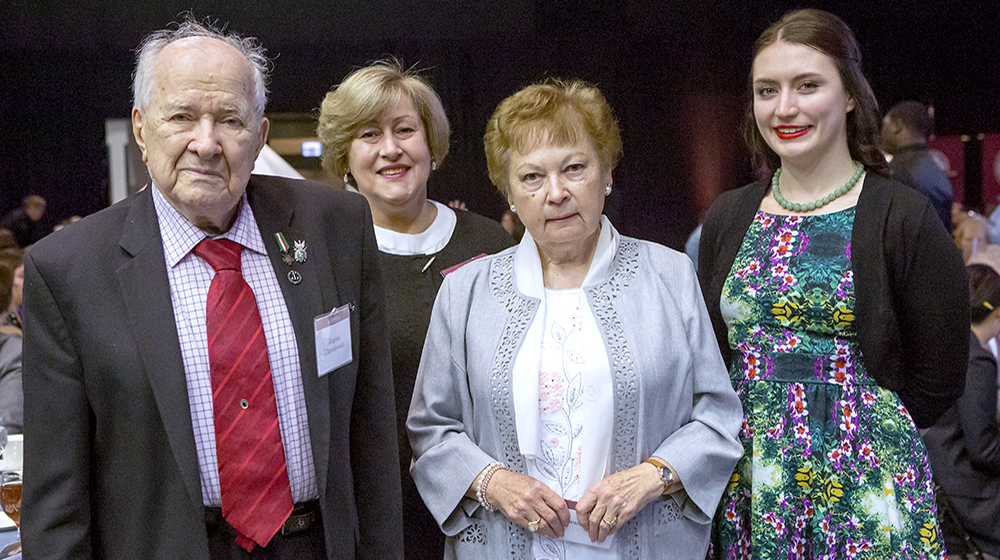 Crossing the finish line
By Aaron Cooper
As a teenager, Renée Suzanne Frodin (BBA '97) grew up in the south suburbs of Chicago in a poor family. She dropped out of high school, got married, and started having children. By age 21, she and her husband had four young children with no prospects of building a solid future for their family.
Despite Frodin's family living on food stamps, she eventually earned her GED but knew that would only carry her so far.
"Everyone I knew who had a good life for their children and was successful was also educated," said Frodin. "They had more than a GED. Despite my circumstances, I wondered what I could do to make a better life for my kids."
Frodin got into Prairie State College, a community college based in Chicago Heights, and earned a good GPA. Again she found herself wanting more. A student there told Frodin that Loyola University Chicago offered a Presidential Scholarship and encouraged Frodin to apply.
The big break
Frodin applied for the Presidential Scholarship and one day received a letter from Loyola. "It was like the skies opened up," she said upon learning that she had been accepted and awarded the scholarship. "It was the best break I've ever gotten in my life."
At the time, Frodin and her family lived in Richton Park. She took the train to Loyola every day, about an hour commute each way. Two of her children were at daycare, and the other two were attending school.
Uncertain future
Frodin studied finance at the Quinlan School of Business. With only a semester left to earn her degree, Frodin's husband passed away unexpectedly. Facing an even more uncertain future as a single mother of four children, Frodin feared she would lose her scholarship, because the Presidential Scholarship is only for full-time students.
"I couldn't attend full time anymore after he passed, because I needed to get a job," Frodin said. "But I still wanted to finish my degree, because I was so close. I wanted to graduate from Loyola and didn't want to have to go someplace else."
Frodin wrote a letter to the University asking if there was any way the scholarship could be continued so she could finish her final classes despite not being able to continue on full time.
"Loyola said yes, and I am forever grateful," said Frodin. "Loyola helped us all—five people, not just me," she said. "All four of my kids have graduated from college. And I don't know where we'd be if I hadn't finished my degree."
Giving back
Frodin went on to a successful career in investment operations, accounting, and finance. As she established her career and could better provide for her family, she began donating money to Loyola particularly in support of scholarships.
"I like to give back to the University any way I can," Frodin said. "I always envision someone like me who wouldn't be able to attend Loyola without some assistance, and I hope that he or she can graduate and have a better life because of their education and pay it forward."
Frodin recently lost her job and is working diligently to launch a new full-time coaching business with a specialty in helping women who are frustrated with dating.
Lifelong education
"I am a big believer in lifelong education," said Frodin. "Learning something difficult and not giving up really tests your mettle. Are you going to do this? Are you going to stick with it? Are you going to show up for class? Are you going to talk to the professor? Are you going to share your ideas? Are you going to speak with other students and be active? Are you going to participate? All of those things are so valuable throughout life."
"I had a pretty rough childhood, and the kindness that was extended to me by the University made me believe the world could be a good place and that good things could happen to good people," said Frodin. "I am grateful for the opportunity to give back to Loyola, and I hope the University will continue to make the education it provides available to as many people as possible.
Pedaling the wheels of generosity
By Aaron Cooper
Charles Lafkas (BS '94) used to marvel at how much attention he got when he would wear a cycling jersey from his father's alma mater, a large, well-known US university. Charles, a graduate of Loyola University Chicago and an avid bicyclist, thought it would be cool to design a Loyola version in order to showcase the school in a unique and positive way.
"I was introduced to a local designer, Diana Puppin of dp Design, who's also a bicyclist in addition to operating her marketing and design business." says Charles. "This was the first time we worked on a project together. With Loyola's blessing to commence the project, followed by the University's continued input and final approval, we created the product pictured here."
The result was a hit and also kept as a secret from Charles's father (pictured below with Charles), until a planned vacation. The two generations of Lafkas had scheduled a week-long bicycle ride in Oregon in September 2013, with the litmus test being what Loyola's brand recognition would be so far outside of Chicago. During the trip, Charles presented his father with the new jersey, and his father was impressed and thrilled to wear it.
"Additionally, we were with another friend in Oregon, who I gave a jersey to also. About half a mile out of our camp on the morning that all three of us chose to wear our new jerseys, someone yelled to my father, 'Hey, Jesuit!,' rode up to us, and named all the members of the Loyola championship basketball team from 1963," says Charles. "Each of us that day received half a dozen comments, all positive, from people coming up to us and saying things like, 'Hey, my daughter attends Loyola!' It was amazing to see that brand recognition among 2,000 other riders who had traveled to eastern Oregon, some from different parts of the world."
Charles does not sell the jerseys and has only given them away. "This is just another way I can help promote the University," says Charles.
Charles, based in Cincinnati, is a senior clinical project manager in drug development, an industry that manages drug trials and studies for pharmaceutical companies as they're working toward FDA approval. His company is hired to ensure drug trials are done ethically and objectively, with the protection of the participants in these clinical trials being his foremost goal.
As Charles became more involved with Loyola and agreed to serve on the College of Arts and Sciences Advisory Board, a Loyola development officer reached out to him and asked if he'd be open to a substantial donation to his alma mater. Turns out he was very receptive to the idea.
Charles endowed a scholarship as part of Loyola's Access to Excellence: The Campaign for Scholarships. The Charles S. Lafkas Scholarship Fund provides financial assistance to one or more students enrolled at the College of Arts and Sciences. Preference is given to students who declare biology, chemistry, and/or physics as a major course of study and who demonstrate academic merit.
"I'm a big advocate of giving back," says Charles. "I've gotten to the point in my life where I've become financially successful enough that I can give back in this way. And it's not just about giving back financially. Sometimes that means giving back of our time, as I try to do with my involvement on the CAS board or merely doing something like donating blood on a regular basis."
Meanwhile, Charles finds his way onto a bicycle every chance he can. Recently, while wearing his Loyola jersey, he was riding around Cincinnati. He stopped at a coffee shop on the way home toward the end of his ride, and he saw a young couple wearing Cubs hats. "One of them came up to me and asked if I went to Loyola," says Charles. "I said yes, and he introduced himself as a 2003 grad. Encounters like that have been a lot of fun and help show the pride in the Loyola University Chicago brand."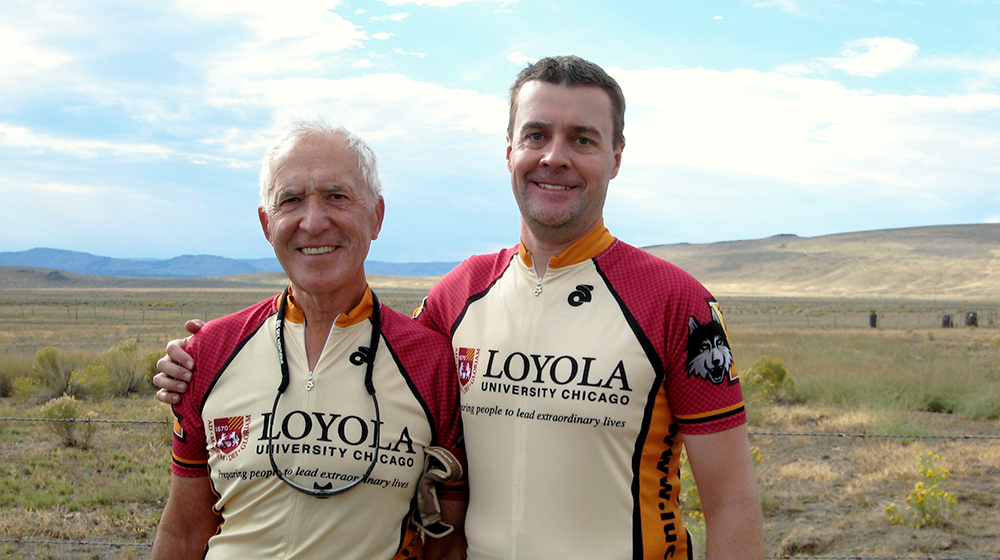 Supporting the Ramblers on the basketball court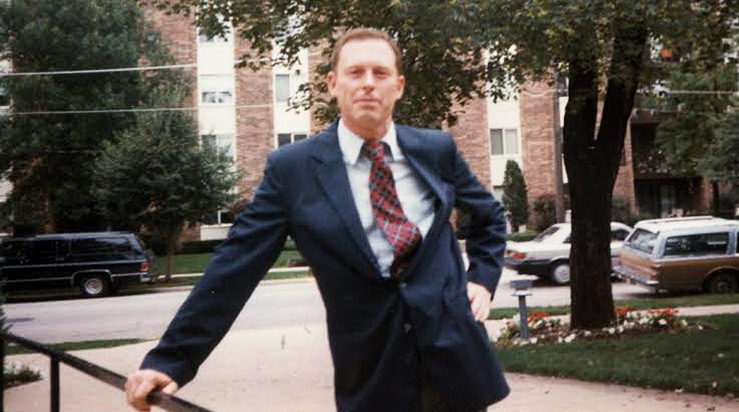 As a senior at St. Benedict's Preparatory School in Newark, New Jersey, Bill Moran (BS '67) enjoyed following college and professional basketball. In 1962, he decided to attend a men's college basketball game at Madison Square Garden where the finals of the National Invitation Tournament (NIT) were being held.
One of the teams on the court was the Loyola University Chicago Ramblers. Moran was impressed by the Ramblers, and based on that game alone, he decided he wanted to go to Loyola.
"He had never been to Chicago," says his wife, Martha, "but he applied to Loyola and flew out to Chicago for the first time to attend school here."
In the spring of his freshman year, the Ramblers won the national championship after beating Cincinnati. And for Moran, a lifelong affinity for the men's basketball team was born.
During his college years, he rarely missed a game and continued the practice after graduation. He followed the careers of the players both on and off the court, and for 45 years there was no more loyal or devoted fan of the Ramblers.
"I met Bill in 1972 and started going to the games with him," says Martha. "We have two adult daughters that we dragged to many games in many gyms, starting from the time they were infants. We followed the team from the west coast to the east coast and all over the Midwest."
And when Moran came to a position when he could start making donations, he donated regularly to the team and continued to support them financially and on the court until he passed away in January 2012, a tradition Martha continues to this day.
"For me, Bill was an older brother, a mentor, a great father and husband, and a great human being," says Frank Biga (BA '70, MA '74, MBA '77), a close friend and Rambler supporter. "Bill was a champion of the less fortunate. He believed in the dignity of every person, and he did things behind the scenes to help others, no matter what their station in life."
Before he passed away and despite illness, Moran traveled to a road game November 11, 2011, at the University of Illinois at Urbana–Champaign. Though using a wheelchair by then, he also made it to the Dec. 7 game against DePaul in the newly renovated Gentile Center.
Since that time, in spring 2015, the Ramblers played in their first post-season tournament since 1985 and won the College Basketball Invitational.
"Bill would have been ecstatic to see the recent success of the team," says Martha. "He lived and died by the team, and he never hesitated to share his opinions with the coaches. He was eager to see the players succeed not only on the court but more importantly in the classroom."
A scholarship in memoriam: the legacy of Jozy McGinnis
One day, Jozy McGinnis (pictured above) stood outside her home in Chicago when school let out at a Catholic grade school across the street. She noticed a student walking down the sidewalk looking particularly unhappy. She asked him why, and the student said he was getting bad grades in math without anyone at home to help out.
During their conversation, he admitted that math was a struggle for him and he was worried he would flunk. Jozy offered to help the boy with his math comprehension. The boy accepted, and for as long as he wanted help she provided it.
Years later, her husband, Mark, was working out in the yard when a young man walked up to him and asked to speak with "Miss Jozy." Mark informed him that Jozy had recently passed away but asked if there was something he could help with. The young man said, "I came by to show Miss Jozy my college diploma. I'm the kid she helped with math many years ago. And I wanted to thank her. Without her help, I never would have achieved this."
Jozy attended Loyola University Chicago, and from that time on through adulthood, friends and family describe her as the most selfless person one would meet.
"Jozy and I were best friends for about 25 years," said Janice Colosi (pictured below). "She was a very kind and generous person. She enjoyed surprising friends, family, or even strangers with unexplained kindness. She lived the philosophy of 'paying it forward,' often saying, 'it will always come back.'"
Emy Rubio (pictured below), another close friend, said, "Jozy was always there for me—for everyone. If I needed to talk or to have a good cry or just have some fun or simply do nothing, together—she was always there."
In 2005, Jozy was diagnosed with cancer. She received surgery and medical treatments that provided her six more good years until the cancer returned in full force in 2011. She passed away in May 2012.
"I wanted to do something lasting in her memory," said Janice, "something that would please her and make a difference. So I approached Mark with the idea of a scholarship, and he agreed."
Mark loved the idea, and together—along with friends Terry and Barbara Peterson—Mark, Janice, Emy, and the Petersons contributed toward the establishment of the Jozy McGinnis Endowed Scholarship.
"One hundred years from now, hundreds of students will have benefited from this scholarship," said Mark. "Their future and destinies were unknown when they applied for help, and the Jozy McGinnis Endowed Scholarship was their vehicle to success and support in reaching their full potential."
The story above about Jozy helping a young man with math was shared by Terry and Barbara and was also the driving reason behind their desire to support the scholarship. "She was quite a woman and a force for good in the world," they said.
"I supported this scholarship fund, because it continues to bring Jozy's spirit to others," said Emy, "especially deserving young people in need of assistance, the kind of people for whom Jozy cared deeply."
Recently, Janice and Emy got to meet the first recipient of the scholarship, Christine Dankha (pictured below), a microbiology major who recently finished her junior year at Loyola. And Christine and Mark also connected through a video phone call.
"When I learned that I was receiving the Jozy McGinnis Endowed Scholarship," said Christine, "I was incredibly honored to be the first recipient. This scholarship helped me and my family through hardship, and Jozy will forever be in our hearts."
Asked why scholarships are important, Christine said, "Scholarships help students become more confident in themselves. Scholarships mean someone out there believes in them and supports them. A little extra push can carry students a long way."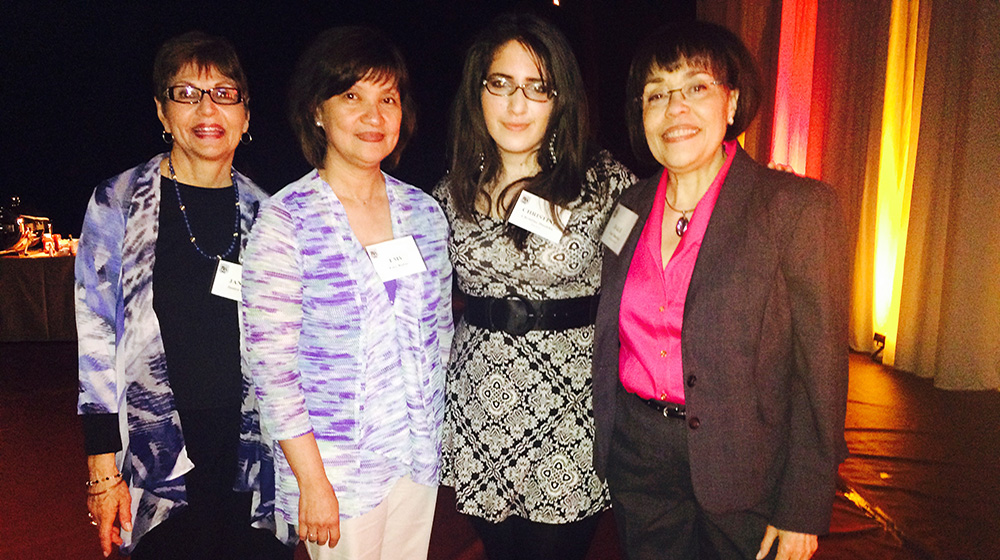 (Photo from left to right: Janice Colosi, Emy Rubio, Christine Dankha‌, Dale Blanchett/Advancement staff)
Mundelein alumna gives back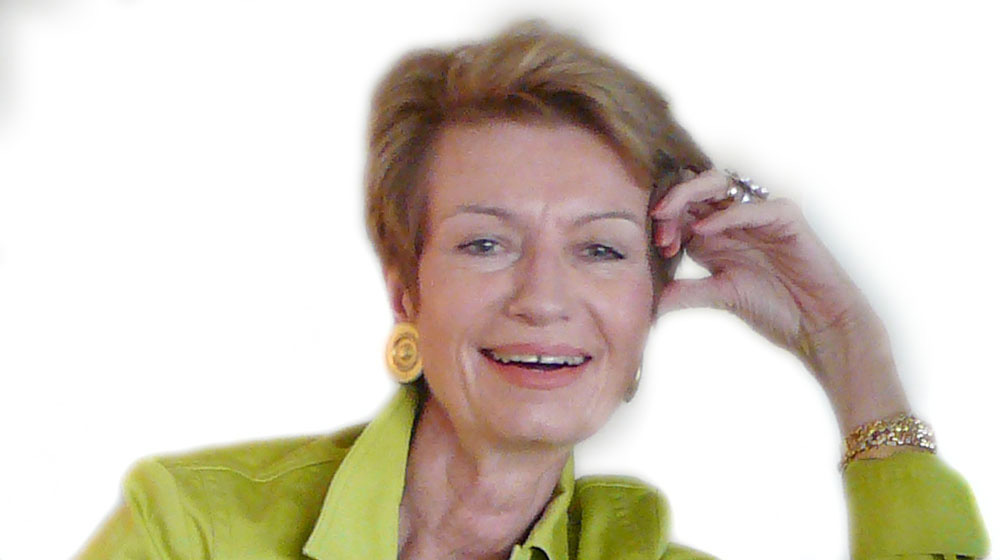 Marsha Dowd's connection to Loyola came about serendipitously. Dowd (MUND '73) began her career at Mundelein College following a tip from a friend that Mundelein had a program for returning adults in clothing and textiles, exactly what Dowd was looking for. After finishing the two years of schooling she needed, Dowd graduated from Mundelein in 1973 with a degree in clothing, textiles, and fashion design.
"I've always been really, terrifically grateful to Mundelein for having put together the type of program that fit my specific needs at the time," Dowd said.
Dowd was hired by Sears in 1979 when they decided to move their buying offices from New York City to downtown Chicago. She worked there for 10 years in a consulting and liaison position between apparel buyers and their manufacturing sources before going on what she called a "self-retirement program."
Since then, Dowd has been busier than ever. She spent time as a freelance wardrobe consultant, received a graduate degree from DePaul, and wrote a book as well as a play based on that book. Dowd has even recently resurrected a research project on women's 'snoods,' a hairnet-like accessory, which she originally created in her time at Mundelein.
"I'm always complaining that I have so much to do but can never get enough accomplished, and yet I keep coming up with more projects to do. I just love having projects to work on," Dowd said.
Given her affinity for Mundelein and her time there, Dowd endowed a scholarship at the Gannon Center for a Gannon Scholar—one of over 20 female students each year selected for a four-year progressive program that engages students in the development of leadership, service, and research.
"Many thanks to Mundelein and to the Gannon Center for being there and maintaining and embodying the spirit of Mundelein," Dowd said. "And for women scholars, this is my thanks and my gratitude paid forward."
In order for the University to continue to grow and prosper, Dowd hopes alumni will see the value in giving back. "It really is imperative for alumni to be loyal—and be loyal to Loyola," she said. "One of my reasons for endowing a scholarship is to be a role model for present-day students, to enable them to see that alums do come back around and do this type of thing for the University."
Loyola parent supports history department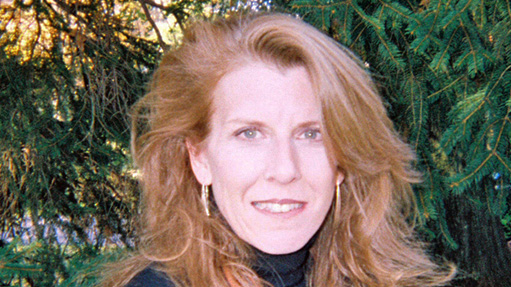 For Susan Ramonat, the connection to Loyola University Chicago wasn't immediate. She isn't an alumna, she never taught here, and she doesn't live in Chicago.
Ramonat received a degree in history, magna cum laude, from Princeton University in 1980, making her a member of one of the first female classes to graduate from traditionally all-male Princeton. Years later, her daughter is now a junior accounting major at Loyola, and Ramonat couldn't be happier with her daughter's choice.
"She chose Loyola, and she chose Chicago. I have learned to love those choices, and as a parent I wanted to put an exclamation point on that," says Ramonat. "I have found the University so receptive, and the response has been paid back in spades."
After graduating from Princeton, Ramonat's goal was to continue her studies in history and pursue a PhD. Plans changed and Ramonat didn't end up doing that. Since then, Ramonat has pivoted slightly from her history background and works as the chief risk officer for an investment company, SEI.
Although her career path changed, history is still Ramonat's passion. She has pledged to start an interdisciplinary seminar in Catholic history in the history department here at Loyola.
"For me, this is both a beginning and a return," says Ramonat. "It's a beginning for what we certainly see as a five-year program that could be something much larger, anchored in the history department. But for me it's also a return, because as an undergraduate, history captured my fancy."
Her goal is to inspire students to study and explore different aspects of history.
"While some people might not think a history degree is useful, it is enormously useful," says Ramonat. "Now I have an opportunity to give back to other folks that could be that same 19- or 20-year-old that I once was."
Ramonat credits close work with professors as a key to her education and hopes that her seminar can help produce similar results.
"I'm really excited to know that in the next five years, dozens of students will have the delight that I had—that close work with professors, all anchored in Loyola and the Jesuit tradition," she said.
Although Ramonat's relationship with the University didn't come until later in her life, she was drawn to contribute to Loyola because of her affinity for Jesuit ideals.
"I believe so strongly in the Jesuit education and the Jesuit tradition."
Rome Center alum gives $1 million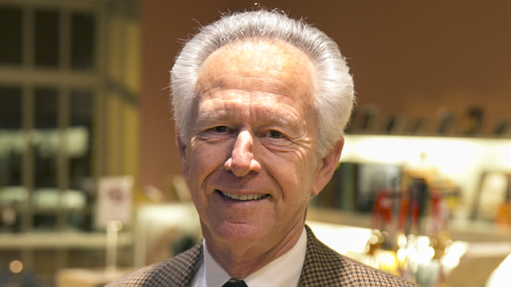 In early 1962, Tony Piazza (JFRC '62–'63) was nearing the end of his sophomore year at Santa Clara University when he decided to enroll in what would be the first full-year term at the John Felice Rome Center.

The Rome Center offers an American undergraduate college experience in the heart of Western Europe. As an actual campus and academic center of Loyola University Chicago, students can choose from more than 40 academic courses each semester and live together to form a tight-knit community.

"As it turns out, in the year that I was in Rome, I met a woman who became my wife," says Piazza. "She came to the Rome Center in the spring of 1963 from St. Louis. We corresponded for several years after we met and were married in 1966."

Piazza and his late wife, Susan Brazier Piazza (JFRC Spring '63), were married for over 40 years when she was diagnosed with a terminal disease. Upon learning this, they had a conversation about wanting to do something significant to support the Rome Center—a place that held great affinity for both of them and brought them together.

"We had a very long and happy marriage," says Piazza. "And that's probably the best gift that Loyola ever gave us."

Together, they made a contribution to establish a scholarship program for students who couldn't afford to attend the Rome Center. When Susan passed away in 2011, Piazza began planning a substantial gift to the Rome Center in her memory and a tribute to their 45 years of marriage—the first million-dollar current commitment in the history of the Rome Center.

In recognition of this gift, Loyola University Chicago named the Information Commons in Rome the Anthony and Susan Brazier Piazza Information Commons.
In 2015, Piazza received the Felice Award, which is named after the founding director of the John Felice Rome Center. It is given to a JFRC alumnus(a) who has shown exemplary leadership in business and community and support to the Rome Center.
Piazza, who lives in St. Louis, recently retired after running a business he started in 1967—a kitchen and bath business where he worked his whole career. RSI Kitchen and Bath is a family business now run by his daughter, Megan, though he remains involved in an advisory role. Piazza ran the business for 45 years until 2012.
Alumnus gives back to institution that sparked his career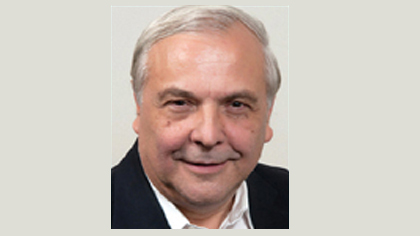 You've probably heard someone say something like, "That show was number two in the ratings last week." TV ratings and research is a world inhabited by Loyola alumnus Mike Hess (BS '73), executive vice president of Data Fusion and Integration at the Nielsen Company. Hess lives in Wilton, Connecticut, and works at the Nielsen office in New York City near Wall Street.
Hess attributes much of his interest and success in the field of statistics and marketing research to his undergraduate studies in psychology at Loyola, one of the main reasons he supports his alma mater financially.
"Loyola with its Jesuit tradition emphasized having a major but at the same time getting broadly educated, and that was really good for me," says Hess, who was born in Serbia, but grew up in Linz, Austria, before immigrating to Chicago as a child. The University covered the cost of most of his education—something he has always remembered. "I decided to give something back to a school that prepared me really well intellectually with a solid foundation for my career."
A widely published author of articles in his field and cutting-edge research studies, as well as a contributor to books, Hess works in a group at Nielsen called Media Analytics. "We've been generating data on television ever since TV came out, but we didn't necessarily always analyze it in terms of modeling for statistical relationships between variables," says Hess. "Media Analytics tries to do that."
An example of such modeling is a Causality study Hess worked on last year, examining the relationship between Twitter and television ratings. He found that Twitter sometimes sparked increased television viewership, and also that the more people watched TV, the more they posted on Twitter.
For that study, Hess indicated, "I used my Loyola statistics learning. I took stats with Father Rust, a Jesuit when I was a freshman there. He was an expert teacher. I really liked math. He turned me on to the statistics and probability part of that field, which I've used in my career ever since."
Hess has spoken at over 100 conferences over the years, and many of those appearances have prompted articles in publications like the Journal of Advertising Research. He wrote a chapter for a book called Listen First, a book on social media (2011), and has contributed to other similar publications, such as Advances in Consumer Research and Marketing Research magazine.
While a student at Loyola, Hess was on the chess team, he was co-captain of the soccer team, he wrote for the Phoenix, and he played on the ROTC touch football team. He cites this engagement with the University as another reason for his support.
"Part of why I have contributed to Loyola is for the next generation," he says. "By making designated contributions, I get to both make a charitable contribution and also have it directed to an area of programming that fosters my own values."
Triple alumna supports transfer students
"It's a privilege and responsibility of people who have done well enough in life to help other people," says Dr. Robin Turpin (BS '79, MA '82, PhD '85). And the triple alumna has certainly upheld that belief. Dr. Turpin has pledged $25,000 to Loyola University Chicago—a gift that was matched by the University as part of Access to Excellence: The Campaign for Scholarships—to establish the Turpin Endowed Scholarship in the College of Arts and Sciences.
Dr. Turpin, a Chicago native, is director of Health Delivery Systems and Pharmacoeconomics at Takeda Pharmaceuticals. She found a home in the psychology department during her time as an undergraduate at Loyola.
"It was a wonderful experience. I liked it so much that when I decided to go to graduate school, Loyola was the only school I considered," she says. "I didn't even apply anywhere else."
Dr. Turpin believes that Loyola is unique in its commitment to upholding its Jesuit values and instilling a sense of integrity in its students. "I've always tried to be associated with organizations that have the highest ethical standards, and I think a large part of that is a reflection of what I learned at Loyola," says Dr. Turpin. "I always felt the professors put their students first."
Recognizing the hardships faced by students in today's economic climate, Dr. Turpin wanted to help. Her scholarship is directed specifically towards students transferring to Loyola from junior or community colleges. Dr. Turpin attended Harper Community College in Palatine before transferring to Loyola. She funds an endowed scholarship at Harper as well.
"I think that as we as a country go forward, we have to look at all the different ways to educate people," she says. "Whether you spend one or two years in school or even just take a few classes, for some people it's a really good option to help them become successful. And for those students at community college looking to take the next step and get a degree at Loyola, I am proud to support that dream."
Young alum continues aunt's legacy of giving
For Lauren Bauer (BA '04), giving is a family legacy.
"My aunt always said, 'You can't be afraid to ask somebody to support something you believe in,'" says Bauer. And her aunt, Helen Bauer, knew what she was talking about. Before she passed away, she was executive director of Special Events at Loyola, and her passion was the advancement of the University.
This passion was instilled in her niece from a young age.
"I grew up visiting Chicago and Loyola as a kid," says Bauer, who would commute to the city from Jackson, Michigan, spending her summers assisting her aunt with various events for the University.
"It was kind of a no-brainer when I decided to go here; it was where I grew up," says Bauer.
Her time at Loyola as a kid gave her not only a fondness for the University but also the experience and skills that attracted employers before she even graduated. Bauer was hired part-time by the National Commission on Correctional Health Care as a junior. Her role in their meetings and events department soon expanded as she realized the potential in the often-neglected tradeshow industry.
"I created my own role and fell into that," she says. "I started traveling for work, visiting different cities to see if they'd be good for our conferences."
The part-time job quickly sparked the beginnings of a career for Bauer, who was still working on her undergraduate degree. She began a double life as both student and young professional. Luckily, Bauer received necessary support from her professors.
"My professors totally embraced that I had this career all of a sudden," she says. "If I was at a bigger school that didn't focus on the success of its students so intimately, I would never have been able to grow to where I'm at now. I have more years in my industry than some of my competitors, and I'm 10 years younger than they are."
Now, Bauer works as a national sales manager for Shepard Exposition Services in Las Vegas, where she moved four years ago. The company provides the physical set-up of exhibitions and conferences for various national associations. She was named the 2012 Young Professional of the Year by the International Association of Exhibitions and Events.
It was the culture of support at Loyola that inspired Bauer to donate to her alma mater. "It's this vibe you get around people who are working for the greater good," Bauer says. "That's what Loyola is about—serving students and serving the community."