archive
"My name will be alive"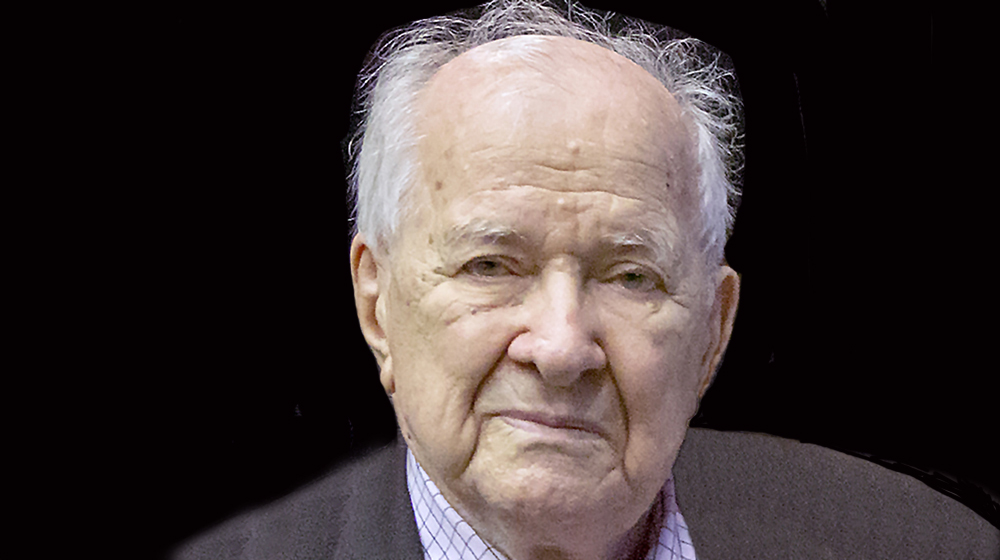 By Aaron Cooper and Amanda Friedlander
Growing up in war-torn Poland in the late 1930s, Eugene Chmielowski learned from an early age how important it is to understand one's roots. When he was a child, his father was killed by soviets in the Katyn Forest Massacre in 1940, and his family was then deported to Siberia.
Over the next decade, his family moved from a Persian refugee camp to India, where Chmielowski finished high school in 1947. While in India, his mother died when he was 17. The Polish government was funding colleges in England, so he finished junior college there in the early 1950s. Though times were still bleak, he met his wife in England, whose father was in General Anders' army, and Chmielowski and his wife had a daughter. With his wife's family as sponsors, the three of them were able to move to the United States in 1954.
With another child on the way, he worked for $110 a week while pursuing an accounting degree from DePaul University. After attending school on and off for six years, he graduated and found a job at Kemper Insurance Company. He went on to work there for 32 years before retiring.
"I am more fluent in Polish than I am in English, but I have a very good vocabulary in Polish and in English," he said. "As a matter of fact, while on a business trip to New York, I was speaking with some executive of the company. We were talking, and I said, 'Well, I've got this accent,' and he said, 'Well, if you trade your vocabulary, I'll trade my accent!.'"
While living in Chicago, Chmielowski sought out a community of other Polish-speaking students. He credits Bozena Nowicka McLees, whom he met at a Polish function in the city, for introducing him to the Interdisciplinary Polish Studies Program at Loyola, which she directs. Inspired by the tightly knit Polish community in the city, Chmielowski knew that he wanted others to understand the sacrifices his people made to get to America and the sacrifices he made to obtain an education.
Through working closely with McLees and with Loyola's Advancement Division, Chmielowski funded two endowed scholarships: the Eugene Chmielowski Scholarship and the Siberian Society Scholarship, named for the national Polish organization that Chmielowski currently leads as its president.
Chmielowski's generosity and willingness to pay his legacy forward has already made a difference in the lives of students. Over the past six years since the scholarships were created, he has received thank-you letters from several of the student recipients, including Jennifer Putnam, who received the 2016-17 Siberian Society Scholarship. One young woman had no Polish background, but she had visited Poland and was passionate about studying its culture and literature, despite having little understanding of the language.
"There were some days that I didn't know if I would be able to complete my studies," said Putnam. "The support of this scholarship helped me and brought me closer to faculty members like Bozena McLees who helped me overcome these challenges. I had an amazing support system that is really thanks to Mr. Chmielowski."
The scholarships benefit students who are interested in Polish language, literature, or culture. Through these scholarships, Chmielowski believes his legacy will live on.
"It's only a matter of time before we disappear from the earth," Chmielowski says. "But if a student receives the Siberian Society Scholarship, he or she may reach for a book and try to learn something about us, and we will be alive again. My name will be alive."
[Below left to right: Eugene Chmielowski, Bozena Nowicka McLees, Diane Plussa, Jennifer Putnam/2016-17 Recipient of the Siberian Society Scholarship]