archive
Alumni couple supports Loyola for decades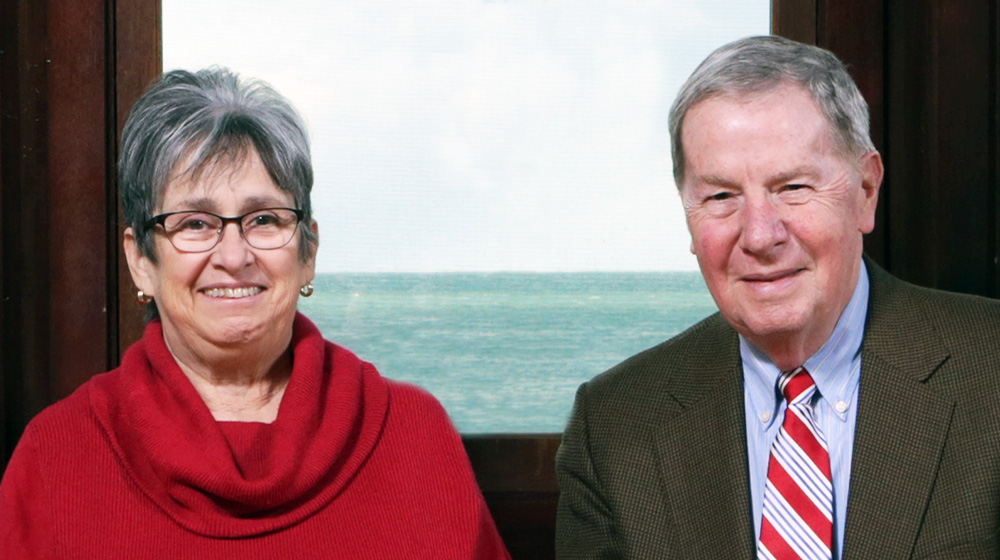 By Amanda Friedlander
Maria Moore (BS '67, MBA '70) was working backstage on a Loyola campus production of Brigadoon when she first met Carl Moore (BS '66, JD '69). Carl, another member of the Curtain Guild, arrived during a moment of pre-show chaos to offer much-needed moral support. Months went by, until a chance encounter during University Weekend festivities found the two reunited. During their time at the University, the Moores fell in love—not just with each other but with Loyola as well. The rest, as they say, is history.
The Moores are annual members of the Damen Society and lifetime members of the Founders' Circle, having contributed to Loyola in the form of a fellowship for intellectual property law, the nuclear magnetic resonance equipment chemistry fund, and yearly gifts during Phonathon campaigns. Their longstanding philanthropic support stems from decades of involvement with the University, both as students and as active alumni.
Jesuit education runs deep in Carl's family. His father had been a professor of chemistry in the College of Arts and Sciences for 60 years, and Carl attended Loyola Academy before enrolling at the University. Maria, the first pregnant woman to graduate from Loyola's MBA program, sat on the alumni board of the graduate business school. As students, the Moores were deeply involved in extracurricular activities, participated in fraternity and sorority life, and cheered on the Ramblers at basketball games.
"We were at Loyola during the glory days," Carl said. "Going to those games was unforgettable."
Their dedication to Loyola continued long after they graduated. When a meeting with the College of Arts and Sciences advisory board revealed that the chemistry department was in need of an expensive magnetic spectroscopy machine, the Moores didn't hesitate to offer their support. A former graduate student of Carl's father had suggested setting up a fellowship to honor the late professor, and true to his generous nature, Carl jumped at the opportunity.
"Carl always takes a good thing and makes it better," Maria said. "I might've donated a certain amount, but he sees things on a scale and gives even more."
With three children of their own, as well as grandchildren who are college age, the Moores acknowledge that the cost of higher education is ever-growing. They recognize the value of a university that continues to expand and improve, and they hope their gifts contribute to that growth.
Carl knows first-hand how difficult it is for students to pay for education, having worked with graduates deep in debt during his patent law practice days. He and Maria have never regretted giving back to the school that gave so much to them.
"Those are the kinds of values we learned as part of our Jesuit education at Loyola," Carl said. "Sharing the gifts God has given us just seems like what we're supposed to do."