archive
Alumnus gives back to institution that sparked his career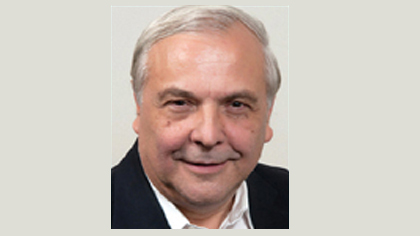 You've probably heard someone say something like, "That show was number two in the ratings last week." TV ratings and research is a world inhabited by Loyola alumnus Mike Hess (BS '73), executive vice president of Data Fusion and Integration at the Nielsen Company. Hess lives in Wilton, Connecticut, and works at the Nielsen office in New York City near Wall Street.
Hess attributes much of his interest and success in the field of statistics and marketing research to his undergraduate studies in psychology at Loyola, one of the main reasons he supports his alma mater financially.
"Loyola with its Jesuit tradition emphasized having a major but at the same time getting broadly educated, and that was really good for me," says Hess, who was born in Serbia, but grew up in Linz, Austria, before immigrating to Chicago as a child. The University covered the cost of most of his education—something he has always remembered. "I decided to give something back to a school that prepared me really well intellectually with a solid foundation for my career."
A widely published author of articles in his field and cutting-edge research studies, as well as a contributor to books, Hess works in a group at Nielsen called Media Analytics. "We've been generating data on television ever since TV came out, but we didn't necessarily always analyze it in terms of modeling for statistical relationships between variables," says Hess. "Media Analytics tries to do that."
An example of such modeling is a Causality study Hess worked on last year, examining the relationship between Twitter and television ratings. He found that Twitter sometimes sparked increased television viewership, and also that the more people watched TV, the more they posted on Twitter.
For that study, Hess indicated, "I used my Loyola statistics learning. I took stats with Father Rust, a Jesuit when I was a freshman there. He was an expert teacher. I really liked math. He turned me on to the statistics and probability part of that field, which I've used in my career ever since."
Hess has spoken at over 100 conferences over the years, and many of those appearances have prompted articles in publications like the Journal of Advertising Research. He wrote a chapter for a book called Listen First, a book on social media (2011), and has contributed to other similar publications, such as Advances in Consumer Research and Marketing Research magazine.
While a student at Loyola, Hess was on the chess team, he was co-captain of the soccer team, he wrote for the Phoenix, and he played on the ROTC touch football team. He cites this engagement with the University as another reason for his support.
"Part of why I have contributed to Loyola is for the next generation," he says. "By making designated contributions, I get to both make a charitable contribution and also have it directed to an area of programming that fosters my own values."