archive
Rome Center alum gives $1 million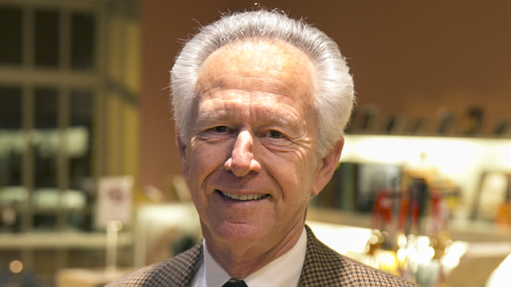 In early 1962, Tony Piazza (JFRC '62–'63) was nearing the end of his sophomore year at Santa Clara University when he decided to enroll in what would be the first full-year term at the John Felice Rome Center.

The Rome Center offers an American undergraduate college experience in the heart of Western Europe. As an actual campus and academic center of Loyola University Chicago, students can choose from more than 40 academic courses each semester and live together to form a tight-knit community.

"As it turns out, in the year that I was in Rome, I met a woman who became my wife," says Piazza. "She came to the Rome Center in the spring of 1963 from St. Louis. We corresponded for several years after we met and were married in 1966."

Piazza and his late wife, Susan Brazier Piazza (JFRC Spring '63), were married for over 40 years when she was diagnosed with a terminal disease. Upon learning this, they had a conversation about wanting to do something significant to support the Rome Center—a place that held great affinity for both of them and brought them together.

"We had a very long and happy marriage," says Piazza. "And that's probably the best gift that Loyola ever gave us."

Together, they made a contribution to establish a scholarship program for students who couldn't afford to attend the Rome Center. When Susan passed away in 2011, Piazza began planning a substantial gift to the Rome Center in her memory and a tribute to their 45 years of marriage—the first million-dollar current commitment in the history of the Rome Center.

In recognition of this gift, Loyola University Chicago named the Information Commons in Rome the Anthony and Susan Brazier Piazza Information Commons.
In 2015, Piazza received the Felice Award, which is named after the founding director of the John Felice Rome Center. It is given to a JFRC alumnus(a) who has shown exemplary leadership in business and community and support to the Rome Center.
Piazza, who lives in St. Louis, recently retired after running a business he started in 1967—a kitchen and bath business where he worked his whole career. RSI Kitchen and Bath is a family business now run by his daughter, Megan, though he remains involved in an advisory role. Piazza ran the business for 45 years until 2012.