archive
The legacy of a beloved daughter lives on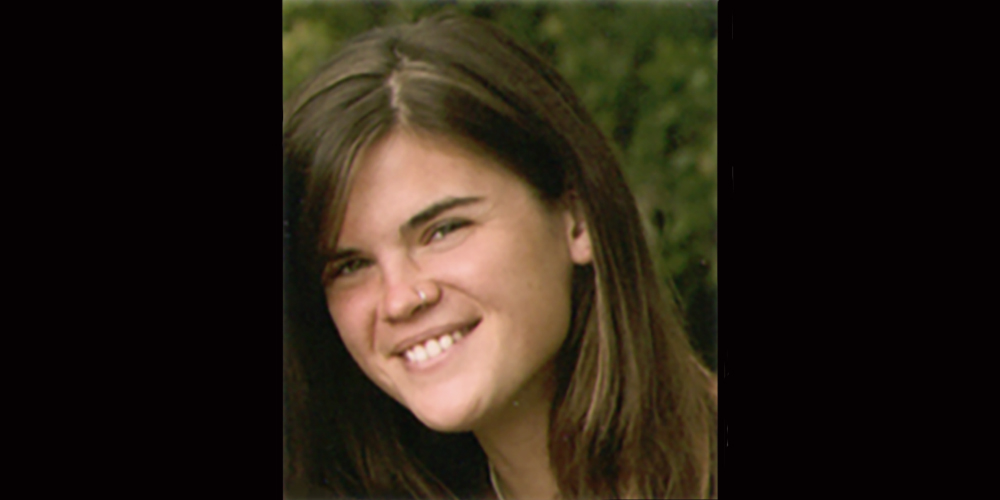 By Amanda Friedlander and Aaron Cooper
Victoria McManus, a Massachusetts native, who had made Chicago her home, was accepted to Loyola's Master of Arts in Public History program in early 2014. She supported herself after receiving an undergraduate degree in history, and she was proud of her independence but voiced concern about being able to afford both tuition and housing when she started school again that fall. Her parents offered to help, but for most of that early spring, she continued to try to find a way to make ends meet on her own.
Most of the family, including Victoria, spent Easter Sunday in South Bend, IN, where her youngest sister attended college. As her father, Peter, was driving Victoria back to Chicago for the work week, Victoria gratefully, but reluctantly, accepted her parents' assistance. Less than a month after that conversation and a few months before she would begin work toward her master's degree, Victoria was killed by an ex-boyfriend.
In the wee hours of May 14, word reached her mother, Ann Beach, that Victoria had been killed just hours before. Ann was in South Bend with her youngest daughter, and instead of driving home to the Boston area, they headed to Chicago to wrap up her beloved daughter's life. Late on May 15, Ann flew home to join the rest of the family, mourning and in shock.
"Education is very important to Peter, me, and our families," said Beach. "Our parents instilled that in us. We've done the same with our children. During that flight home, I began to think about how best to honor our daughter's life. An idea percolated. What if in lieu of flowers we suggested people consider contributing to a scholarship in Victoria's memory? By the time the plane landed, my thoughts had been refined: the scholarship would go to a master's student in public history, so that they would not have conversations with their families similar to the ones Victoria had with us." En route to the funeral parlor early the morning of May 16, Ann and Peter discussed her idea, and it was settled: The Victoria Ann McManus Memorial Scholarship Fund was established.
"I thought if $50,000 was raised, that would be a significant testament to our daughter's life," said Beach. But the magnitude of Victoria's legacy was greater than that. In less than a year, Victoria's family and friends contributed more than $100,000. "I am awestruck at how deeply she touched people, and their generosity is mind-boggling," said Beach.
The scholarship supports students in Loyola's public history master's degree program with interests similar to Victoria's, including a passion for social justice, economic equality, and racial equality. In the 2016–17 academic year, the first scholarship was awarded to Matthew Norgard (MA '17). Beach and Norgard met in April 2017 at Loyola's Scholarship Mass and Celebration (see photo below).
"I received the scholarship in the final term of my graduate program," said Norgard. "It helped cover my last semester and allowed me to focus on my studies and on graduating."
The Victoria Ann McManus Memorial Scholarship is just one way Victoria is remembered. Four months after Victoria's death, on what would have been her 27 th birthday, Beach filed paperwork to establish a nonprofit organization, Finding One's Voice, Inc. "The concept behind it was based on Victoria having been an artist and a writer," said Beach. "She loved history, but what really made her soul sing was creating art and writing. FOV's pilot program, Snapshots of Joy, is a five-week course designed to encourage students to find calmness within themselves regardless of what has happened to them, to reflect and find beauty and joy in the world."
The program is simple but effective: students are given disposable cameras and asked to take pictures of things that make them happy. Getting the film developed requires that they wait to see their photographs. In the meantime, they discuss expectations and learn to prepare for the possibility their expectations may not be met. When they get their images back, they choose a favorite, write about it, and then exhibit their pieces for friends and family. Many may be seen on Finding One's Voice website.
"If one child learns through this program, through the creative process, to step back when they're hurt or angry or upset and not harm themselves or others," said Beach, "then Victoria's spirit will have prevailed."
[Below: Matthew Norgard (MA '17) and Ann Beach at Loyola's Scholarship Mass and Celebration, April 2017 ]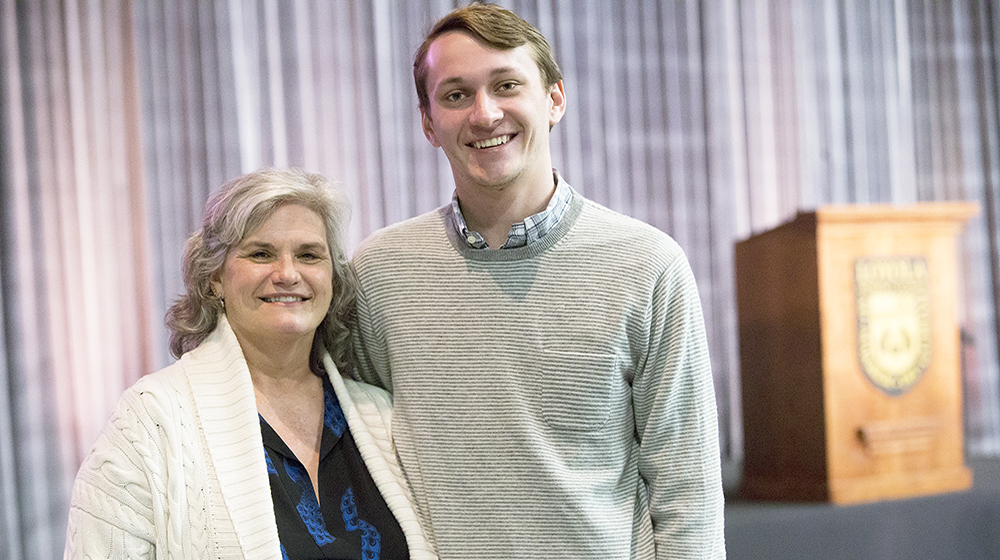 ‌