archive
Much more than a researcher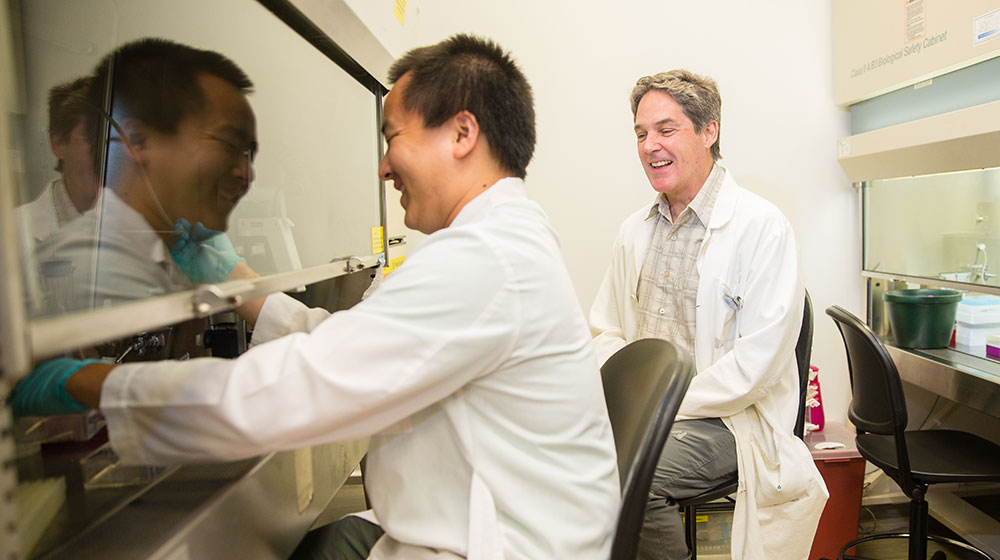 By Erinn Connor
Before 2003, Tom Gallagher, PhD, was researching a family of viruses that was relatively unknown to the general public. Then, human coronaviruses were known only for causing relatively harmless respiratory illnesses like the common cold. Now, they're infamous for being the cause of more troubling diseases like Severe Acute Respiratory Syndrome (SARS) and Middle Eastern Respiratory Syndrome (MERS).
The scope of Gallagher's field expanded rapidly, though he'd been researching coronaviruses since his PhD work, and has kept his studies going since he arrived at Loyola University Chicago's Health Sciences Campus in 1992. His work on dissecting the machinations of coronaviruses has continued in his lab in the Department of Microbiology and Immunology within the Graduate School, and from there, so has the joy he gets from teaching and mentoring post-doctoral, graduate, and medical students.
For his tireless work, Gallagher received the Graduate Faculty Member of the Year award on September 19 at the Health Sciences Campus Faculty Convocation—for a job he never imagined he'd have.
"When I was an undergraduate, and even as a graduate student, I never thought I would be a professor. It just wasn't on my radar," Gallagher said. "But as I learned more about what it meant to be a scientist, it seemed like staying on the academic side was the right thing to do, and I'm glad I made that choice."
An early passion for science
Like so many scientists, Gallagher's interest in the field came from wanting to know the "whys" and "hows" of nature. Of how things worked, why they behaved in certain ways, to hopefully explain the unknown.
"Like a lot of people with an affinity for science, I was just curious about everything from the start," Gallagher said. "So a science career seemed like a good fit right from when I was young."
Gallagher stayed in his home state of California to receive his undergraduate degree at University of California-Santa Barbara, but he then came to the Midwest and the University of Wisconsin-Madison for his post-graduate studies. At the time, UW-Madison was one of the few universities that had a separate institute for the research Gallagher was interested in—virology, or the study of viruses.
He narrowed down his interest in viruses while at the Institute for Molecular Virology in Madison.
"It was there that I learned the technical work of doing research in a lab, while also learning about how a virus replicates," Gallagher said. "Back then there were many features about viral replication that were not well understood—there still are many knowledge gaps—and so we focused on answering some questions. What I really got out of those times is an enduring enthusiasm for the lab, and how good experiments can reveal some answers. Bench research has a way of capturing your attention."
Focusing on SARS
With the help of his mentor Roland Rueckert, the former chair of the institute, Gallagher earned his PhD in cell and molecular biology with a focus in virology "Roland was a superb mentor," Gallagher said. "He truly cared about showing me what science is all about, and he had incredible infectious energy."
Gallagher then returned to the West Coast to the sprawling Scripps Research Institute in San Diego for his postdoctoral fellowship. It was there that he started his work on coronaviruses in the laboratory of his next mentor, Michael Buchmeier, back when no one knew the SARS acronym and before videos of people wearing masks while traveling abroad were all over the news.
There are many coronaviruses that only infect animals, which is what Gallagher studied in San Diego. He studied the virus in mice, but not because scientists could foresee a human epidemic of coronaviruses coming.
"The diseases caused by the mouse coronavirus were varied and would reflect certain human diseases," he said. "One infection could lead to the development of neurological symptoms that were a lot like multiple sclerosis, and there was enthusiasm for those models to potentially reveal the mechanisms behind certain human diseases."
At some point in the year 2002, the SARS virus figured out a way to infect humans. There were just over 8,000 cases of SARS and more than 700 deaths from the virus from 2002-2003 alone. The MERS epidemic in 2012 generated even more interest in the field.
By the time coronaviruses became a household name, Gallagher was already at Loyola, building his own lab that focused on the viruses. His lab has published papers on the mechanism behind the virus infecting a vulnerable cell, and is continuing to focus on how exactly the virus will latch onto a cell and cause infection.
Moving beyond research
Katherine Knight, PhD, chair of the Department of Molecular Biology and Immunology, was one of the major reasons Gallagher came back to the Midwest.
"From the first day I was here, I got the feeling she was someone far more special than the average department chair, and it turns out I had the right first impression," he said. "Dr. Knight is just about the most understanding and helpful mentor in the world."
Knight said over the years she's continually been impressed by Gallagher's level of integrity and his ability to explain complex scientific concepts for his students.
"Tom really enhances the intellectual environment of the department and of his classes," Knight said. "He's a superb teacher who asks really good questions of his students and knows how to engage them so they're learning in the best possible way."
Loyola is also where Gallagher started and honed his teaching career, even though he always expected his research to remain at the forefront.
"A beautiful aspect of being a professor is that you can explore and utilize your assets in different ways," he said. "At most universities the expectation is that you're a researcher first and foremost because that's what brings in funds, but of course there are also plenty of opportunities to contribute to the University through teaching and service."
Now Gallagher's teaching responsibilities range from covering the basic molecular cell biology with first-year medical and graduate students to being a mentor to PhD students and postdoctoral associates working in his lab.
Edward Thorp, PhD, FAHA, now an assistant professor in the Department of Pathology at the Feinberg Cardiovascular Research Institute at Northwestern University, had Gallagher as his mentor while getting his PhD.
"Tom's teaching style was balanced by both his knowledge of the field as well as practical insight on the bench," Thorp said. "His experimental insight was critical to my productivity as a postdoc."
Helping students succeed
Gallagher works with the three other virologists in the department---Susan Baker, PhD; Edward Campbell, PhD; and Susan Uprichard, PhD—and they all end up helping one another's students throughout their careers. Gallagher said the new Center for Translational Research and Education, with its open lab space, makes working with his colleagues and their adjoining labs much easier.
"Science is not something you do alone," he said. "This setup naturally allows for many more opportunities for collaboration. It's wonderful to see Loyola's commitments to research in this building."
For Gallagher, he finds satisfaction in the daily routine research, teaching, and watching his students grow after they leave his lab. He enjoys seeing what they accomplish when they are out on their own, with their own projects.
"Some of the best times are in the office, discussing results with fellow lab members, talking with students about ways to push forward with new experiments," Gallagher said. "It's also great to see the things they've done and found out at Loyola and after they've left. I don't for a second think they're just reflections of our teaching, but I do believe that somehow all the professors they encounter at Loyola contribute a little bit."