Loyola History Senior Tells POW Stories Through Graphic Novels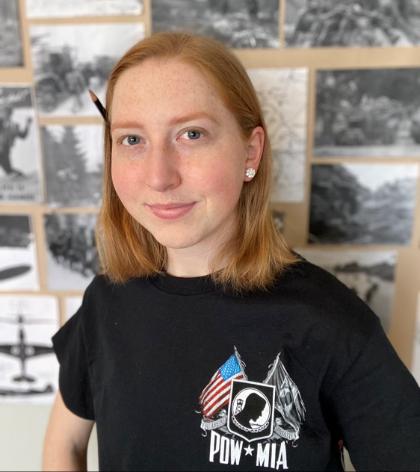 POW! Prisoners of War come to life in my series of military history graphic novels, sponsored by the Loyola Provost Fellowship in conjunction with the Pritzker Military Museum & Library. I work to transform oft-overlooked accounts from POW veterans of World War II and the Vietnam War in the Pritzker's Holt Oral History Program into exciting historical comic books that align with the Pritzker's upcoming POW exhibit. It has been an honor to listen to these veterans' oral histories, read their letters and memoirs, and communicate with the veterans' families, and even some of the living veterans themselves. Each graphic novel includes a true POW story of valor and suffering told in the art and prose of a comic book, an illustrated glossary, and an interactive activity that allows readers to experience history in a variety of dimensions. Enlightened respect for POW veterans, passion for military history, and courage to color outside the lines of traditional modes of education are my contributions to the field of Public History as I illustrate to illuminate the past.
What was your inspiration for this project?
Creating an historical graphic novel has always felt like the obvious culmination of my passions for art and history, and I finally found the inspiration to complete it in my fellowship working with the Pritzker Military Museum. I was really keen on not only challenging myself to present historical research in the new format of a graphic novel, but attacking the rather daunting genre of oral history and misunderstood stories of POW veterans.
At the surface level, these POW stories are all basically the same: a young soldier or airman is captured and subjected to poor treatment in an enemy prison. Yet, in listening to these stories and depicting them specifically, there is so much to be learned from the distinct personal accounts, and there is something much more connective about individual stories that cannot be understood in the generalization of war experiences.
What began as inspiration to focus on my own goals, has truly morphed into something much deeper. As veterans of WWII and the Vietnam War disappear from live memory, I have come to understand myself as a 'steward of stories.' They have done the hard work of unburdening themselves of their dark war memories and taken the brave step in owning the label 'prisoner of war.' Now, my work begins to ensure their stories continue to be valued by future generations.
04 April 2022