HGSA Hosts Successful 19th Annual Conference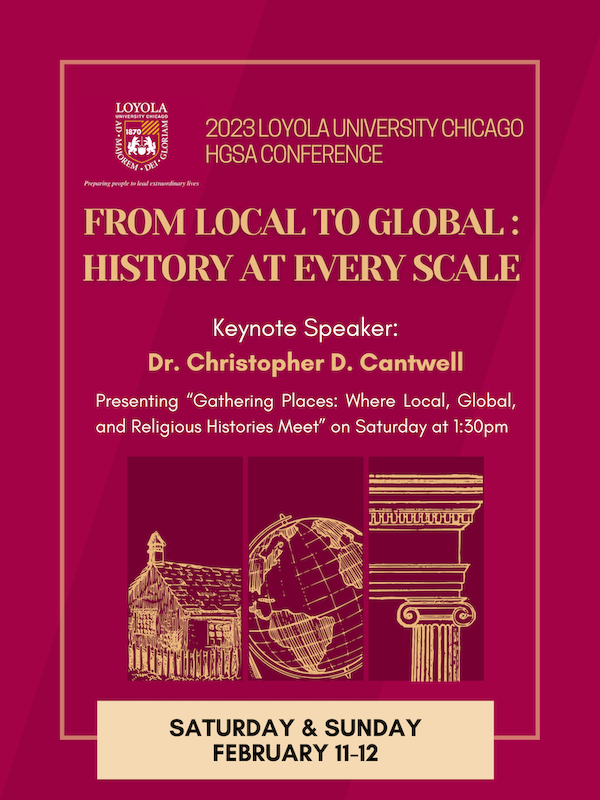 For 19 years, Loyola's History Graduate Student Association (HGSA) has hosted an annual conference which invites history graduate students from across the country to share their work, receive valuable feedback, and collaborate on future research. The 2023 HGSA Conference marked a special milestone— it was the first fully in-person conference since 2019.
This year's conference was held Saturday, February 11th and Sunday, February 12th in the Information Commons on Loyola's Lake Shore Campus. The 2023 theme, "From Local to Global: History at Every Scale" yielded a wide variety of papers and projects, all of which explored place and scale in historical research.
Saturday featured presentations given by thirty history graduate students from 18 institutions across the United States and Canada. Students presented on a diverse array of topics: they discussed everything from local history to colonial history; Interwar Europe to postwar North America; and from ancient history to modern Mexico. In addition to these sessions, Saturday also featured Dr. Christopher D. Cantwell's keynote speech. Dr. Cantwell, Assistant Professor of Digital Public History at Loyola, gave a compelling talk on white evangelical nostalgia and the digital tools he uses to map historic locations of urban religious life through his digital project, "Gathering Places."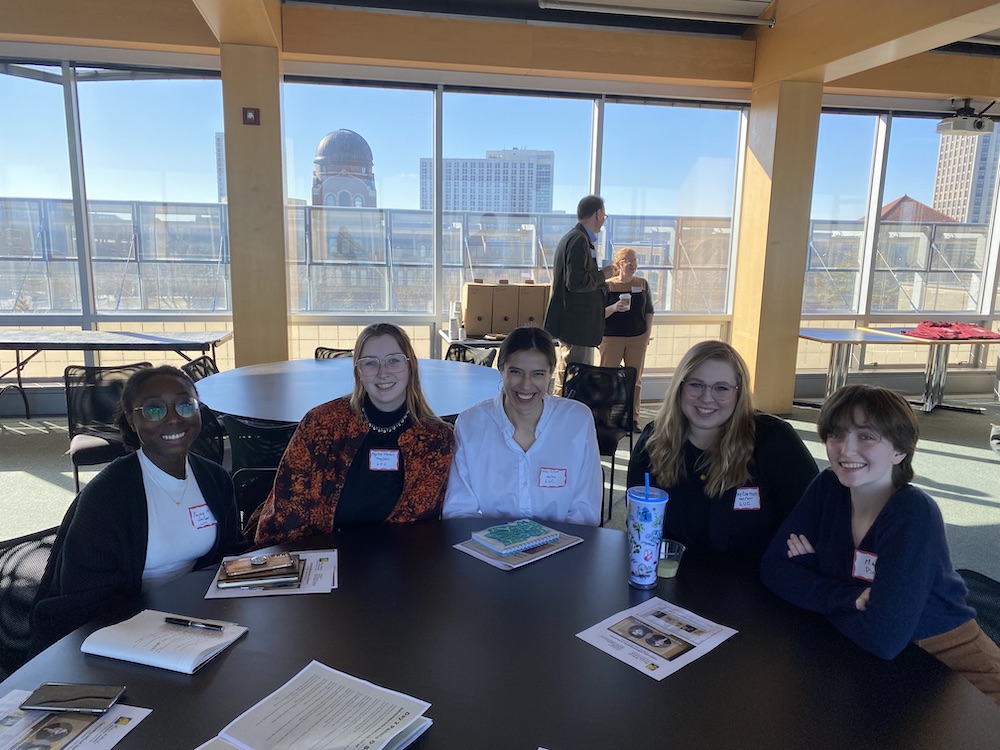 Loyola History students chat during Saturday's lunch.
On Sunday morning, attendees returned for two panels that explored career diversity and history in action. The first panel, "Confronting Difficult Histories in Museums," featured Dr. Benjamin H. Johnson, co-founder of Refusing to Forget and Professor of History at Loyola; Janet Olson, Archivist at the Frances Willard House Museum and Archives; and Dr. Alaka Wali, curator emerita of North American Anthropology in the Science and Education Division at the Field Museum. Moderated by Loyola PhD candidate Hannah Lahti, this panel explored the ethics, questions, and decision-making behind the inclusion of difficult and traumatic histories in museum settings. Sunday's second panel, "Policy History," featured Loyola History professors Dr. Elizabeth Tandy Shermer and Dr. Noah W. Sobe as panelists, and Loyola History Chair Dr. D. Bradford Hunt as the panel's moderator. The panel explored historians' role in public policy and discussed what it means to be a historian who works in policy.
Sunday afternoon featured an Undergraduate Poster Session, which showcased the research of 11 Loyola undergraduate students. The 9 posters in the session shared research on a wide variety of topics. Following the poster session, the conference wrapped up late Sunday afternoon with a graduate student reception.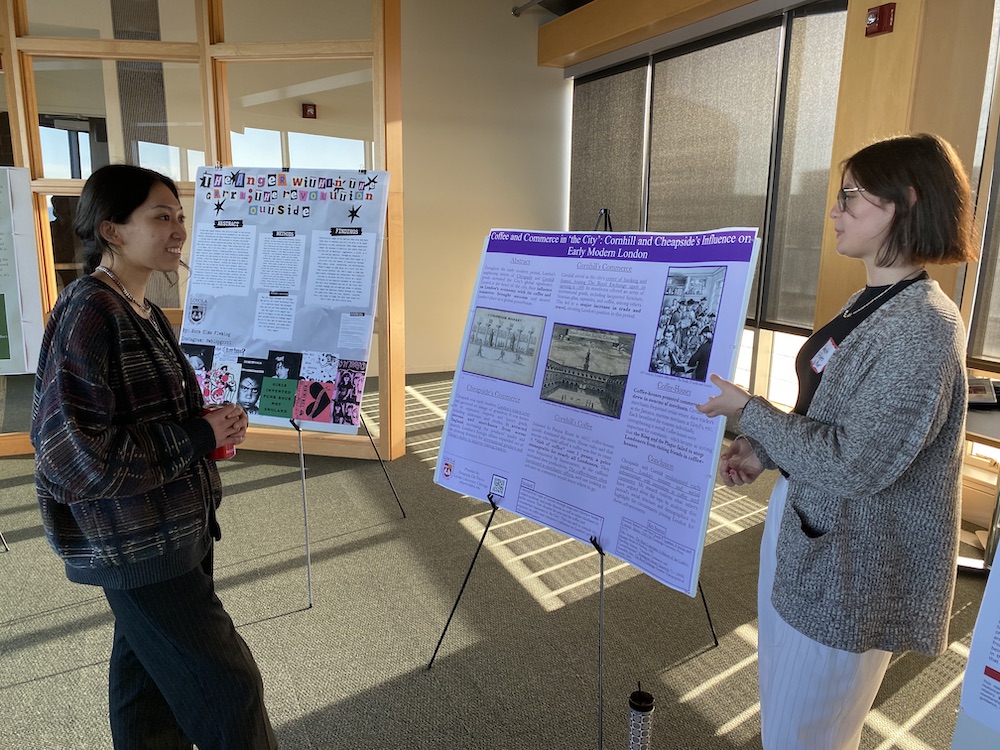 Loyola undergraduate Amanda De Parto presents her poster during Sunday's Undergraduate Poster Session.
HGSA Conference Co-Chairs and Public History Master's students Caroline Handley and Caroline Lauber deserve high praise for making the 2023 HGSA Conference a success! Graduate student volunteers Jenny Barry, Haley Carlton, Liz Ferry, Hannah Fuller, Shannon Honl, Natalie Kirk, Hannah Lahti, Ashli Lucio, Yujay Masah, Kaylee Morlan, Rachel McGough, Matt Norvell, Brooke Sapper, Grace Tony, Grace Valentino, and Adam Yunis also deserve recognition for the time and energy they put into supporting the conference. Faculty commentators, panelists, and speakers also made the conference possible. Thank you to everyone who attended the 19th Annual Loyola HGSA Conference!
View the full 2023 HGSA Conference program here!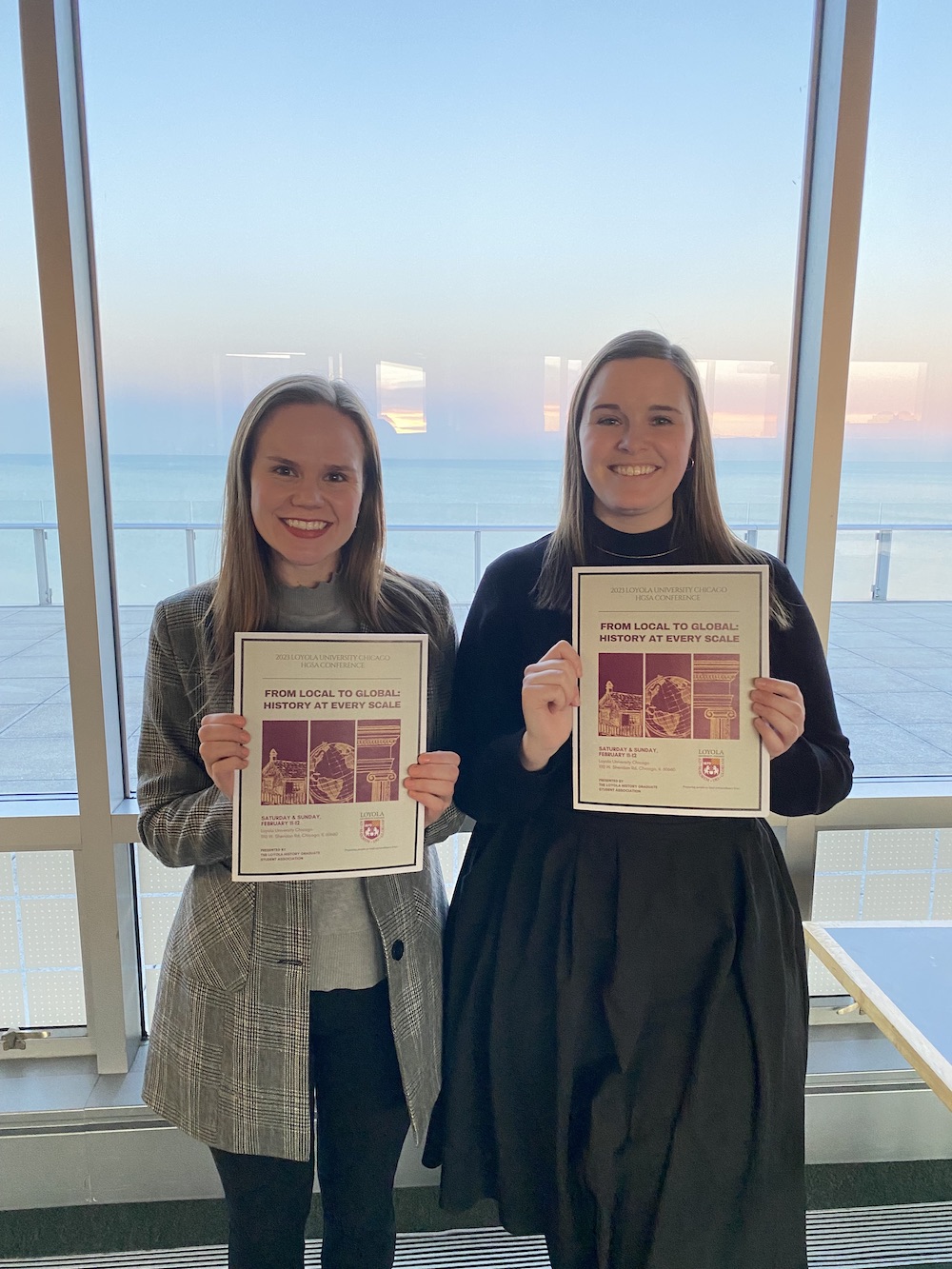 2023 HGSA Conference Co-Chairs Caroline Lauber and Caroline Handley.