Emeritus Faculty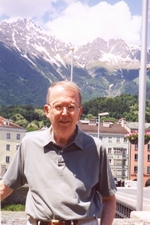 KNAPP, Thomas A.
Title/s: Professor Emeritus
Specialty Area: Modern European History
Email: tknapp@luc.edu
About
Thomas Knapp (University of Detroit, BA 1960; Catholic University of America, MA 1962, PhD 1967) is Professor Emeritus in History at Loyola University Chicago where he taught courses in Western Civilization, 20th century Europe, 20th century Germany, and World Wars I and II. Before coming to Loyola in 1967, Professor Knapp taught in the history department of Ohio State University.
Professor Knapp's scholarship has dealt with the political and social history of the Weimar Republic and the rise to power of the Nazi movement. He has also focused on the issues of the causes and conduct of World Wars I and II, civil-military relations in Germany, the Nazi regime's planning, execution and conduct of war.
Professor Knapp was engaged in issues of general and liberal education. From 1986 to 1999 he was Director of Core Curriculum in the College of Arts and Sciences, and was a member of the Academic Council CAS. He was a member of the Executive Council of the Association for General and Liberal Studies (1994-2000) and edited the Association's newsletter (1994-2000).
Research Interests
Modern Europe, Germany in the 20th century, World Wars I and II
Courses Taught
HIST 300C: World War I, 1914-1918
HIST 337: The Nazi Revolution
HIST 326: The Second World War