Women, Gender and Sexuality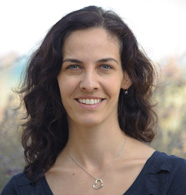 Elizabeth Fraterrigo
Title/s: Associate Professor
On leave, Fall 2023
Office #: Crown Center 509
Phone: 773.508.2231
Email: efrater@luc.edu
About
Elizabeth Fraterrigo (Ph.D., Loyola University Chicago, 2004; B.A., University of Illinois, 1993) is Associate Professor of History at Loyola University Chicago where she teaches courses in U.S. history, women's and gender history, public history, and material culture. She was previously Assistant Professor of History at the University of Nevada, Las Vegas.
Fraterrigo's research focuses broadly on the intersection of gender, feminism, and American culture. Her first book, Playboy and the Making of the Good Life in Modern America (Oxford University Press, 2009), provides a critical examination of how Playboy magazine shaped transformations in gender and sexuality and promoted the rise of a consumer ethos in postwar America. She is currently at work on a second book, tentatively titled The Battle for the Airwaves: Feminism, Media Activism, and American Culture. That project explores efforts from the 1960s through the 1980s by activists in the National Organization for Women and other groups to create a feminist media environment.
As a public history consultant and educator, Fraterrigo's scholarship also includes many projects involving museums and other non-profit organizations. As Guest Curator for the Chicago History Museum (2019-2021) she curated the exhibition Democracy Limited: Chicago Women and the Vote, a planned physical exhibition to commemorate the woman's suffrage centennial, which she later transformed into a digital experience due to the Covid-19 pandemic. From 2012-2015, she directed The Chicago Community Trust Oral History Project, documenting the philanthropic activities of one of the nation's oldest community foundations. She currently serves on the Advisory Council for the Frances Willard House Museum and Archives in Evanston, Illinois.
Research Interests
Twentieth-century United States history, US women's and gender history, popular culture and mass media, museums, material culture
Courses Taught
HIST 212: United States Since 1865
HIST 291: Historical Methods
HIST 369: 20th Century US Popular Culture
HIST 442: U.S. Women's and Gender History
HIST 461: 20th Century US History
HIST 484: Material Culture
HIST 487: Public History: Museums
HIST 558: Studies in American Cultural History
HIST 561: Seminar: Women's and Gender History