archive
2020 History Department Awards Announced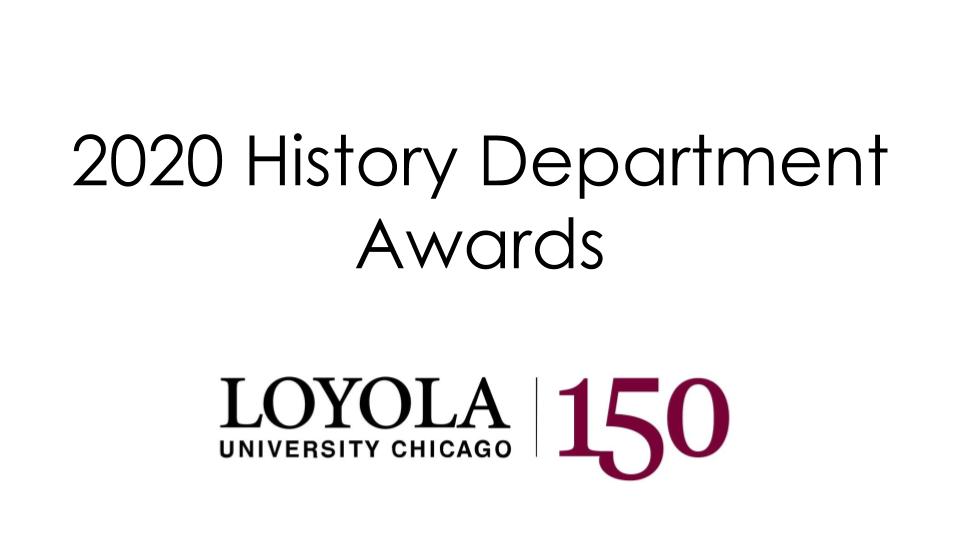 Here are the departmental awards for student research!
The Paul S. Lietz Award for Outstanding Historical Scholarship goes to Kathleen Koehnke!
Kathleen's outstanding historical scholarship and understanding is attested not only by her GPA but demonstrated in her many excellent research papers and class contributions. Her Ramonat paper "The Ghosts of a Voodoo Queen and a Creole Sister: Public Memory of Marie Laveau and Henriette Delille," in the words of one faculty member, is a "well-researched and sophisticated reflection on these two fascinating women, particularly in terms of its understanding of analytical categories such as gender, class, and memory." Her equally excellent research paper on Shaker art is an original and provocative contribution that grapples with complex questions surrounding community, spirituality, visionary experience, gender, and artistic expression.
2020 Undergraduate Essay competition
FIRST PRIZE: Shelbi Schultz, "Urban Cleansing: The Antiseptic Renewal Project of Sandburg Village and the Failure to Build Community"
"While taking Dr. Gilfoyle's 'Creation of the American Metropolis' class, I asked if there were any gaps in Chicago urban history that I could write about for the History Honors Tutorial. He encouraged me to look into Sandburg Village since not much has been written on it. After examining some online articles that referenced the Sandburg Villae and its impact on the former community, I knew I wanted to expand on the topic. Throughout the project, I had the most fun going through the Chicago History Museum Archives and finding the original plans and early advertisements for Sandburg Village"
SECOND PRIZE: Sarah Butterfield, "Doing it Alone: How Black Women Justified Their Right to Vote 1850-1919"
"Women's history points our that women were integral to most, if not all, historical movements, despite being left out of the narrative. However, scholars of women's history also have a problem of exclusion, specifically regarding women of color. My paper attempted to highlight the ways in which Black women were integral to the suffrage movement's success, but are constantly left out of the conventional narrative surrounding this movement and hundreds of others. I wrote this paper for Dr. Dossey's Honors Research Tutorial, and I can't thank her enough for the work she put in to help me write this paper."
THIRD PRIZE: Morgan Zygmunt, "From Hoop Skirts to Rags: How Clothing Impacted Social Status and Created Division Among Plantation Slaves in Antebellum Era Savannah, Georgia"
"I have always been interested in clothes and textiles thanks to my mother's obsession with fashion. It was something I grew up around, and I wanted to figure out how I could combine my love for clothes and Southern history. I took a trip to Savannah to visit family, and I knew that this city would be the perfect place to study clothing and textiles because it was a major port and center for trade. Thus, my paper came to be."
2020 Undergraduate Blog competition.
"Pandemics: Past and Present" is a collaborative effort by:
Frances Bartolutti, Katie Czajka, Jenna Jeffirs, Maddi Matassarin, Noe Serrano, Amanda Timlin.
The students are all Social Studies teaching majors in Dr. Charlie Tocci's course Teaching Secondary Social Studies. The students put this website together in response to the COVID-19 pandemic. As teachers all over the country quickly adapted to teaching online, these students likewise stepped up, pulling together resources to teach about the pandemic.
The members of the Undergraduate Program Committee were deeply impressed with the quality and detail of this project. As one colleague remarked, "this is a timely and well-researched blog, with relevant historical references as well as nuanced analysis of why and how pandemics reproduce racial stereotypes and social scapegoating. An extraordinary collective effort!"
2020 Robert W. McCluggage Award for the Outstanding Graduate Research Paper
Sean Jacobson, PhD student in the Joint American History/Public History Program won the award for his paper "Boundaries of Authority: Survivor Leadership at the Illinois Holocaust Museum and Education Center."
Congratulations to all of these fantastic students!