archive
In Memoriam: Dr. Lawrence J. McCaffrey (1925-2020)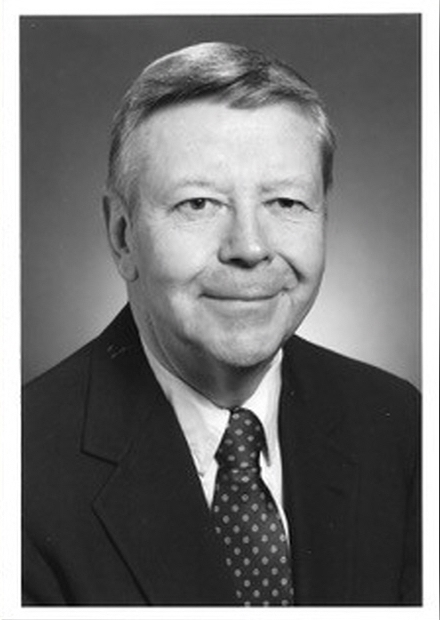 The History Department mourns the passing of Dr. Lawrence John McCaffrey, Professor Emeritus, who died on Friday, May 15. He was 94 years old. Dr. McCaffrey shared his passion for Irish History with numerous students as well as in many publications. Dr. McCaffrey joined the Loyola History Department in 1970 as Department chair and retired in 1991.
Current faculty member Dr. Andrew Wilson, who had McCaffrey as his PhD advisor, shared his personal reminisces of his mentor:
"Larry McCaffrey was instrumental in bringing me to Loyola after I had completed a Masters degree in Irish Politics at Queens University Belfast in 1994. My prospects in Northern Ireland at the time were dismal. The unemployment rate in my hometown, Dungannon, was one of the worst in western Europe and the ongoing political conflict was coming very close to me personally. My life took a completely different trajectory in Chicago. I have been blessed to meet a wonderful wife, have two amazing daughters, and have a job that has been infinitely rewarding. None of this would have been possible without Larry. I am deeply grateful for all the help he gave me. I will miss him."
Professor Emeritus Jo Hays, who had been been a junior member of the committee that first hired Dr. McCaffrey as a specially appointed chair, said that he had "nothing but congenial and cooperative relations with the professional Irishman." For Hays, who identifies as a "semi-British historian," "the Troubles didn't exist" around McCaffrey, "at least in Wilson Hall where Larry held forth in a bibulous way." He went on to say,
"In the 1970s he and I (and some others) attended the Midwest Conference of British Studies (then a remarkably WASPy organization) in Iowa City, where Larry of course knew the restaurants and watering holes. Being at the same table or in the same hotel room with Larry and Emmett was an almost unreal and certainly hilarious experience. Reducing me to helpless laughter was -- if I had a personal Irish Problem -- an answer to it. Larry introduced me to Thomas Flanagan and I thus (with Larry) experienced an unsurpassed raconteur."
Dr. Ted Karamanski, who knew McCaffrey both as a graduate student and later as a fellow faculty member, also shared his recollections:
"It is sad news to hear of the passing of Larry McCaffrey. He is no doubt a stranger to almost all of you but he was for many decades one of the leading figures in our department, indeed in the university. With Emmet Larkin of the U of C it can be fairly said he invented Irish history in the USA and was the founder of the American Committee for Irish Studies...
"He spearheaded innovative changes in college curriculum, including an urban-ethnic concentration in the core. He made Irish and Irish American history a mainstay of our graduate program and something for which Loyola enjoyed an international reputation....
"I was a teaching assistant for his Western Civ. classes back in the 1970s and was fortunate to be his colleague in the history department for several years. As a graduate student I appreciated him as one of the most approachable faculty members. You did not have to feel that you needed an agenda or had to have some deep insight to engage him. Rather 'did you see that game last night' was enough to get an engaging exchange launched. In that sense he remained an ordinary guy, even if he was an extraordinary scholar. I think he got that from both his Irish and southside heritage where friends and family made sure you never got 'too big for your britches.' There was a sociability among the senior members of the history department that has been lost. Larry kept a bottle of scotch in his desk and on Friday afternoons would share a glass with colleagues, or organize a group to head to Hamilton's for a beer.
Around the country and across the pond former students and colleagues will no doubt raise a pint when they hear the news of his passing."
Dr. McCaffrey's son, Kevin McCaffrey (LUC B.A., class of 1980 and M.Ed., class of 1997) has shared more details in a published obituary. Click here to read more.
Maureen O'Donnell at the Chicago Sun-Times wrote a lovely tribut to Dr. McCaffrey. Read it here.
Should any friends of the History Department who knew Dr. McCaffrey wish to send condolances, Kevin McCaffrey can be reached at mcaffreyk@gmail.com.