archive
Loyola Hosts the 17th Annual HGSA Conference Virtually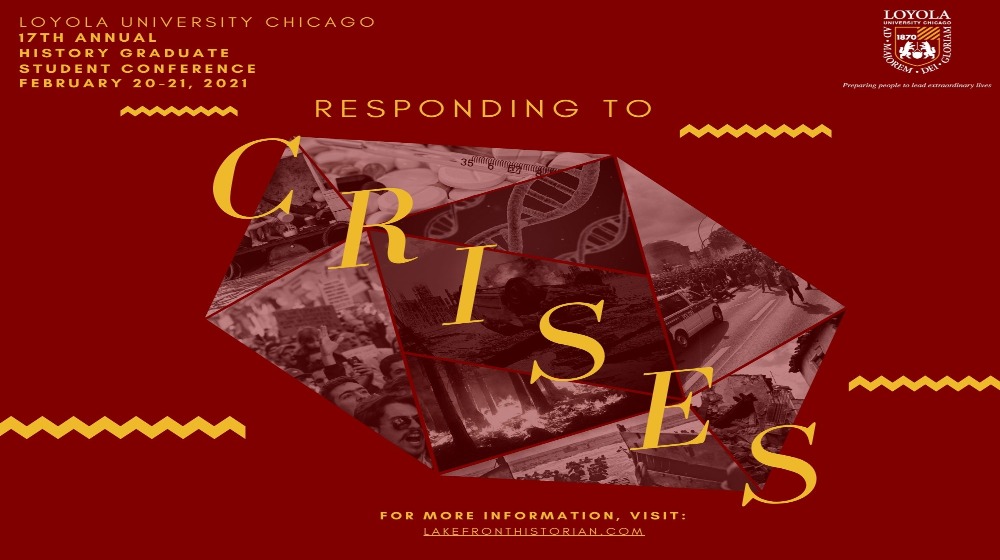 The Loyola HGSA hosted its 17th Annual History Graduate Student Association Conference on Saturday, February 20, and Sunday, February 21, 2021. For the first time, the conference was completely virtual to ensure everyone's safety during the coronavirus pandemic. Throughout the weekend, over 90 registrants logged onto the conference. While the conference looked different this year, the conference was successful in provoking productive and engaging discussions!
Given the current coronavirus pandemic, the conference's theme was Responding to Crises, an exploration of how people reacted in times of difficulty and hardship in the past and today. The conference had a wide variety of papers and projects from students across the country studying how individuals and groups in history and how public history as a field faced challenges and distresses.
The two-day event saw six panels with 27 panelists present projects on diverse historical struggles from Chicago history, the fight against racial inequality in America, social and religious crises, identity crises in gender and sexuality history, Cold War history, and the role of public history today. In addition to panels featuring student projects, other events examined how public history responded to the current crisis. Saturday afternoon began with a discussion on Digital Humanities by considering how historians are keeping up with technology to make history more publicly accessible. The conference offered career diversity panels on both days where public historians answered student questions about their careers and the job hunt.
A special public history roundtable on Saturday afternoon celebrated the 40th anniversary of the Loyola Public History Program with the return of three alumni: Michelle Donahoe (MA, County Historian, Executive Director, DeKalb County History Center), Troy Henderson (Ph.D., Historian, Michigan Historical Center, Fayette Historic Town Site, Michigan Iron Industry Museum, Negaunee, MI), and Dan Ott (Ph.D., Cultural Resource Program Manager, Mississippi River National Recreation Area, National Park Service). They reflected on their careers, shared advice about their experiences in the field, and explained how their organizations dealt with the pandemic.
Sunday showcased the HGSA Presidential Address by HGSA President Scarlett Andes and Vice President Rachel Madden and the Keynote Address by Loyola Department of History Chair Dr. Brad Hunt. HGSA President Andes and Vice President Madden reflected on the past year's difficulties and how HGSA responded to them. They also talked about HGSA goals and current projects, including Knowledge for Change, a crowd-sourced collection of resources for learning and teaching about race in American history. During his Keynote Address, History Department Chair Dr. Brad Hunt presented his research on Chicago public housing. Overall, the conference evaluated the role of crises in history and public history and how individuals and groups addressed them at the time, and how they continue to impact society today.
HGSA Conference Co-chair Casey Terry and Erin Witt would like to extend their gratitude to all presenters, moderators, Loyola faculty, and outside speakers for their help and support to make that this conference such an incredible event. HGSA Conference Co-Chair Casey Terry reflected that "It was an experience that I won't soon forget, and I am glad that I was a part of it."