archive
Public History Students Contribute to Suffrage Anniversary Blog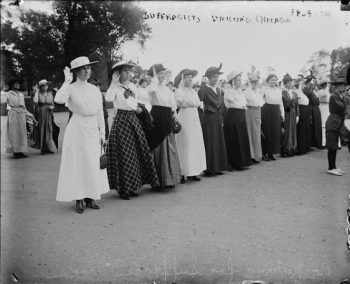 Our students are getting hands-on experience! In the fall of 2019, students in the HIST 480: Public History Method and Theory, wrote blog posts for the Evanston Women's History project's Suffrage 2020 Illinois website. Spearheaded by Loyola Alum Lori Osborn, the website celebrates the centennial of women's suffrage and Illinois' contribution.
Over the past few months, the blog posts have been added to the website and now they are all published! The posts cover a variety of topics and time periods from the numerous suffrage parades to highlighting the works of notable women. Check out the blog posts and the website here.
The students involved in this project are Jennifer Duvall, Matthew Norvell, Ve'Amber D. Miller, Scarlett Andes, Erin Witt, Davis Stubblefield, Casey Terry, Lucas Bensley, Miranda Ridener, Dana Gordon, Rachel Madden, Elizabeth Schmidt, and Hannah Lahti.