Dr. Rooney officially installed as president
Three months and four days after she took office, Jo Ann Rooney, JD, LLM, EdD, was officially installed November 4, 2016, as the 24th president of Loyola University Chicago.
WHAT IS AN INVESTITURE?
It's defined as the "formal ceremony of conferring the authority and symbols of high office." An academic tradition for centuries, investitures are held during a president's first year in office and have the same pageantry as commencement or convocation. Today, universities view the ceremony as a chance to usher in a new era and celebrate as a community.
Over 1,000 people gathered in Gentile Arena for Dr. Rooney's inauguration, which marked her formal investiture as the first lay, female leader in the University's 146-year history. Among those in the audience: Dr. Rooney's family and friends, Loyola students, faculty, staff, trustees, donors, alumni, and community members—as well as delegates from more than 70 universities in the U.S. and abroad.
In addition to investing Dr. Rooney as president of Loyola, the inaugural events provided a unique opportunity to recognize and honor the University's President's Medallion students.
On Friday, Dr. Rooney presented the President's Medallion to 14 students—one from each college, school, and institute—for their outstanding leadership, scholarship, and service. Dr. Rooney congratulated these students for their commitment to Loyola and its mission.
"The qualities that you so ably exemplify are at the heart of a Loyola education," she said. "You not only serve as role models for your fellow students, but also for all of us … who are inspired by you and excited about how you will transform our world when you graduate from Loyola."
President's Medallion students donned academic regalia and led their dean and faculty in the academic procession leading into the inauguration. (Click here to read profiles of the Medallion recipients.)
Inauguration Ceremony
In his remarks at the inauguration, John Fitzgibbons, S.J., the president of Regis University and a member of Loyola's Board of Trustees, said: "I have had the privilege of working with Dr. Rooney for many years and can attest to her passion, dedication, and leadership. Loyola, you are lucky to have her."
Mariana Chavez, a senior and the president of Student Government of Loyola Chicago, welcomed Dr. Rooney to campus on behalf of all students.
"We appreciate that earning a Loyola degree is a journey, not a destination, and the path we take may lead us to places we never would have imagined or thought possible," she said. "We are grateful that our paths have brought us here, to Loyola, and to this opportunity to welcome you as the 24th president. We are thrilled to call you a fellow Rambler."
Loyola Board of Trustees Chairman Robert L. Parkinson Jr. led the investiture portion of the inauguration. He and James Prehn, S.J., rector of the Jesuit community at Loyola and the vice president and special advisor to Dr. Rooney for mission and identity, presented Dr. Rooney with the University's President's Medallion and Chain of Office, the official symbol of the Office of the President.
"Dr. Rooney is one of the most authentic and caring leaders you will ever meet," Parkinson told the crowd. "An individual who has known Jo Ann for a number of years reminded me: 'Don't mistake her kindness for weakness.' I can't tell you how pleased the Board of Trustees is to have her as our new president."
Inaugural Address
Dr. Rooney began her remarks with St. Ignatius's exhortation to "Go, set the world on fire." She then gave a heartfelt thanks to everyone in the audience as she described her time so far at Loyola and how inspired she is by Loyolans' commitment to the University's Jesuit mission.
"I am truly at a loss for words to express my gratitude to each and every one of you here today," she said. "I am beyond humbled and honored to be part of this amazing community."
She then thanked her mother and other family members for coming to Chicago for her inauguration and for their unwavering support over the years.
"Mom, you and Dad always have been there and never wavered in your support," Dr. Rooney said. "I know Dad is looking down from heaven, nervous as anything so that you and I remain calm. You both always made me feel loved unconditionally and made me believe that anything is possible."
Dr. Rooney used her address to talk about her vision for Loyola and the critical importance of balancing our commitment to cura personalis—the care of the individual—with cura apostolica—the care of the work. "The two must coexist in a state of dynamic tension in order for us to truly adhere to our mandate as a Jesuit, Catholic University," Dr. Rooney said.
She highlighted challenges that colleges and universities across the country face today, and underscored the need for all of us at Loyola to address particular challenges at our institution, including the rising cost of tuition and poor graduation rates for minority students.
Dr. Rooney said that while Loyola is on strong financial ground, it cannot continue to rely on raising tuition rates to cover its expenses. It is critically important to our mission and to our leadership in higher education that we diversify our revenue streams through external fundraising, endowment campaigns, partnerships, funded research, and grants, Dr. Rooney said.
"This is not about doing more with less," she said. "It is about doing things differently."
The Need to Do More
In her address, Dr. Rooney reflected on the October message that Pope Francis gave at the 36th General Congregation in Rome. In his address, the Pontiff reminded his fellow Jesuits to "go to the peripheries where others do not reach."
"The Pope's exhortation," Dr. Rooney said, "applies to us. It is, in fact, a call for us to reach further, dig deeper, and go beyond what is expected. It is about the magis and the journey to continually improve and expand upon everything we are doing. As heirs to a rich Ignatian tradition, it means that we cannot continue to do what we have always done and we cannot settle for the status quo."
Dr. Rooney also detailed progress toward the University's commitment to building a more just, humane, and sustainable world.
"Plan 2020 … contemplated our need as a university community to embark on a journey and travel to the peripheries, even before the Pope reinforced that charge given by St. Ignatius and others who followed in his footsteps throughout the years," she said.
Dr. Rooney then challenged the students, faculty, and staff of Loyola to work together to more fully embrace and celebrate diversity.
"We must also commit ourselves to work tirelessly so we are regarded as a supportive community, a welcoming community where all of us are willing to carefully and critically examine our own perspectives along with biases, and where all of us are willing to change," she said.
Although increasing diversity is a theme throughout Plan 2020, Dr. Rooney highlighted the need for us to come together to better understand the ongoing challenge we face in recruiting, retaining, and graduating students of color in particular.
"We must have a sense of urgency in understanding the reasons for these alarming results and persevere in our work to turn these results around and support all of our students on a path to successful degree completion," she said. "It will be through our diversity that we will be able to achieve unity. It is the unity, not uniformity, that we must have as a foundation to embrace all of our work (and) serve God's people."
Dr. Rooney then urged everyone to come together to help Loyola achieve its goals and to remain, in her words, "a worldwide higher education leader."
"I am confident that unified together we will find ways to not only meet the high expectations we have for ourselves but exceed those our community and our world have for us," she said. "Because if not us, then who?"
Inaugural Procession
Before the formal ceremony inside Gentile Arena, Dr. Rooney and others took part in an inaugural procession on the Lake Shore Campus.
The walk started at the statue of Arnold J. Damen, S.J., the founder and first president of Loyola University Chicago, before winding its way across campus and through the symbolic south doors of the Cudahy Library. The procession included University leaders, faculty members, delegates, and others decked out in maroon and gold scarves, including the University's mascot, LU Wolf.
Loyola sophomores Kate Fox and Alexa Ishibashi were among the hundreds who walked in the procession. The two spent the morning downtown celebrating the Cubs first World Series title in more than a century—and then made it to campus to take part in another historic event.
"I think it's really great that we now have a female president," said Ishibashi, still sporting streaks of Cubbie blue glitter under her eyes. "Obviously it's a big part of our history, and the fact that we get to celebrate this on our campus is amazing."
Johnnie Thomas, who graduated from Loyola with a master's degree from the School of Social Work in 2000, was on campus as well. Now a superintendent for a suburban school district, Thomas works with Loyola alumni to help keep them connected to the University. He was blown away by the number of graduates who came out for Friday's festivities.
"With the Cubs having a parade downtown today, to have as many people as we have here now is a testament to this University," he said. "We're so happy to be here to support today's events."
Missioning Mass
The day began with a Missioning Mass in the Madonna della Strada chapel. Nearly 50 members of the Jesuit Community at Loyola participated in the Mass, as well as three priests from the Archdiocese of Boston who are members of Dr. Rooney's extended family. Walter Deye, S.J., acting provincial of the Chicago-Detroit Province, read a letter entrusting the leadership of the Jesuit-sponsored work of Loyola to Dr. Rooney.
Because the Provincial Superior is the person who allows Loyola University Chicago to call itself "Jesuit," the mission given at the Mass signified that the Society of Jesus has officially entrusted Dr. Rooney to lead the University.
"It gives me great joy to write this letter missioning you to be the 24th president of Loyola University Chicago," Father Deye said. "Today, all of us here recognize that this is no ordinary time in the life of Loyola. … This is a momentous occasion for placing one of our largest, most complex apostolic works under your direction."
Loyola's Father Prehn, who presided over Friday's Mass, summed up the historic moment best during his homily. After reading Matthew 13:1-9 (The Parable of the Sower), he reminded those gathered about the importance of patience and perseverance.
"The significance of this Gospel is to remind us to endure. Some things take time. Certain things take 108 years to happen," Father Prehn said, prompting laughter from the baseball fans in church. "Other things take 146 years to happen."
"But we persevere and we endure, and we can do that because we stand on the shoulders of giants who have done tremendous work to bring us where we are."
Service Day
On Saturday, more than 100 members of the Loyola community, including Dr. Rooney and some members of her family, came together for a day of service in honor of Dr. Rooney's inauguration and Ignatian Heritage Month.
The volunteers gathered in the Centennial Forum Student Union to package nearly 22,000 meals for Stop Hunger Now, an international hunger relief organization. That was on top of the 1,200 items collected for local families in a University-wide food drive leading up to Dr. Rooney's official installation.
In all, it was a fitting end to the inauguration, which had adopted the university's Plan 2020 theme of "Building a More Just, Humane, and Sustainable World."
More Stories
Replay the day
See the Missioning Mass in Madonna della Strada Chapel and the installation ceremony in Gentile Arena. Watch video
Inaugural address
Hear Dr. Rooney's inaugural address, in which she urged Loyolans to "go beyond what is expected." Watch video
'We Are Loyola'
Take a look at the new Loyola University Chicago video unveiled at the Presidential Inauguration. Watch video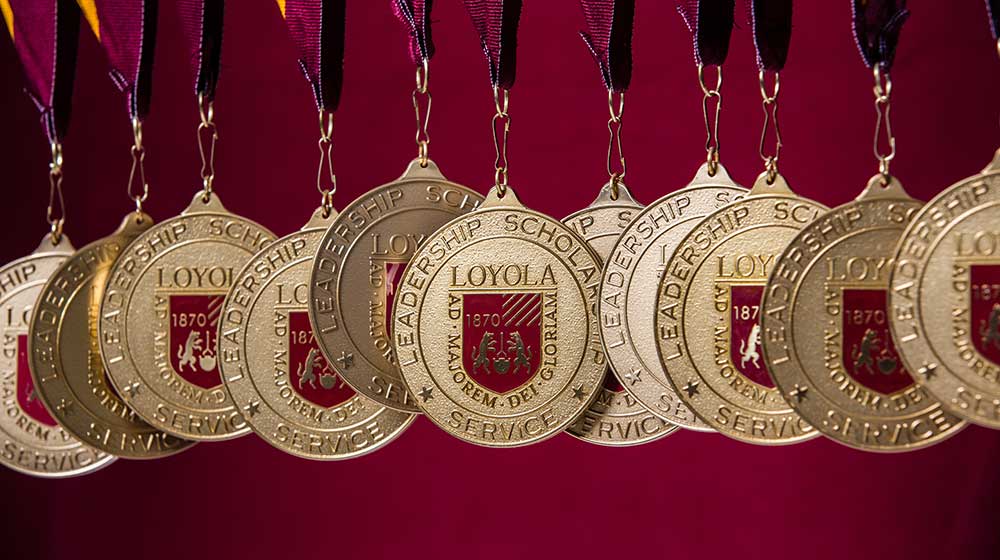 Loyola's finest
Meet the 14 students who took home a President's Medallion for their leadership, scholarship, and service. Read more
Official congratulations
View citations and greetings from several institutions in honor of Dr. Rooney's inauguration. Read more
More coverage
Find more stories and information—including a presidential timeline—on our special inauguration website. Visit page