Webinar-like Meetings
Navigate to luc.zoom.us and log in to Zoom.
Select the Meetings tab found in the left-side navigation panel under Personal.
Select the button that says Schedule a New Meeting.

After you have specified the meeting topic name, description, date/and time information, scroll down the page. Pause when you see the setting for Video. Change the setting to match:
Video – Participant: "off"

This setting makes sure that when participants join your meeting, the video feed from their webcams will be initially deactivated. This setting does not disable their video capabilities altogether. We recommend communicating to your participants in advance that enabling their video is discouraged.
Note: Once these settings have been adjusted, they will apply to all scheduled Zoom meetings in the future, as seen in the image below. Keep this in mind if you would like to revert these adjustments down the road.


Continue to scroll down until you locate the Meeting Options section. The setting for Mute participants upon entry should be checked as shown in the image below.

Note: While unrelated to participant audio, we recommend the following settings for your meeting:
Enable join before host - unchecked
Enable waiting room - checked
Record the meeting automatically - checked, 'In the cloud'
These settings ensure:
Participants cannot interact with others before the host has officially started the Meeting
Participants will have a waiting room if they happen to join the meeting before the host
By setting Zoom to record the meeting automatically, you eliminate any risk of forgetting to record the meeting
Recording the meeting 'in the cloud' removes any worry that the video will be kept on just one computer after the session ends
After you've signed on to the Zoom desktop application and joined your meeting, select the Manage Participants button. This will open a new panel on the right side of your window.

At the bottom of the panel, you will find three audio options. Select the More button.

A smaller window will appear. These are settings should look familiar since you have already adjusted them on luc.zoom.us. Double-check to make sure they match the settings in the image below.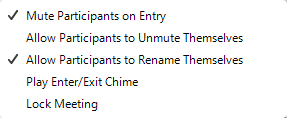 Once you confirm these settings, you may see a window confirming your mute settings. Confirm that Allow Participants to Unmute Themselves is unchecked. Select Continue.

From your Zoom Meeting window, select the Chat button. This will open a new panel to the right side of your window.

At the bottom of the panel, you will find the chatbox. To the right of the chatbox, you will see a button with an ellipsis. Select this button.

Selecting this button will open a short menu of options. For the setting, Participants Can Chat With, select Host Only. This setting will prevent participants from both messaging the entire audience and privately chatting with one another. Participants are still able to message the host individually, which functions perfectly if you would like to facilitate a Q&A session as part of your meeting.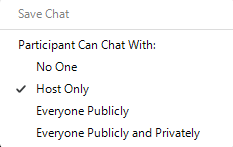 Last Modified: Wed, February 3, 2021 1:24 PM CST