First-time Setup
Set up Your Account
Internet Explorer users: Unable to load a page? Install the latest version of IE, or ensure the boxes for TLS 1.0, TLS 1.1, and TLS 1.2 are checked in IE under Tools (Alt + X) > Internet options > Advanced > Security.
1. Open your web browser and navigate to secureauth.luc.edu. Once the page has loaded, enter your UVID into the box and click "OK".
2. Enter your password in the box and click "Log On".
3. Select My Authenticators → On – Demand Authentication → Create a PIN. In the boxes, enter and confirm a PIN of your choice, and click "Save". The PIN must be between 4 and 8 characters long. You will receive a confirmation on the next page that your PIN creation was successful. Please remember this PIN, as it is required to log onto LSA. We strongly recommend that for security purposes, you do not use the same PIN as you use for your banking, your birthday or any relatives birthday or any other important accounts.
4. Under My Authenticators → Security Questions, select "set up" to answer security questions, in case of emergency authentication.
5. Select 5 security questions, answer them accurately, and select "Submit Your Request" to save these questions and answers. Note: these security questions are different from those you set up in the Password Self-Service application.
6. You have configured a PIN and five security questions. Your first time set-up for the Self-Service Console is now complete. If you wish to have tokencodes sent to your text-capable cell phone, instructions can be found here: Setting Up Text Messaging.
Download and Install GlobalProtect
Download and install the appropriate version of the GlobalProtect application from one of the following links:
Mac OS X users running High Sierra (10.13.2) and above: After installing the GlobalProtect application, navigate to Apple menu > System Preferences > Security & Privacy. In the resulting window, click the "Allow" button next to the text 'System software from developer "Palo Alto Networks" was blocked from loading'.
Access Resources
1. Launch the GlobalProtect application, enter "secureaccess.luc.edu" in the Portal field if prompted, and click Connect.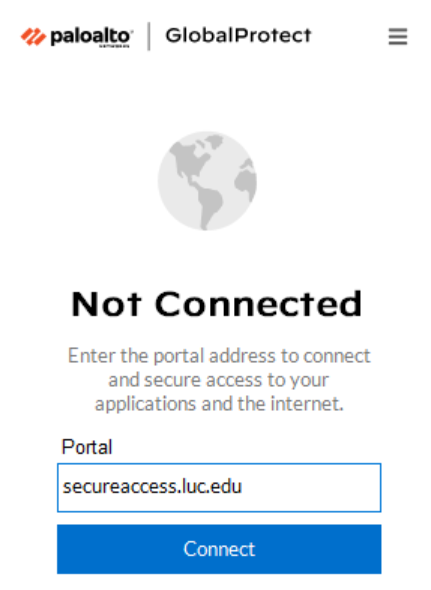 2. A window will pop up asking for login details. Enter your UVID and PIN, and click Connect. Please note: the "password" field only accepts your SecureAuth PIN (the one you set up for use with LSA), not your regular password.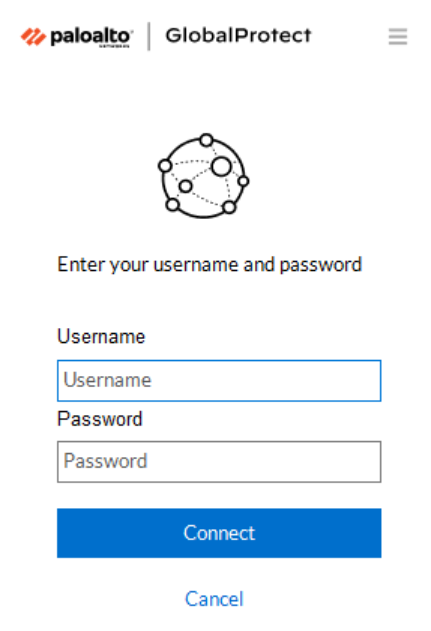 4. A new window will pop up asking for an eight-digit token code that will be sent to you via email or text message. Enter this token code when you receive it.
3. If you have successfully authenticated, the client's status will change to Connected. You should now be connected to LSA.