A vibrant hub for learning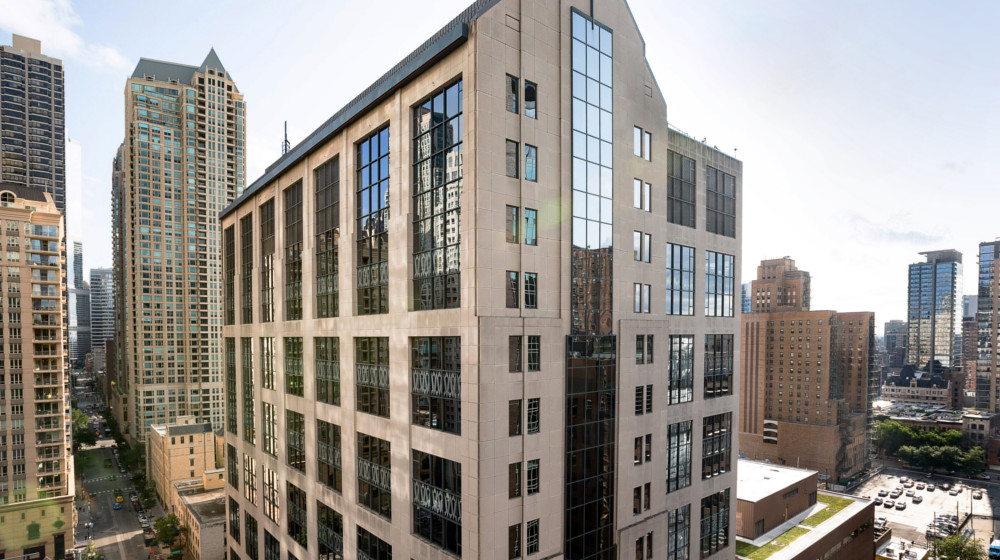 Loyola University Chicago's Philip H. Corboy Law Center is the centerpiece of the University's Water Tower Campus and the heart of community life. Located at 25 East Pearson Street in Chicago's vibrant Gold Coast area just steps from Michigan Avenue, the Corboy Law Center is a vibrant hub for law students, practitioners, and some of the country's most prominent thought leaders. A recent renovation of School of Law facilities resulted in significantly expanded space, including new clinical and student gathering spaces, the state-of-the-art Power Rogers & Smith Ceremonial Courtroom, new faculty and administrative offices, and modern classrooms. Dozens of conferences, symposia, and other law-related events are held at the Corboy Law Center each year.
Loyola's strong alumni network
The dynamic world-class city of Chicago is a major draw for law students—and for Loyola law alumni, many of whom stay on to practice in the metropolitan area after graduation. Loyola's outstanding network of more than 12,000 law graduates are invested in the life of the law school and return to campus to serve as adjuncts, professors, guest speakers, coaches, and mentors. Many Loyola alumni also offer externship opportunities and post-graduation employment to current law students.
The innumerable treasures of Chicago
Chicago is a superior American city with leading law firms, as well as research, cultural, and not-for-profit institutions, and corporations and government agencies in virtually every area of endeavor. In addition to providing an unparalleled setting for educational opportunities, Chicago is also one of the most prestigious cities in the world in terms of recreation and entertainment. The city is home to several world-class museums; hundreds of theaters, concert venues, and art galleries; thousands of restaurants; an infinite variety of shopping; and numerous professional and semiprofessional sports teams. There are two major airports in the Chicago area and Loyola University Chicago School of Law is convenient to public transportation.
Chicago quick facts
There are approximately 7,010 law firms in Chicago.
Chicago is home to 70 museums, 200 theatres, 6,500 restaurants and 200 annual parades.
Three of the world's tallest buildings are located in Chicago: Sears/Willis Tower, AON Center, and John Hancock Center.
The title of "The Windy City" was bestowed on Chicago in 1893 by New York Sun editor Charles Dana. He was tired of listening to long-winded politicians boast about the World's Fair that was held in Chicago the same year.
Chicago currently has 2,701,926 residents in its 228 square miles.
More than 33 million people visit Chicago each year.
Only 58% of Chicago residents were born in Illinois. Twenty-two percent of Chicago residents were born in another country.
Chicago has 50 wards; 198 neighborhoods; 13,550 police officers; 47,330 fire hydrants; and 6,300 active taxis at any given time.
Old Water Tower building, constructed in 1869, was one of the only buildings to survive the Great Chicago Fire.