Loyola establishes professorships to honor the late Mary Ann G. McMorrow (JD '53)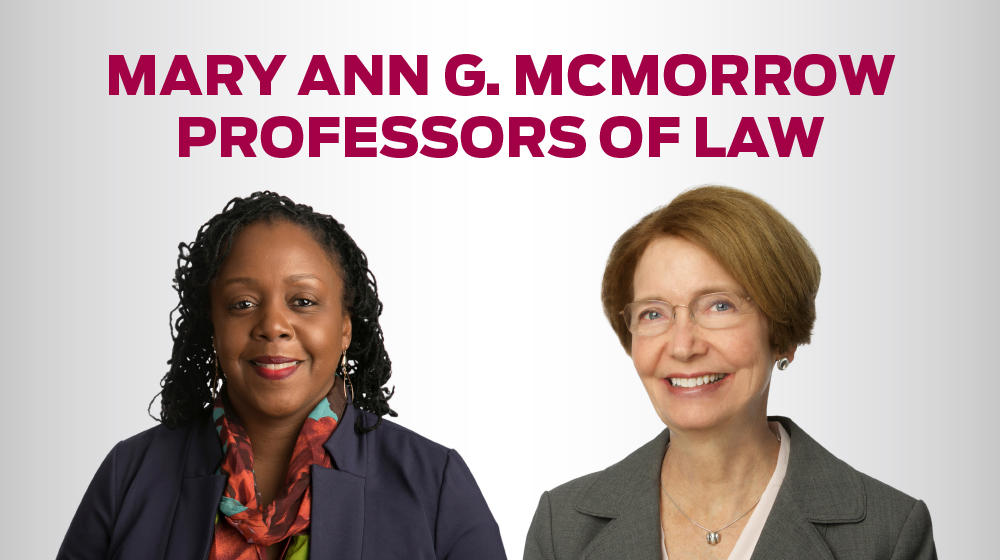 CHICAGO, May 1, 2018—Loyola University Chicago's School of Law named two distinguished faculty as Mary Ann G. McMorrow Professors of Law. The inaugural professorships were established to support meaningful research and scholarship that exemplify the extraordinary legal career of Loyola alumna Mary Ann McMorrow (JD '53), the first woman to head any branch of Illinois government.
McMorrow, who earned her JD from Loyola University Chicago in 1953, was the only woman in her graduating law class. At Loyola, she was elected class president and was an editor of the Loyola Law Journal. After graduation, she served as an assistant state's attorney in Cook County, where she became the first woman to prosecute major felony cases. She was the first woman to sit on the Illinois Supreme Court, and the first woman to serve as the court's chief justice.
"These prestigious professorships will honor Justice Mary Ann McMorrow by advancing her tireless work as an advocate for justice," said Michael J. Kaufman, JD, dean of the School of Law. "Her legacy inspires us all to reach beyond our potential, to fight for gender equality, to work on behalf of the vulnerable, and to make the world a more humane place to be."
The following faculty members have been named Mary Ann G. McMorrow Professors of Law:
Zelda B. Harris, associate dean for academic affairs, focuses her scholarship on trial advocacy, child and family law, and domestic violence law. She has held a leadership role with the National Institute for Trial Advocacy, where she provides advocacy training and leadership to young attorneys.
Margaret L. Moses, director of Loyola's International Law and Practice Program, is a world-renowned scholar in the field of international commercial arbitration. The third edition of her treatise on the subject was published in 2017 by Cambridge University Press, and has received favorable reviews in publications across the globe.
"The Mary Ann G. McMorrow distinguished award in honor of a trailblazer in the legal community, especially for women, will allow me to continue my research in the areas of domestic violence and sexual assault. It is my distinct privilege to receive this recognition from the McMorrow family," said Zelda Harris.
"It is an honor to receive a professorship in the name of an outstanding pathbreaker for women in law. Mary Ann G. McMorrow is an inspiring role model for all women and men who work for justice through the rule of law," said Margaret Moses.
The faculty scholars will assume the title of Mary Ann G. McMorrow Professors effective immediately.
About Loyola University Chicago School of Law
Loyola's School of Law has been educating students across the country and around the world for more than 100 years. The school offers full- and part-time Juris Doctor programs, with specialized certificates available in advocacy, child and family law, health law, international law and practice, public interest law, tax law, and transactional law. For attorneys pursuing advanced legal education, the school offers Master of Laws programs in advocacy, child and family law, rule of law for development, tax law, and international law for foreign lawyers, as well as online programs in business, global competition law, and health law. In addition, the school offers a Master of Jurisprudence program in rule of law for development and online programs for non-attorney professionals in business and compliance, child and family law, health law, and global competition law. Online certificates programs in school discipline reform and privacy law are also available. To learn more about the school, visit LUC.edu/law or follow us on Twitter via @LoyolaLaw.