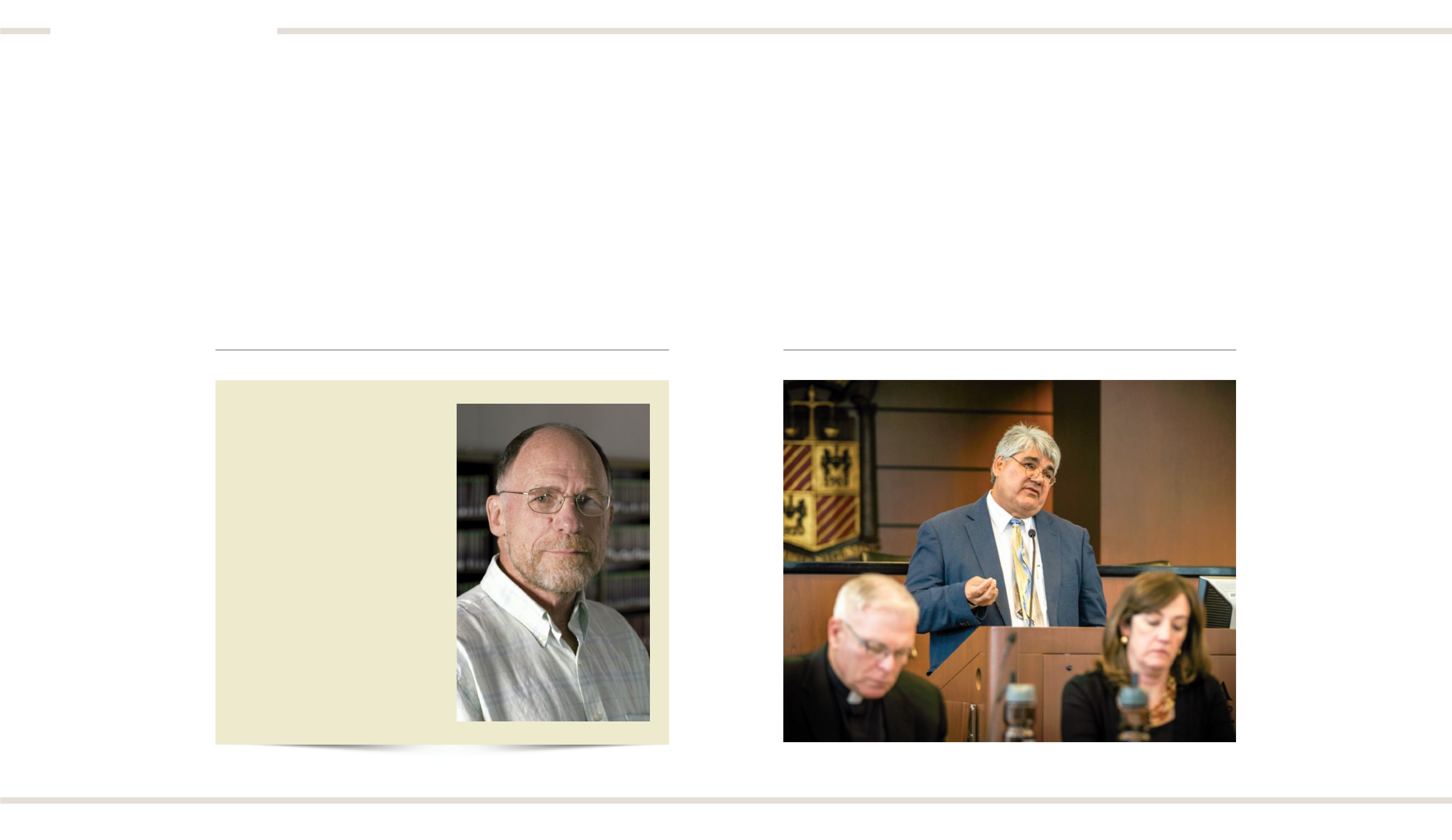 "Mediation No Time to Let Boys Be
Boys: Mind Your Brain's Chemistry
in Mediation" (July 20, 2015),
"Decision-Making in Negotiations and
Handling the Reaction to Unfairness"
(June 3, 2015), "Decision-Making
in Negotiating Settlements and
Anchoring Effect" (April 22, 2015),
"Decision-Making in Negotiating
Settlements: The Overconfidence
Bias" (Mar. 23, 2015), "Encourage
Clients to Eat Their Conflict
Management Vegetables" (Feb. 18,
2015), "Knowing What Clients Want
from ADR Processes Helps Them—
And You" (Dec. 11, 2014), "Facebook's
Dispute Resolution Tool Helpful,
But Needs Work" (Sept. 25, 2014),
"Correcting the Neutral Selection
Gender Bias" (Aug. 21, 2014), and
"Restorative Justice is Expanding in
Illinois, But More Can Still Be Done"
James Gathii,
Commissioner of the South African
Police Service v. Southern African
Human Rights Litigation Centre"
(International Decision), 109
Journal of International Law
"The Turn to Contract Responsibility
in Global Natural Resource Sector,"
Business and Human Rights
69 (forthcoming 2016) (with
Odomosu-Ayanu); "Backlash Against
International Courts in West, East,
and Southern Africa: Causes and
(with Alter and Helfer); "Saving the
Serengeti: Africa's New International
Judicial Environmentalism,"
Journal of International Law
(forthcoming 2016); "Regime
Shifting of IPR Law-Making and
Enforcement to International
Investment Law," (forthcoming)
(with Ho); "Sub-regional Court or
Employment Tribunal: The Legacy
of the Comesa Court of Justice,"
Legitimacy of International Trade
(forthcoming); "The Variation in the
Use of Sub-Regional Integration
Courts between Business and
Human Rights Actors: The Case of
the East African Court of Justice,"
Law and Contemporary Problems
(forthcoming); "Incorporating the
Third Party Beneficiary Principle
in Natural Resource Contracts," 43
Georgia Journal of International and
"Strength in Intellectual Property
Protection and Foreign Direct
Investment Flows in Least Developed
International and Comparative
Diane Geraghty,
the Curve: Reflections on a
Decade of Illinois Juvenile Justice
Thomas Haney,
African American Students,"
Cynthia Ho,
Siege: Corporate Challenges to
Domestic Intellectual Property
Drugs Be Patentable?", 17
Journal of Entertainment and
"Drugged Out: How Cognitive Bias
Hurts Drug Innovation," 51
419 (2014); and "The Role
of Conflicting Patent Perspectives
for Compulsory Licenses,"
Perspectives of Patent Law
and R. Okediji, eds.) (Oxford University
Michael Kaufman,
Balance: Proper Portfolio Monitoring
Agreements in Securities Fraud
"Paving the Delaware Way: Equitable
Limits on Fee-shifting Bylaws After
Washington University Law
(2015); "Beginning Together:
Reforming Schools by Investing in
Early Childhood Education," 12
FACULTYEXCELLENCE
Chicago Press, 2015); and "Leave Time
for Trouble: The Limitations Periods
Under the Federal Securities Laws," 40
Journal of Corporation Law
Jeffrey Kwall,
Margaret Moses,
Agreements to Arbitrate under the
of Internal Trust Disputes: Issues
in National and International Law
Implied Powers of Arbitrators,"
Amicorum for the Chartered Institute of
(2014); "Inherent Powers of
Arbitrators to Deal with Ethical Issues,"
Contemporary Issues in International
Arbitration and Mediation: The
Litigation Interface: The European
of International Law and Business
(2014); "Challenges for the Future:
The Diminishing Role of Consent in
on International Arbitration
"Arbitration by Default Rather Than by
New York Dispute Resolution
(Fall 2014); and "The Growth of
Arbitrator Power to Control Counsel
Convention on the Recognition and
Enforcement of Foreign Arbitral Awards,
American Journal of International Law
Charles Murdock (JD '63),
"Halliburton, Basic, and Fraud on
the Market: The Need for a New
203 (2015); "Fiduciary Duties
Business Law: Choice of Entity Issues
"
Capital Group, Inc. v. First Derivative
Supreme Court's Evolution from
Liberal to Reactionary in Rule 10b-
Malpractice for Failure to File Blue
(with Tae Kim); and "Boilerplate
Warnings No Defense to Fraud: The
Second District's Decision in
Juan Perea,
On the History of the GI Bill and Other
Inconvenient Truths that Undermine
the Supreme Court's Affirmative
Action Jurisprudence," 75
"Of Word Grenades and Impermeable
Walls: Imperial Scholarship Then
(2015); and "Racial Templates," 112
Steven Ramirez,
Abstraction: Capitalism Inequality
and Reform Over Time and Space,"
"
Macroprudential Solutions to Risk
Management Oversight and Systemic
386 (2014) (with Johnson);
"Toward a Critical Corporate Law
Pedagogy and Scholarship," 92
Washington University Law Review
397 (2014) (with pond cummings and
Wade); and "The Virtues of Private
Securities Litigation: An Historic
and Macroeconomic Perspective,"
Loyola University Chicago Law
Alan Raphael,
Time, Does the University of Texas
at Austin Improperly Use Race as a
Factor in Undergraduate Admissions,"
Preview of United States Supreme
Conviction under the Controlled
Substance Analogue Enforcement
Act Require Proof that a Defendant
Knew the Substance was Prohibited
Kottenstette); "Can Texas Refuse to
Issue an Auto License Plate Honoring
Michael Zimmer,
popular professor
and mentor
M
ichael Zimmer, a legal scholar and popular professor
and mentor, died September 23, 2015, of lung
cancer at age 72. Zimmer joined Loyola's full-time law
faculty in 2008. He taught Constitutional Law, International
and Comparative Employment Law, and Labor Law. A
widely recognized scholar in the areas of employment
discrimination law, labor and employment law, and
constitutional law, Zimmer coauthored one of the leading
employment discrimination casebooks, as well as one
of the first casebooks on international and comparative
employment law. He has also published many articles in
leading law journals."Mike was an outstanding legal scholar,
as well as a kind and generous colleague, mentor, and friend
to our law students and faculty,"says Dean David Yellen."We
are grateful for his good humor, integrity, judgment, and the
many other extraordinary human qualities and professional
attributes that he brought to Loyola."Zimmer is survived by
his wife, Professor Margaret Moses, and his children, Michael
INMEMORIAM
Steven Ramirez spoke at a program on Pope Francis's recent encyclical on the environment,
held at Loyola this fall.
22
LOYOLA LAW
WINTER 2016
23