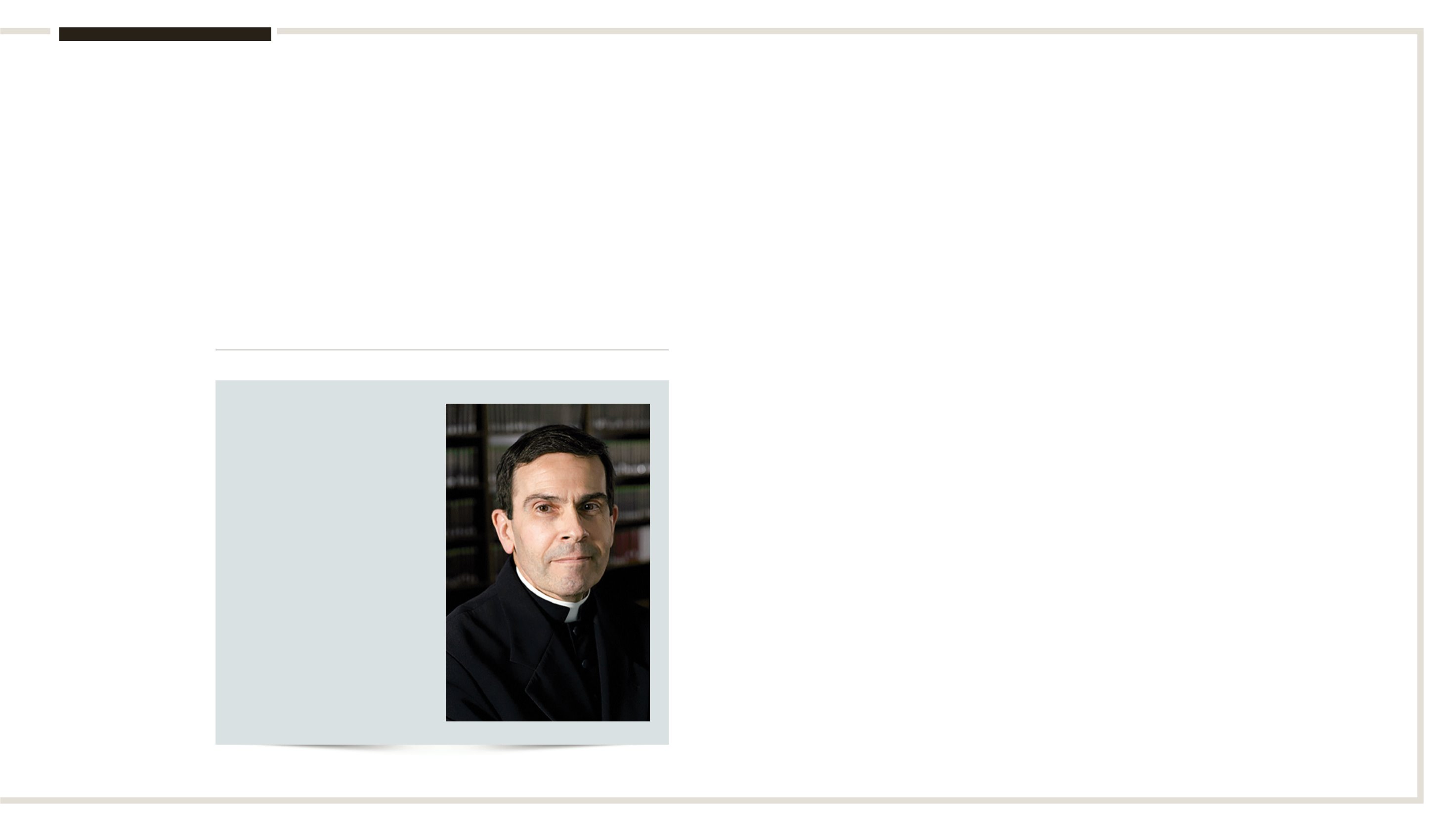 Partnership Summit; "You Are
Where You Live: Housing and
Health Equity" at the 2015 Norman
Amaker Public Interest Law and
Social Justice Retreat; and "The Role
of Interprofessional Collaboration
in Achieving Health Equity" at the
Health & Medicine Policy Research
Group forum"Can Reform Move Us
Mary Bird (JD '87)
the Family Defense Center this fall for
her leadership role in assisting the
organization in advocating justice
for families in the child welfare
system and for coordinating law
student resources and support for
Bruce Boyer
Involved Youth in the 21st Century" at
the Temple Law Review Symposium.
His presentation was based on his
forthcoming article "Foster-care
Re-entry Laws: Mending the Safety
Net for Young Adults in Transition
to Independence,"which will be
published this spring in the
Christine Cooper
the panel "The Impact of Medical
Marijuana Laws on the Workplace"
at the 2015 ABA Annual Meeting in
Sacha Coupet
of Michigan Bergstrom ChildWelfare
Law Summer Fellowship training
program this past summer. She
delivered the keynote address,
"Bridging TwoWorlds: The Role of the
Psych-Law'Ambassador,'"at the College
of Juvenile Justice and Psychology
at Prairie View A&M University's 10th
Annual Research Symposium, titled
"Cultivating Intellectual Growth."
James Faught (JD '76)
named to the 2015 Irish Legal 100,
which includes some of the most
accomplished and distinguished US
lawyers of Irish descent. Lawyers are
chosen from law schools, law firms,
Teresa Frisbie (JD '86)
presented "Techniques to Promote
Optimal Decision Making in
Mediation" at the Center for
International Legal Studies,
International Mediation Symposium,
Salzburg, Austria. She served
on the panel "The Advantages
of Negotiation, Mediation, and
Arbitration" at the Latino/Latina
Law Student Association meeting
James T. Gathii
"Against International Courts in West,
East and Southern Africa: Causes and
Consequences" at a plenary session of
the Annual Meeting of the European
Society of International Law in Oslo,
Norway. He was a commentator
and speaker at the Authority of
International Courts Workshop
held at Northwestern University. He
presented "Proposed Continental
Free Trade Agreement (in Africa)
and Human Rights" at a meeting
organized by the United Nations
High Commissioner for Human Rights
in Geneva; and "Regime Shifting of
IPR Law-Making and Enforcement
to International Investment Law"
(with Ho) at the American Society of
International Law Research Meeting
Zelda Harris
member at the Federal Trade
Commission deposition skills
FACULTYEXCELLENCE
She was also a speaker at Just the
Beginning Foundation—A Pipeline
Organization, Summer Legal Institute.
Harris was reappointed commissioner
to the Ethics Commission for the
Chicago Metropolitan Water and
Reclamation District, and was recently
appointed to Loyola University
Chicago's University Senate.
Cynthia Ho
"Regime Shifting of IPR Law-Making
and Enforcement to International
Investment Law" at the American
Society of International Law Research
Forum held at American University
College of Law in Washington, DC;
and "Collision Course: International
IP versus Investment Agreements" at
the conference Patent Sovereignty
and International Law held at the
University of California-Irvine.
Margaret Moses
the 27th Annual ITAWorkshop. The
workshop, "Subconscious Influences
in International Arbitration," held in
Dallas in June, was sponsored by the
Institute for Transnational Arbitration.
She also organized and moderated
two workshop panel discussions.
Charles Murdock (JD '63)
presentation this fall titled "Pitfalls in
the Operation of Closely-held Entities"
at the Illinois Bar Association seminar
"How to Form a Business in Illinois."
Barry Sullivan
council of the ABA Section of Civil
Rights and Social Justice.
Juan Perea
magazine profiled for his
contributions to furthering diversity
efforts in legal education. The
profile appeared in the magazine's
Stacey Platt
"Interviewing Children and Preparing
Children for In Camera Interviews" at
a Circuit Court of Cook County child
representative training. She served on
a panel on access to justice and the
role of children in family alternative
dispute resolution at Cardozo
Law School's Journal of Conflict
Resolution Symposium"All in the
Family: Intimate Partners, Intimate
Issues, and ADR," and on the plenary
panel on children's participation
in family court proceedings at the
Association of Family and Conciliation
Courts Annual Conference "Do You
Hear What I Hear? Listening to the
Voice of the Child." She was also a
participant in an invitational family
law summit hosted by the Institute
for the Advancement of the American
Steven Ramirez
his paper "Too Big to Indict" at
Loyola's 2015 Investor Protection
Conference on the Private Securities
Litigation Reform Act, and at a
faculty scholarship workshop at
Case Western Reserve University
School of Law. He served as a panelist
and presented "Social Justice and
Capitalism" at the program"Pope
Francis's Moral Message: Care for the
Environment, Care for the Poor" held
at Loyola University Chicago School
of Law; and presented "The WTO and
the Emerging Global Constitution" at
LatCrit 2015: Twentieth Anniversary
Conference held in Anaheim,
California. He also participated in a
roundtable, "Corrupted Justice: Hot
Topics in Financial Institutions Law
and Regulation," held at Southeastern
Association of Law Schools in Boca
Anne-Marie Rhodes
2015 Role Model by the Harvard Law
Society of Illinois for her contributions
to the Chicago legal community.
She was also voted Law Professor of
the Year by Loyola's Class of 2015.
She presented "What Your Clients
Really Care About: Planning For and
Dealing With Their Treasured Art and
Collectibles" at the American College
of Trust and Estate Counsel (ACTEC)
summer meeting in Quebec City;
and "Art Endures, Laws Change: Now
What?" at the ACTEC fall meeting
in Monterey, California. She also
presented "Estate Planning for Art
Collectors" at the ABA Professors
Corner Webinar in October.
Matthew Sag
Marginalization of Copyright by
the DMCA" at the Intellectual
Property Scholars Conference;
"Fair Use, Transformative Use and
and the Future of Digital
Technologies" at a conference on
Washington School of Law; "The
Uncertain Scope of the Public
Performance Right After Aereo"
at the ABA IP Section of Litigation
Roundtable; and "IP Litigation Trends
in United States District Courts—1994
to 2014" at the UCLA Entertainment,
Media, and Intellectual Property
Nadia Sawicki
"Fictions, Facts, and Open Questions:
Informed Consent as Compelled
Professional Speech" at the American
Society of Law, Medicine, and Ethics
in June. She was a finalist this fall for
the 2015 Loyola University Chicago
Ignatius Loyola Award for Excellence
Barry Sullivan
"Economic Analysis and the
Administrative State" at Bocconi
University in Milan; "The United States
Supreme Court: Empirical Studies
and the Case of Oral Submissions" at
the Constitutional Tribunal of Poland
and Bocconi University; "Economic
Analysis and the Administrative State"
at the University of Warsaw; and
"Interruptions in Search of a Purpose:
Oral Argument in the Supreme Court,
October Terms 1958-60 and 2010-12"
at the Irish Jurisprudence Society. He
also spoke to graduate students at
Trinity College in Dublin on how to
formulate research projects.
Alexander Tsesis
"Multifactoral Aspects of Free
Speech Doctrine" at Northwestern
University Law School; "Chilling
Effect on Student Speech" at
University of North Carolina School
of Law; "Psychology, Sociology,
and Hate Speech Regulation" at
the International Academy of Law
and Mental Health; and "Balancing
Free Speech" at Yale Law School's
Information Society Project.
Spencer Waller
the Supreme Court Speaks, Does
Anyone Listen?" at the ABA National
Class Action Institute in New Orleans;
the luncheon keynote address "The
Year in Review" at the National
Association of Attorneys General,
Annual Antitrust Conference, Little
Rock, Arkansas; "How Much of Health
Care Antitrust Law is Really Antitrust?"
at Seattle University School of Law;
and "Trade Associations, Cartels, and
Compliance" at CIDE University in
AnitaWeinberg (JD '86)
presented "Policy Considerations
for Churches/Ministry" at the
sexual ethics summit "Do No Harm,"
convened by the United Methodist
General Commission on the Status
and Role of Women. She was honored
by the Foster Care Alumni of America,
Illinois Chapter, with the 2015 Child
Welfare Advocate of the Year Award
for her ongoing policy and legislative
work on behalf of youth and young
adults in the child welfare system.
Neil Williams
remarks and was a respondent to
a paper, "Pain Matures: Physician-
Monitored Suicide and Terminally Ill
Minors," by Browne Lewis at the
2015 Annual Meeting of the
Midwestern People of Color Legal
Scholarship Conference held in
Havana. He recently presented
"Law School Exam Preparation and
Writing" as part of the Black Women
Lawyers' Association Annual First Year
Legal Writing Seminar for first-year
students held at Kirkland & Ellis
training program; the National
Council of Juvenile and Family
Court Judges Cook County Family
Court Enhancement Workshop;
the Enhancing Judicial Skills in
Domestic Violence Workshop in
Atlanta; the National Institute for
Trial Advocacy advanced trial skills
training program on behalf of the
US Department of Justice, Office of
Violence Against Women; and the
Benjamin N. Cardozo School of Law
Intensive Trial Advocacy Program. She
participated as a faculty member and
team leader for the National Institute
for Trial Advocacy, Building Trial
Skills in Chicago; and for the Emory
University School of Law, Kessler-
Edison Program in Trial Techniques.
Robert John Araujo,
S.J., international
scholar and priest
R
obert John Araujo, S.J., died on October 21, 2015,
at age 68 after a long battle with lymphatic cancer.
Father Araujo joined the law faculty at Loyola in 2009 as
the inaugural holder of the John Courtney Murray, S.J.,
University Professorship. He served as a trial attorney
before entering the Society of Jesus in 1986, taught
international and public law at Gonzaga University, and
was a visiting professor at several other law schools
before joining Loyola. He authored numerous law review
articles on topics that include jurisprudence, public
international law, constitutional law, and Catholic legal
theory. Less than a month before his death, he traveled
to Washington to meet with Pope Francis at the Vatican
Nunciature, where he received the Pope's blessing.
Father Araujo's rigorous intelligence and high principles,
along with his warmth, kindness, and understated
wit, were appreciated and will be remembered by his
students, colleagues, and the fellow Jesuits who admired
INMEMORIAM
26
LOYOLA LAW
WINTER 2016
27