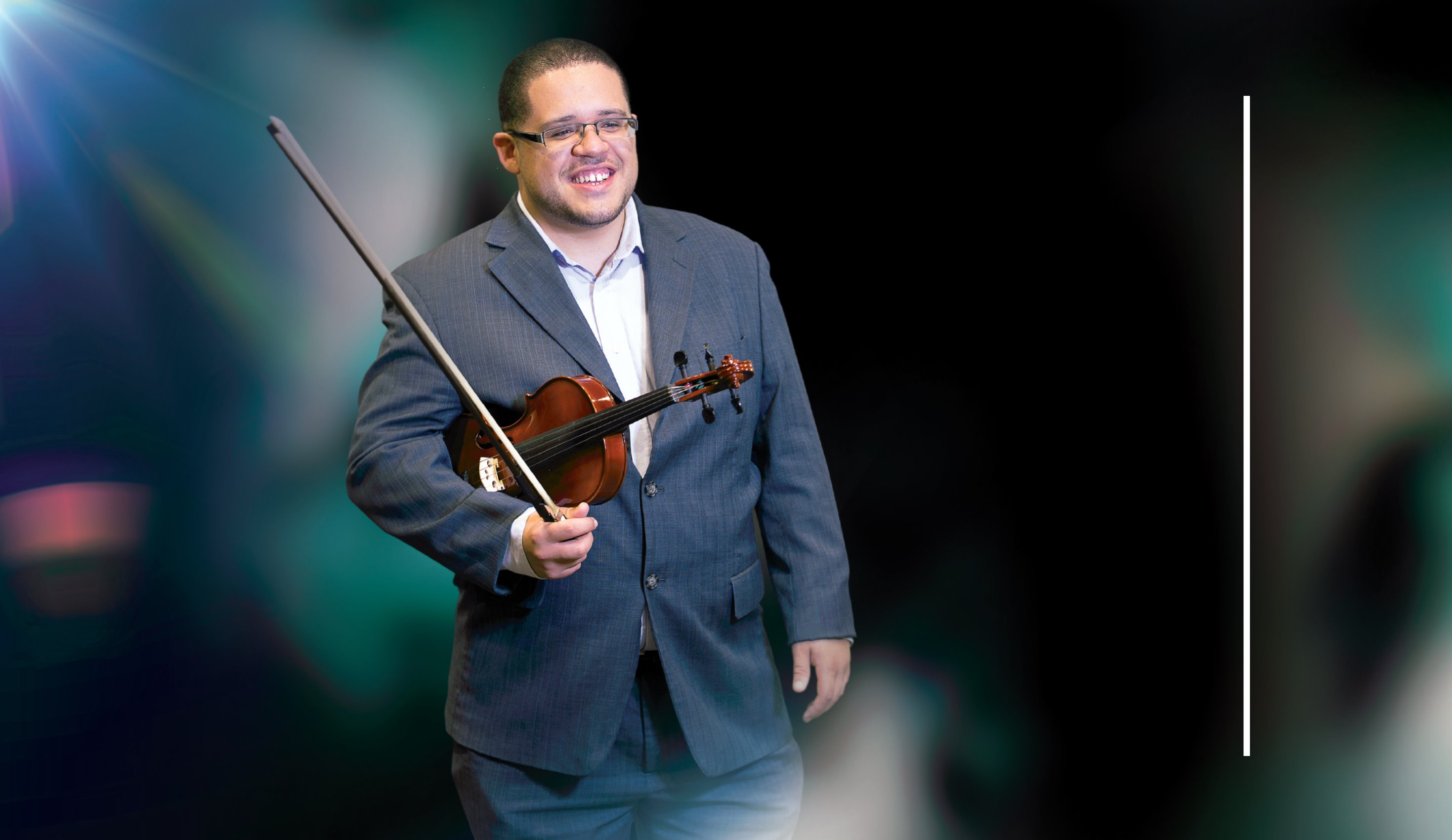 STUDENT PROFILE
FINDING
THE
RIGHT
KEY
Searching for his calling,
student explores an array of
opportunities...all with a focus
• Loyola Latino Law Students
• National LLSA central regional
director, 2013-15; director of
community service, 2014-15
Public Interest Law and Social
Justice Retreat civil rights
panel planner, 2014; retreat
outreach and communications
Loyola University Chicago
associate editor, 2014-15;
executive board member and
• Center for Computer-Assisted
Legal Instruction (CALI) Award
for International and European
• 2015 summer civil action
practice intern, The Bronx
Defenders, Bronx, New York
• Extern law clerk, Hon. Judge
• 2014 Diversity Scholarship
• Dean's List, fall 2014 and
• Criminal record researcher
volunteer, Cabrini Green Legal
• Law clerk, Office of the Cook
Felony Trial Division, fall 2015
or work in poverty law, civil legal
services, or child law, the idea is about
fighting zealously for your clients and
helping to empower them."
Great expectations
Polanco's mother began with
few possessions but had great
expectations for her son. "I grew up in
this spirit of determination, this idea
of having to go further than where
we've been," he recalls. "Part of that
had to do with our socioeconomic
status. Part also came from the
immigrant mentality of wanting your
children to excel. My mother really
believed education was the key to
success. My story of success has been
largely driven by my mother."
That doesn't mean Polanco didn't
have big dreams himself. By the
age of five, he knew he was going
to be a lawyer. He first wanted to
be president, after his mother told
him the president's job was to make
people's lives better. Later he realized
being a lawyer would also enable
him to make a difference. "The idea
of being given the skills and access
to really help people try to change
their lives—whether in an individual
or systemic way—led me to the law,"
First, however, Polanco wanted
to test himself. That's how he landed
at the University of New Mexico
in Albuquerque, where he earned
his bachelor's in political science.
"I knew I was going to have to take
out law school loans, so I wanted to
be as debt-free as possible for my
undergrad degree," he says. "UNM
provided that. But more than that,
New Mexico was my 40 days in the
desert, if you will. I needed to go
somewhere where I knew no one."
Polanco did things there he'd
never have done if he had stayed in
the Midwest. He went logging for
decaying and dead trees to heat a
friend's family farm. He helped crew
a hot-air balloon. He visited a Native
American reservation. He fell in love
pregnant women—when he was
born. The two soon moved to a fifth-
floor walk-up apartment about a
block south of the Bronx Zoo. They
lived there until Polanco was about
eight, when the family moved to
Grand Rapids, Michigan, to be closer
Growing up "with not a lot"
has always driven Polanco, from
pursuing success so he could lighten
the burden on his mother—who
emigrated from the Dominican
Republican and often worked
two jobs in the United States—to
realizing his mission would be to
help those who have as little as his
"I'm leaning toward public
defense work," says the third-year
student. "But whether I do that
with a local church, which led him
to El Salvador to work on behalf
of children. "By going to school in
New Mexico, I was able to orient
myself in a way, to come into myself
Grounded at Loyola
Heading to Loyola also felt right.
"It has a social justice core, and that
attracted me," says Polanco. "Loyola
was also a place where people
wanted me to excel, from the people
in career services to the professors.
I've never felt my professors really
cared about me until now."
When he's not burrowed into
textbooks, Polanco's often still
reading. His love is fantasy and
by Neil Gaiman and Terry Pratchett
find him playing the violin, which he
learned in grade school, for his parish
choir. Or maybe you won't find him
at all because he's scratching his itch
for travel. Polanco jetted to Rome
and Strasbourg, France, for Loyola's
Study Law Abroad program. He also
landed in Cambodia—with a side trip
to Thailand—for Loyola's Global Law
Seminar (also see page 13).
Though Polanco says it's too early
to be sure of his ultimate career path,
he knows it'll involve advocating on
behalf of people who need help the
most. "Part of what attracts me to
public defense work is that you're not
just providing a legal service, you're
really there as an advocate for clients,"
he says. "And I'd be representing
people I empathize with and whom
I know—people I grew up with, my
childhood friends, the homeless man
"When I was growing up in
Grand Rapids, more than once I saw
police raiding my neighbors' homes.
In many ways my life is about how I
was privileged enough that I didn't
WINTER 2016
29
28
LOYOLA LAW