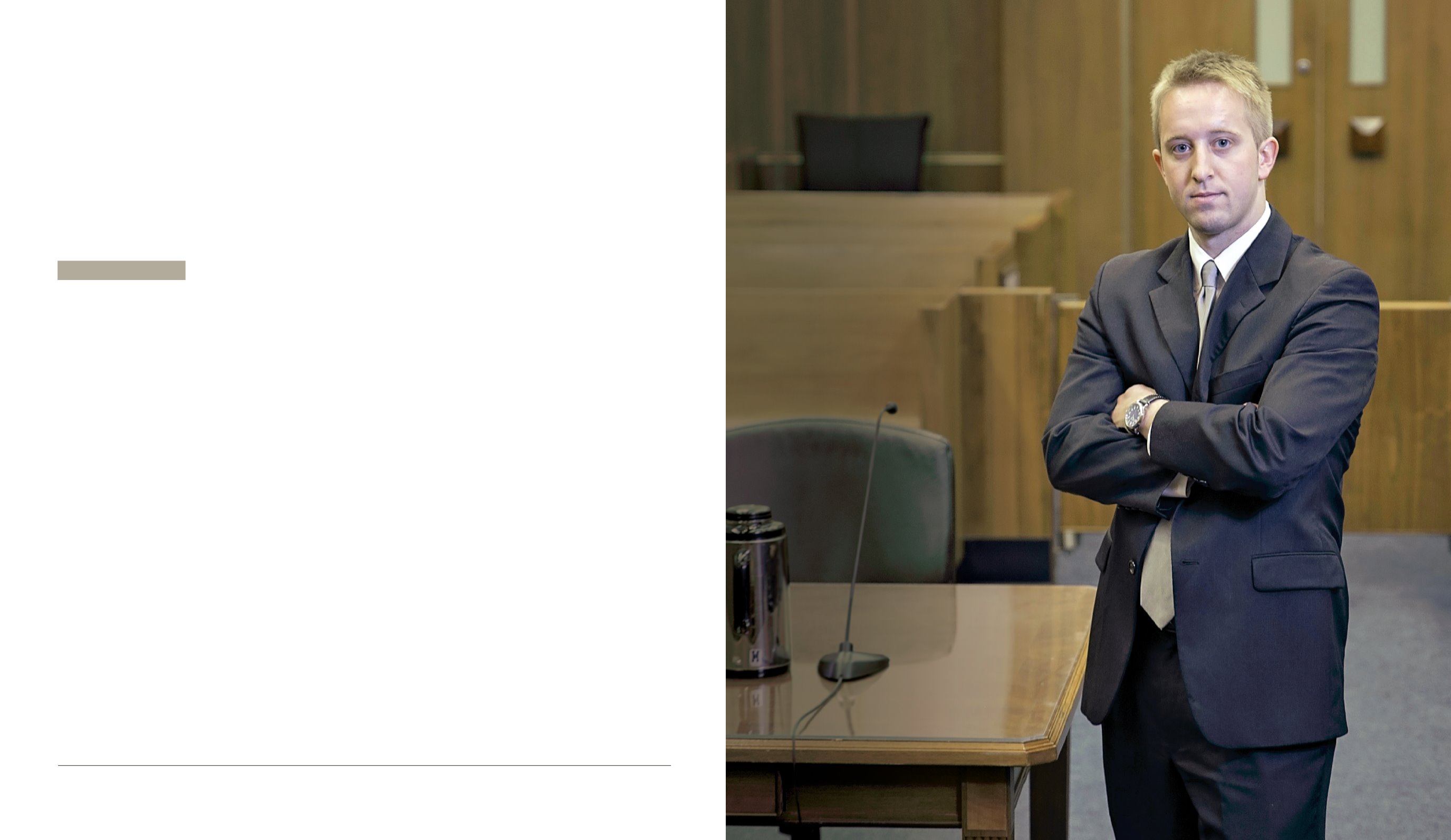 O
rdinarily, spending an evening
unwinding at Loyola University
Chicago School of Law's Thursday
night bar review was not a remarkable
experience. A friend, however, interrupted my routine
when she insisted I meet her guest. It is not often
one meets a man who spent 25 years in prison for a
crime he did not commit. As a first-year law student,
my legal perspective was understandably limited.
Meeting Eric Caine that night hammered home how
little I understood about the law.
My friend subsequently introduced me to
Professor Laura Caldwell (JD '92), who runs Loyola's
Life After Innocence. This clinic at the School of Law
assists exonerees (people wrongfully convicted
of crimes they did not commit) to transition from
prison back into civilian life—a life painfully altered
by their wrongful conviction. Professor Caldwell
introduced me to Jarrett Adams (JD '15), a fellow
classmate and an exoneree who started Life After
Justice, a separate nonprofit organization advocating
and building communities for exonerees. Working
with exonerees appealed to me. I wanted to learn
more about people trying to piece their lives
together after involvement with the United States
criminal justice system and to see if there was some
way I could help with that transition. I quickly learned
that my first job was to take a step back and learn
from the people I sought to help.
During this time, I also participated in a
discussion at Loyola about Michelle Alexander's
The New Jim Crow: Mass Incarceration in the Age
, learning more about the system
of mass incarceration in the US and its effects on
people, specifically minority populations. I also
volunteered with Cabrini Green Legal Aid, expunging
or sealing criminal records for people struggling to
find employment and rebuild their lives.
Delving further into public interest work,
I organized the Public Interest Law Society
Auction to raise funds for summer stipends for
students who work in unpaid public interest jobs.
Additionally, I joined Professor Mary Bird's Street
Law class where law students teach Chicago
Public School students about the law. Traveling
to the communities of Little Village and Rogers
Park gave me a very different perspective of the
law. Listening to students of all ages describe
their interactions with the law revealed how little I
understood its effects on people and communities.
Forging a service-
oriented career path
Defining a career path after involvement
in these activities became difficult. During my
third year of law school, I was fortunate to intern
with the Federal Defender Program in Chicago,
which provides representation for indigent clients
charged with federal crimes. The internship was
fascinating, and I was inspired by the passionate,
creative, and unique attorneys who devoted their
legal careers to defending the poor. I researched
suppression motions for constitutional violations
and assisted in developing trial strategy.
My primary project, however, was to write
a sentencing memo for an indigent, mentally
ill man facing unfair application of the career
offender enhancement provision of US Sentencing
Guidelines. Meeting him at the jail and putting
his story on paper provided me with another
opportunity to view the law through the eyes of
my client and utilize my skills on his behalf.
Nearing graduation, I applied to every
federal public defender office in the country with
a job opening. Though many openings listed a
minimum three years' practice requirement, I
considered that to be a suggestion rather than
a requirement. Fortunately, the Federal Public
Defender for North Dakota decided to take
APERSONAL
CONNECTION
ALUMNI SPOTLIGHT
BY RYAN M. COSTELLO (JD '14)
Understanding clients' unique perspectives is
a mission for this public defender
RECOGNIZINGTHEHUMAN
CONSEQUENCES FOR
CLIENTSANDTRYING
TOUNDERSTANDLEGAL
RESOLUTIONS FROMTHEIR
PERSPECTIVE ISOFTENFAR
MORE IMPORTANTTHAN
LEGAL STRATEGY.
RyanM. Costello (JD '14)
is an assistant federal public defender with the Office of the Federal Public Defender in Bismarck, North Dakota, where he also resides.
a chance on me. I immediately accepted the
position and moved to distant Bismarck two weeks
after the bar exam. Driven by enthusiasm, I began
to take on felony cases after bar admission.
Like all federal defender programs, we
represent clients on a wide array of federal criminal
cases. Unlike most federal defender offices, we
also represent clients charged with federal crimes
occurring on Native American reservations. The
majority of my clients are members of various
Walking in another's shoes
Given the cultural divide between
such clients and me, a crucial part of my job
involves seeking to understand the people
for whom I work, including their unique
tribal cultures. I work with clients from three
reservations: Standing Rock (Lakota and Dakota),
Fort Berthold (Three Affiliated Tribes: Mandan,
Hidatsa, and Sahnish or Arikara), and Turtle
Mountain (Chippewa). I do my best to connect
with each client on a personal level, embracing
his or her expectations and experiences and
recognizing everyone's humanity.
Even with my clients who are not members
of a Native American tribe, I am constantly
working to connect and communicate with
them on a more personal level. I find that explana-
tions about the interplay between mandatory
minimums and US Sentencing Guidelines miss
the fact that I am telling a parent, child, or spouse
that he or she will be taken away from loved
ones for a long time. Recognizing the human
consequences for clients and trying to understand
legal resolutions from their perspective is often
far more important than legal strategy.
Connecting personally often requires
admitting a truth: I cannot fully understand
the life experiences of some of my clients.
I cannot understand the experience of having
my ancestors involuntarily uprooted from
their lifestyles, what it feels like to lose family
members to substance abuse, or what it is like to
grow up enduring poverty or witnessing violence.
I cannot comprehend what it feels like to be
abused or to feel the crippling effects of any
variety of mental illnesses. I can, however,
recognize my limited view and with this
acknowledgment learn from my clients; I try to
truly internalize their experiences, not only when
I am explaining to the sentencing judge who my
client is, but also every time I talk with my clients
or make decisions that affect their lives.
This is probably the most challenging, yet
rewarding, part of my job: taking a step back
from application of the law and embracing and
interacting with my clients as people at all times.
Ryan M. Costello (JD '14)
WINTER 2016
31
30
LOYOLA LAW