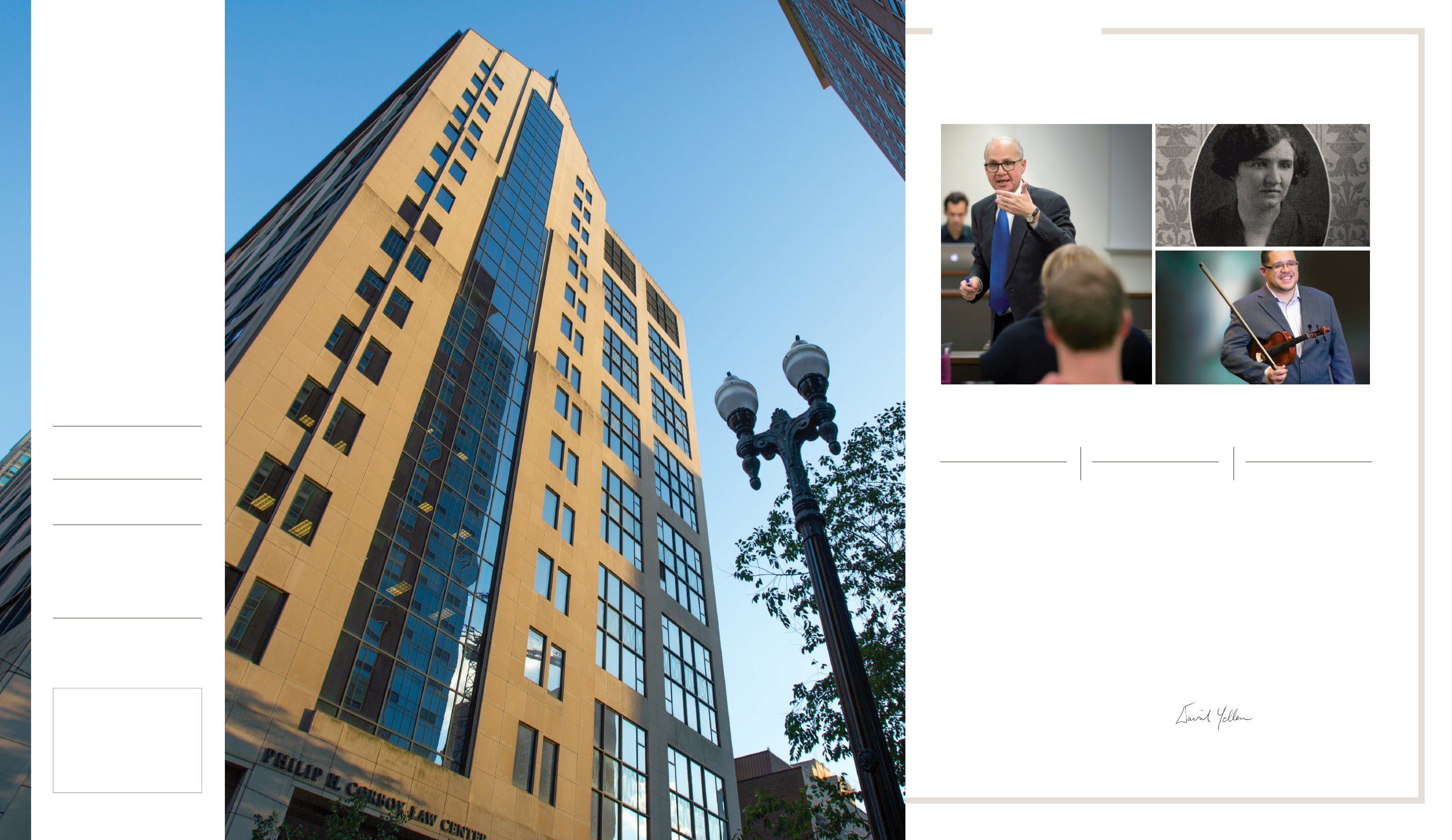 T
his is an exciting and inspiring time to be
educating future lawyers. Neuroscience and
educational psychology are constantly honing our
understanding of the way learners process information.
In our cover story, you'll discover how professors at the
School of Law are expanding their teaching approaches
to effectively reach more students and prepare them
for success in the practice of law. Many of those new
approaches are uniquely applicable to online learning,
which is a special talent of the School of Law and the
subject of another feature article in this issue.
You'll also read about an impressive student,
Gerald Polanco, whose challenging upbringing led
him to seek a service-focused career. Learn about the
School of Law's new part-time JD program, which will
provide a more flexible weekend format in an innovative
mix of campus-based and online learning. Professor
Thomas Haney continues his series on pioneering students
at Loyola with a fascinating look at women students at the
law school through the years. Professor Spencer Weber
Waller shares insights on his teaching and research in
antitrust law, and alumnus Ryan Costello (JD '14) details
his quest to better understand his clients in his work
As we move from winter to spring, the School of Law
is hosting a number of conferences, symposia, and social
events of interest to our diverse base of graduates and
friends (see inside back cover). We thank you for your
generous support of the School of Law's mission, and hope
to see you on campus soon.
David Yellen
Dean and Professor of Law
MESSAGE FROM THE DEAN
FEATURES
DEPARTMENTS
W I N T E R 2 0 1 6
LOYOLA LAW
SCHOOL OF LAWADMINISTRATION
for Faculty Research and Development
Director of the Law Library
of Admission and Financial Assistance
Assistant Dean of Students
Giselle Santibanez-Bania,
DIRECTOR OF COMMUNICATIONS
AND EDITOR
DESIGN
Taylor Bruce Design Partnership Chicago
CONTRIBUTORS
Writers: Scott Alessi, Megan Doherty,
G.M. Filisko (JD '98), Gail Mansfield, Zak Stambor
Proofreader: Evan Eckerstrom
Photographers: Mark Beane, Charles Churney,
Ralph Greenslade, George Pfoertner,
Cover photo: As new studies expand our
understanding of learning processes, Loyola law
professors are adding new approaches to their
CORRESPONDENCE:
FINDING THE
RIGHT KEY
28
approaches to teaching law
A WIDER LENS
FOR LEARNING
8
BREAKING
THE BARRIER
14
WINTER 2016
1