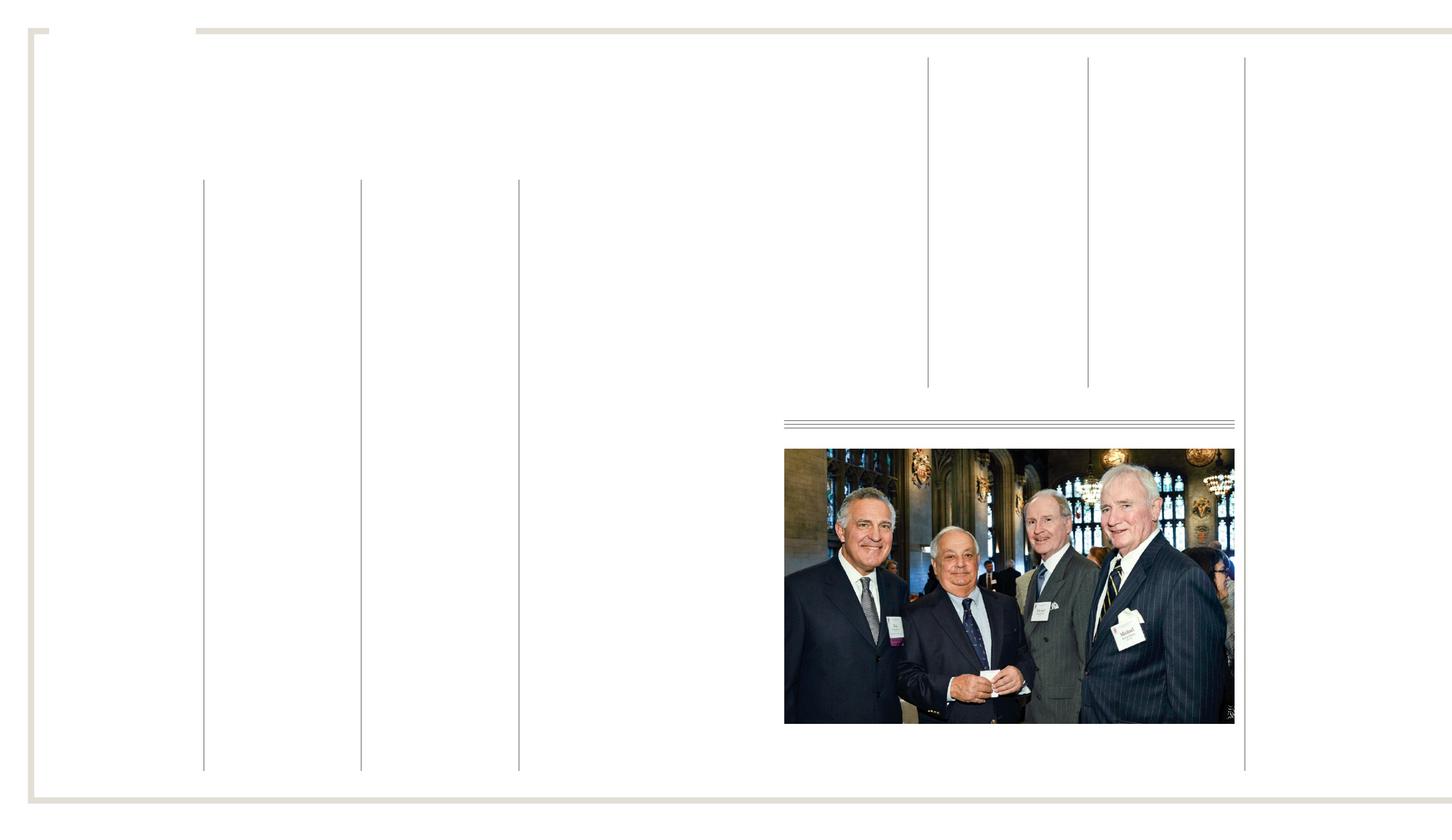 James M. Gorman (JD '71)
from Ernst & Young as partner and
director. He recently joined HSBC
Bank as a senior manager in the
bank's wealth management group.
He resides in California.
Hon. Robert J. Anderson (BA '71,
JD '74)
was sworn in as president
of the Illinois Judges Association on
Mark D. Anderson (JD '76)
named a member of the Edward
Foundation board of directors at
Aronberg Goldgehn Davis & Garmisa.
Anderson concentrates his practice
in federal and state corporate and
partnership tax, estate and gift taxes,
and related business matters.
David S. Mejia (JD '76)
With 10 of the Top Criminal Defense
Colin T. Nelson (JD '76)
and published a new book,
Todd A. Smith (JD '76)
the Leonard M. Ring Champion of
Justice Award, which is the American
Association for Justice's highest
honor. He also received the 2015
Distinguished Award for Excellence
from the Illinois Bar Foundation.
Dan L. Boho (BA '74, JD '77)
been inducted into the International
Academy of Trial Lawyers.
Joseph A. Power Jr. (JD '77)
selected vice president of the Inner
Circle of Advocates. This organization
is composed of the 100 best plaintiff
lawyers in the United States.
Teri E. Engler (JD '80)
member of the law firm Engler
Callaway Baasten & Sraga LLC in Oak
Brook, Illinois. The firm focuses its
practice on school law and labor and
Susan J. Schwartz (JD '80)
be honored with the Volunteer
Extraordinaire Award by Almost
Home Kids, an organization providing
transitional care to children with
health needs, as well as training for
their families and respite care.
DominickW. Savaiano (JD '81)
was named a partner at Wilson Elser
Moskowitz Edelman & Dickler LLP in
its intellectual property group. He
has trained his group in litigation
and courtroom techniques, handling
complex and difficult matters
James K. Shaw (JD '82)
joined the Chicago office of Roetzel
& Andress LPA as counsel. Shaw's
practice will focus on federal taxation
matters with a special emphasis on
Peter F. Clancy (JD '84)
appointed a member of the
Illinois State Bar Association Local
Government Law Section Council. He
represents companies and individuals
in business disagreements and
provides general counsel to local
David T. Brown (JD '86)
reelected chair of the management
committee of Much Shelist PC. He
will serve a yearlong term and will be
responsible for firm governance and
Teresa F. Frisbie (JD '86)
one of Illinois's Top 10 Women ADR
Neutrals in the March 2015 issue of
Edition). Frisbie is of counsel with
DeGrand &Wolfe PC and director of
Loyola University Chicago School of
Law's Dispute Resolution Program.
Col. Paul Kantwill (BA '83, JD '86)
recently retired after 25 years of active
duty military service in the Army
Judge Advocate General's Corps.
Kantwill remains in public service as
a legal and policy advisor to the US
secretary of defense and the under
secretary of defense, personnel, and
readiness. Kantwill hopes to return
to Chicago sometime soon to join his
wife, Nora, who is assistant dean for
advancement at Loyola University
Hon. Elizabeth M. Rochford-Striedl
(BA '82, JD '86
of governors liaison to the Women
and the Law, Bench and Bar, and
Insurance Law Committees of the
Illinois State Bar Association.
Darren M.R. VanPuymbrouck
(JD '86)
Freeborn & Peters LLP in the firm's
litigation practice group. He is the
leader of the firm's fire and explosion
response and litigation task force.
Mary J. Bird (JD '87)
Chicago Bar Foundation's Leonard Jay
Schrager Award of Excellence for her
contributions to improving access to
justice for the less fortunate.
Loyola's law alumni are leaders in local and national firms, courtrooms, public interest organizations, classrooms, and other
venues. Here's an update of what your classmates have been doing. Share your own news by contacting Alumni Relations at
, or Loyola University Chicago School of Law, Philip H. Corboy Law Center, 25 East Pearson Street, Chicago, IL
60611. Be sure to include your full name, class year, and contact information. We're looking forward to hearing from you!
ALUMNI AWARDS LUNCHEON
Donald Brown Jr. (JD '73, left), Daniel Fusco (JD '64), Michael Nash (JD '64), and the Honorable
Michael B. Bolan (JD '66) gathered in October to honor their fellow alumni.
Hon. Thomas J. Dart (JD '87)
honored by the Catholic Lawyers
Guild of Chicago as Catholic Lawyer
Scott M. Seaman (JD '87)
Hinshaw & Culbertson LLP as a
partner. His practice focuses on all
facets of complex insurance and
Julie Ann Sebastian (BS '77,
JD '87),
state's attorney in the Civil
Actions Bureau, received the
2015 Austin Fleming Newsletter
Editors Award from the Illinois
Renee Cipriano (BA '85, JD '88)
was named a Volunteer of the Year
at Uhlich Children's Advantage
Network's (UCAN) annual Donor
Recognition Reception. The award
honors UCAN supporters and
ambassadors who have made an
impact in their communities.
Cheryl Tama Oblander (JD '88)
joined Aronberg Goldgehn Davis &
Garmisa. She represents local and
national companies in the full range
Lisa Rapacz Callaway (BA '86, JD '89,
MSIR '93)
the law firm Engler Callaway Baasten
& Sraga LLC in Oak Brook, Ilinois. The
firm's practice focuses on school law
and labor and employment law.
Paul A. Gilman (JD '89)
appointed by Aronberg Goldgehn
Davis & Garmisa to cochair the
business law and transactions group.
WilliamM. Brennan (JD '90)
added as a partner to Goldstine,
Skrodzki, Russian, Nemec and Hoff
Ltd. He practices real estate and
business and corporate law matters.
Douglas B. Swill (LLM '90)
was appointed to the board of
directors for the Center for
Healthcare Innovation, a national,
independent, nonprofit research
and educational institute. He will
Daniel M. Kotin (JD '91)
as first vice president of the Chicago
Bar Association (CBA) and will assume
the role of president of the CBA in
Joseph J. Morford (JD '91)
Linda E. Salisbury (JD '91)
honored by Loyola University Chicago
School of Law this fall with the Francis
J. Rooney/St. Thomas More Award for
her continuous loyalty and dedicated
service to the School of Law.
Patricia Spratt (JD '91)
appointed as a Circuit Court of Cook
County judge. She will serve through
Sandra M. Blake (JD '92)
to the Illinois State Bar Association
Assembly from Cook County.
Hon. Virginia M. Kendall (JD '92)
was honored by Loyola University
Chicago School of Law this fall
with the 2015 Distinguished Jurist
Award. She was recognized for her
contributions to the promotion of
justice by serving with distinction on
federal and state courts.
Cara L. Smith (JD '92)
to chief strategy officer in the
Cook County Sheriff's Office under
Thomas J. Dart
(JD '87).
William B. Sullivan (JD '92)
recently appointed a Circuit Court
of Cook County judge in the 11th
Richard A. Wilson (BA '82, JD '92)
returned to solo practice at Richard A.
Wilson PC. He practices family law.
Mark M. Brennan (JD '93)
three former Cassiday, Schade LLP
partners formed a new firm, Brennan,
Robert H. Muriel (JD '93)
appointed a commissioner to the
Illinois Racing Board by Governor
TimothyW. Kelly (JD '94)
elected third vice president of the
Jeffrey C. Hart (JD '95)
Wilson Elser in the firm's Livonia,
Michigan, office. He will be litigating
employment, complex commercial,
product liability, medical malpractice,
transportation, general liability,
professional liability, and workers'
Maria T. Cenzon (JD '96)
gold medal in air pistol in the Pacific
Games. She serves as a judge in the
Louis A. Lehr Jr. (JD '51)
recognized this fall by Loyola
University Chicago School of Law
with the 2015 Medal of Excellence.
The award honors alumni or faculty
members who both privately and
professionally demonstrate the
qualities of character, intellect, and
social and professional responsibility
the School of Law nurtures.
Thomas P. Sullivan (JD '52)
recently honored with the American
Bar Association's Thurgood Marshall
Award. The award recognizes
members of the legal profession
for their long-term contributions to
the advancement of civil rights, civil
liberties, and human rights.
Bernard J. Lechner (JD '60)
was honored by the Florida Bar
for devoting 50 years to the
Warren R. Fuller (BBA '65,
JD '67)
merged his firm, Fuller &
Fuller, with Kelleher & Buckley
LLC. Kelleher & Buckley offers full-
service resources in business law,
estate planning, real estate, estate
and trust administration, litigation,
Mark G. Moroney (BBA '65, JD '68)
recently moved to Phoenix.
Paul F. Gerbosi (JD '69)
at Nisen & Elliot and Carlson Partners
Ltd., where he concentrates his
practice on general corporate
and business matters, real estate
development and syndication, and
estate planning and probate.
36
LOYOLA LAW
WINTER 2016
37